A Pennsylvania high school basketball coach head-butted a referee during a game Tuesday night, sending the official to floor, and it all was caught on camera.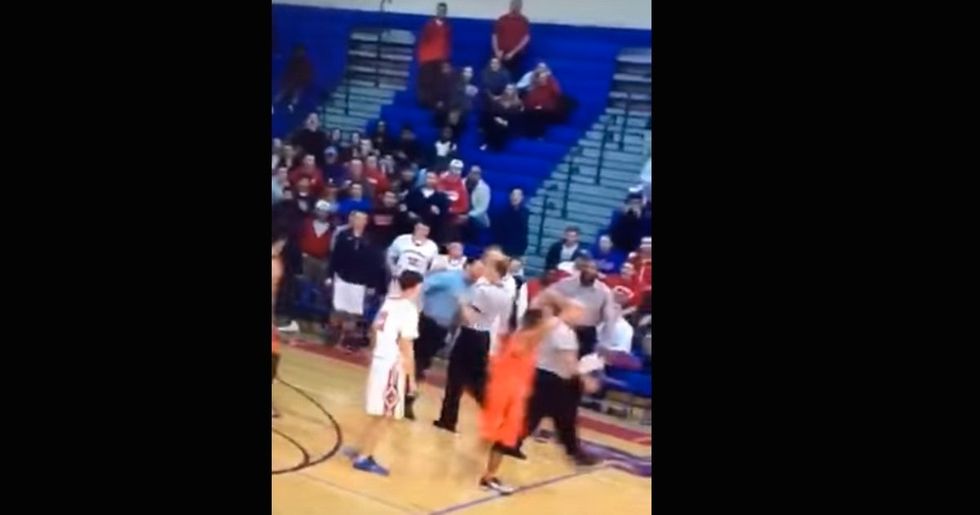 Image source: YouTube
Neshaminy High School was trailing Pennsbury High School by four points in the final minute of the game when Neshaminy head coach Jerry Devine went out to argue a foul, ESPN reported.
"The coach went crazy," WBCB-AM's Chris Ermer said. "He came out and made contact with the official and took him off his feet.
Ermer added it appeared as though Ermer was trying to get in the referee's chest, but not to knock him down.
"But as he did it, he was off balance and went down," Ermer said. "You can't say he didn't intend to make contact, but I don't think he was trying to head-butt the ref."
The coach was given two technicals and escorted out of the game while the referee got right back up and finished making calls. Police said no one called them, but because there is a video, authorities will launch an investigation, WCAU-TV reported. No charges have been filed.
The Neshaminy School District released a statement saying that it is also conducting a review of the incident.
"Appropriate action was taken at the game following that incident, and further measures may follow depending on the outcome of that review," the school district said. "As this is a personnel matter, we will not be able to comment on the specifics of any possible disciplinary action until that review process is complete."
"The athletic program at Neshaminy places the values of fair play and sportsmanlike conduct above all. We expect our coaches and staff to teach and uphold those principles, while acting in a professional manner at all times."
Devine was placed on administrative leave pending the outcome of the review.
Watch what happened in the moments leading up to the incident, as well as what followed:
(H/T: Huffington Post)