A "CNN Tonight" segment about President Barack Obama's executive actions on gun control quickly devolved into a shouting match on Tuesday night after host Don Lemon asked guests whether the gun lobby is holding Congress "hostage."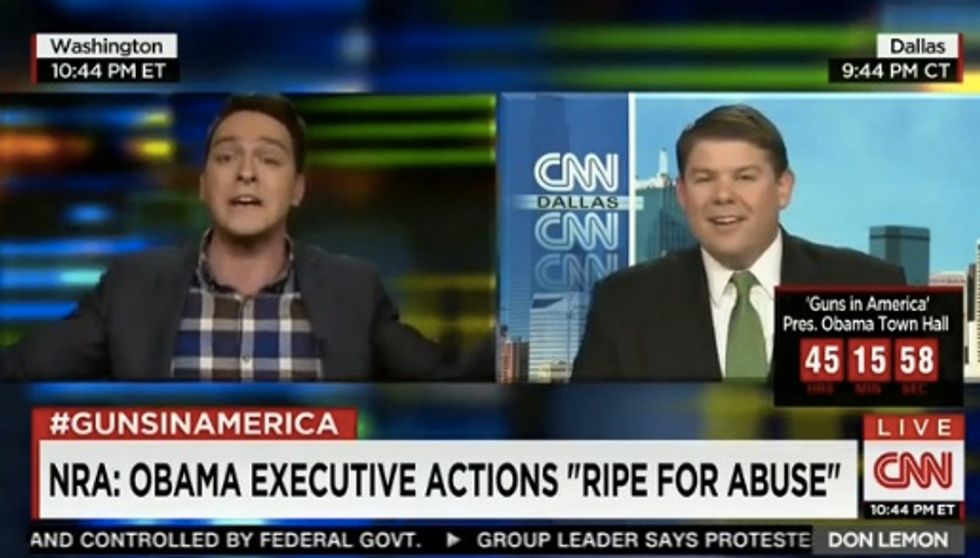 Igor Volsky and Ben Ferguson clash over Obama's executive action on guns (YouTube/CNN)
Igor Volsky, an editor at ThinkProgress, a liberal website, started out by detailing how he believes contributions from the NRA to politicians are made in an effort to prevent gun legislation from passing.
Republican Ben Ferguson then rejected the notion that the organization is holding Congress "hostage," comparing the NRA to other advocacy and lobbying groups.
"They're a lobbyist group and they lobby for the second amendment the same way that Planned Parenthood lobbies," he said.
From there, though, the exchange quickly heated up.
"It's one thing to lobby for the second amendment," Volsky said. "It's another thing to say there can't be any gun regulations, which has nothing at all to do with the second amendment. Yes, you can regulate guns."
Ferguson countered, though, that he believes that, had Obama issued the executive order seven years ago, it would not have prevented the horrific Sandy Hook Elementary School shooting from unfolding.
That's when Volsky began boisterously talking over him, with Ferguson repeatedly saying, "Let me finish!" as he continued to work his way through his points on the matter.
Ferguson added, "[Obama] used these horrible instances to somehow give false hope to these families that what he enacted today would have somehow stopped these mass shootings."
Volsky, who was clearly outraged over these comments, countered, "You should be, frankly, ashamed of yourself!"
Watch the fiery segment below:
(H/T: Mediaite)
--
Follow the author of this story on Twitter and Facebook: