On his radio show on Tuesday, Rush Limbaugh reacted to a new NBC News/SurveyMonkey/Esquire online poll about "American rage."
According to the poll, 49 percent of Americans said that they feel angrier now about current events than they were one year ago. Seventy-three percent of whites said that they get angry at least once a day, as did 66 percent of Hispanics and 56 percent of African-Americans.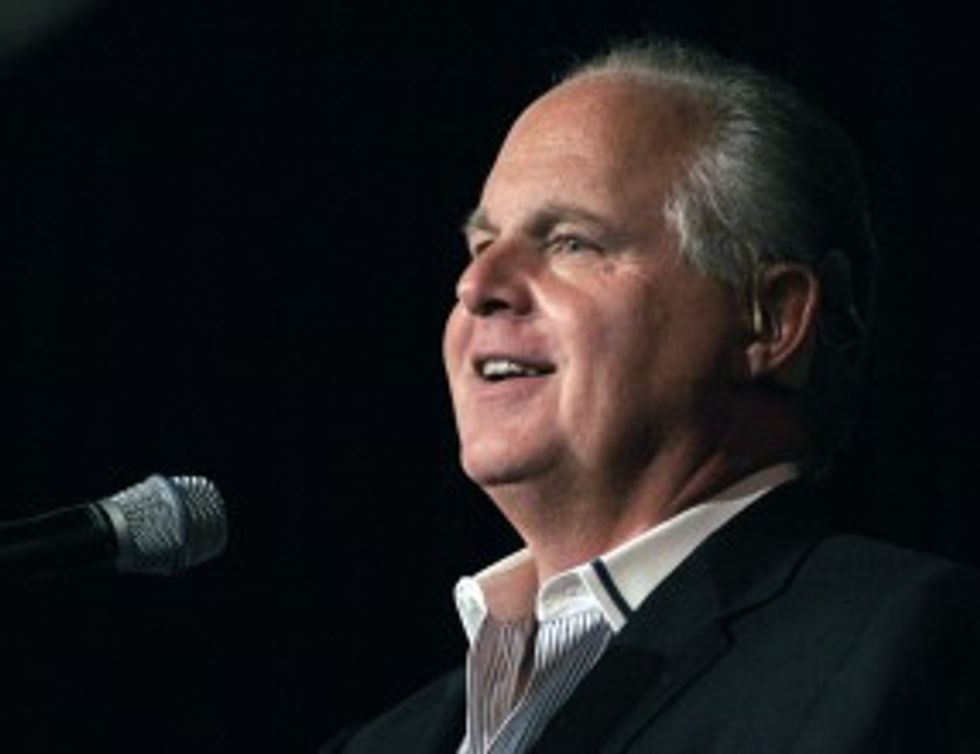 NOVI, MI - MAY 3: Radio talk show host and conservative commentator Rush Limbaugh speaks at "An Evenining With Rush Limbaugh" event May 3, 2007 in Novi, Michigan. The event was sponsored by WJR radio station as part of their 85th birthday celebration festivities. (Photo by Bill Pugliano/Getty Images)
"Half of all Americans are angrier today than they were a year ago," Esquire's editors wrote. "White Americans are the angriest of all."
Limbaugh offered a theory as to who the media will attempt to blame for the "rage."
"So, 73 percent of whites say they get angry at least once a day, obviously when they listen to talk radio," Limbaugh said.
He added that, in his view, what is being characterized as anger may be "common sense."
"Note here that the attempt in the media is to cast anger as irrational, irresponsible, uncalled for, very, very bad and very, very wrong to be mean and angry, as though there's no justification. You know, if you ask me, everybody ought to be angry over what the left has done and is doing to the country! It makes perfect rational sense for people to be angry," he said.
"Now, the political class and the establishment don't like anger because that means they know that people are mad at them and as far as the elites are concerned, they're no justification for people being mad at them, they're special people. They're the best and brightest among us. We all ought to love them, we all ought to appreciate them, we all ought to bow down and celebrate them. But instead, we're mad at them and they don't like that. So they want to cast this anger as irrational and irresponsible."
Limbaugh continued that, "to me, it's entirely common sense."
"What decent American who can't find a job and hasn't been able to for I don't know how long isn't mad? People that have student loans, people that have Obamacare mandates and responsibilities and this is scratching the surface. People looking at the very identity and structure of their country being changed daily, the Southern border being overrun. What, are we just supposed to sit back and twiddle our thumbs over this?"
"The anger is justified but of course they try to discredit the anger and discard it on the basis of, well, it's all because of talk radio," he said.
"See, once again you are too stupid to even be mad until somebody tells you to be. You don't have the mental acuity or ability to even get angry on your own. You have to wait for your local talk show host to tell you to get mad and then you do and then they go on TV and blame talk radio for it."
Limbaugh later said that when minority groups are mad "we're supposed to stop and understand the rage."
"We're supposed to stop and learn from it. We're supposed to figure out why they're mad and we are then told that the reasons they're mad, why, they make sense, they're justifiable. White people anger constantly is unjust, it's illegitimate and must be condemned. There's no reason whatsoever white people should ever be mad and if you are there's something wrong with you and we're going to get to the bottom of it and probably find out you listen to talk radio."
(H/T Newsbusters)