Both weddings and funerals serve to unite family and loved ones for the purpose of honoring life at its various stages. One company has attempted to make this connection in a profound way — by repurposing wedding gowns for stillborn baby girls.
Many married women prefer to hold on to their wedding dresses, some in the hopes of one day passing it on to a relative and others simply for sentimental reasons. Yvonne Trimble, an Edinburgh native who now lives in Cyrus in the U.K., decided that a few special individuals needed her dress more than she did.
"Deciding in May 2015 that I would never wear my wedding dress again, I sent it to a charity that turns donated dresses into little gowns for babies who are stillborn or who die shortly after birth," Trimble wrote in a Facebook post.
The charity, Cherished Gowns for Angel Babies, is a U.K.-based organization that turns wedding dresses and formal clothing into burial gowns for babies who are stillborn or who die shortly after birth. The items are provided to hospitals and families around the U.K. completely free of charge with the help of donations from women like Trimble.
"Every year around 17 babies a day or 3,500 a year are born sleeping or sadly pass away shortly after birth," the charity's website says. "These babies can be very small and too often the parents are unable to find something appropriate to dress their Baby in. All parents should be given the opportunity to dress their baby and all babies should be laid to rest in a special item clothing."
"Yesterday [Cherished Gowns] sent me pictures of what they had made with my dress and a mix of emotions swept over me when I received them; pride that I'd done something good, sadness that it's necessary for these gowns to have to be made, relief that I've never known this heartbreak and a sense of thankfulness that volunteers around the country give up their time to produce such comforting garments," Trimble wrote in her Jan. 3 post.
Since it was established in October 2014, Cherished Gowns has provided 101 hospitals around the UK with boxes of gowns and has sent more than 280 packs via Royal Mail Special Delivery directly to parents or funeral homes. The website claims that the charity has received more than 1,700 wedding dresses from donors, which have been used to make 9,800 Cherished Gowns and in excess of 25,000 knitted items.
Trimble added in her Facebook post, which included photos of her on her wedding day and photos of the seven repurposed gowns, that her aim was not to praise herself but to encourage others to volunteer and donate to a charity committed to honoring so many "little souls." Her post received massive support, gaining almost 100,000 shares in just a few days.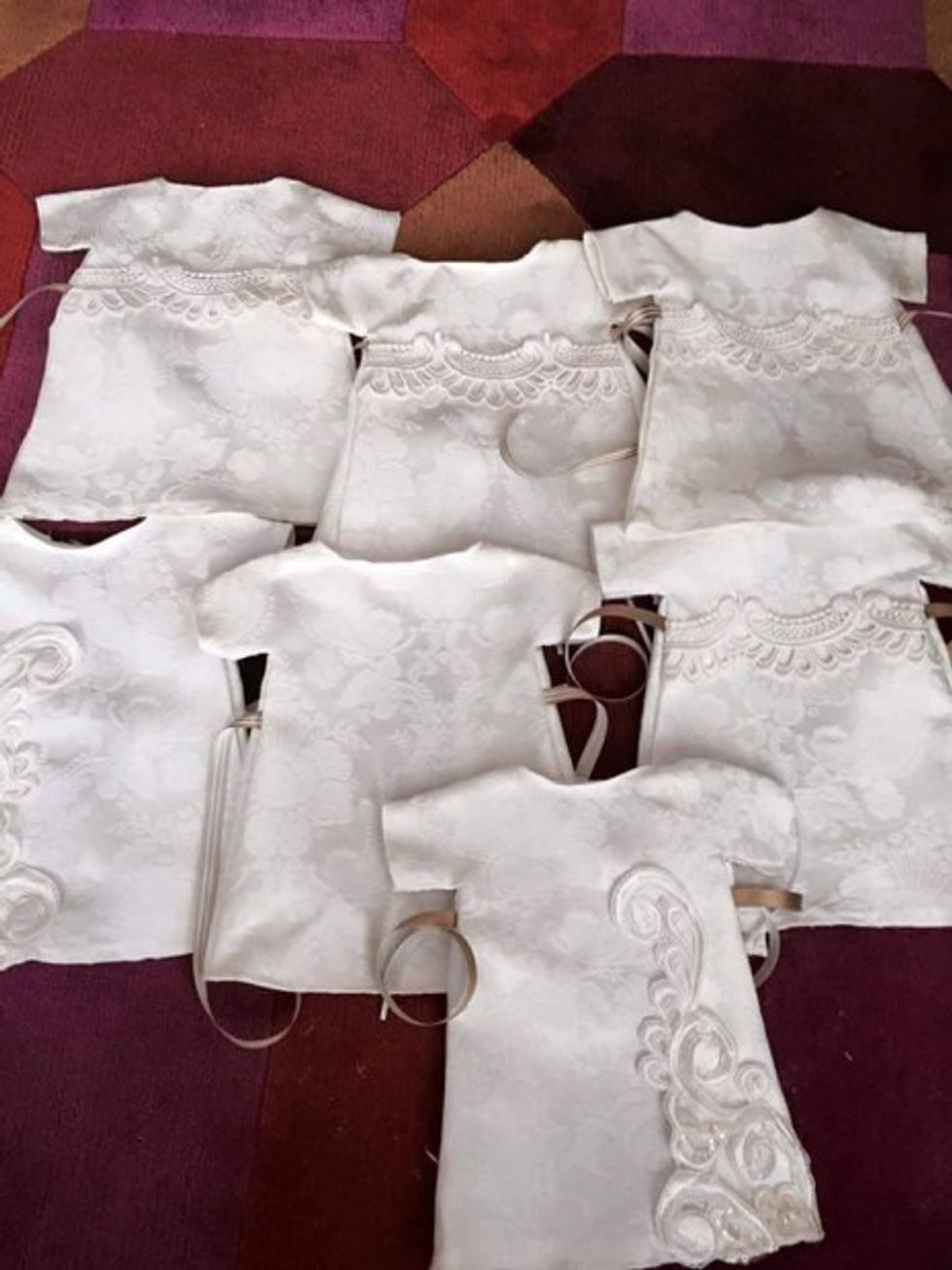 Image via Yvonne Trimble/Facebook
She also shared one of the messages sent to her by a parent: "So from the bottom of my heart thank you for giving us mums some relief in the knowledge that our angel babies are forever wrapped in love."
After Trimble's Facebook post went viral, Cherished Gowns has reportedly seen an overwhelming response. Cherished Gowns' co-founder Megan McKay told Mashable that the reaction the charity received was "hugely unexpected".
"We regularly send out photos to people to show them how we used their dress, so to see this post go viral was quite overwhelming!" she said.
The charity even had to close their waiting list to new dress donations after 8,500 people pledged to send in their dresses.
"Our gowns give parents a huge amount of comfort and it takes away the pressure of having to find something for their precious baby to wear," McKay said. "We cater for babies from 20 weeks gestation and you just can't walk in to a shop and buy something of this size. Parents are always hugely appreciative of our service."
Cherished Gowns U.K. works very closely with SANDS, a stillbirth and neonatal loss charity. According to the Cherished Gowns website, SANDS has helped them with research and advice for running their organization successfully.
(H/T: Mashable)