PARIS (TheBlaze/AP) — Officers shot and killed a knife-wielding man wearing a fake explosive vest at a police station in northern Paris on Thursday, French officials said, a year to the day after an attack on the French satirical newspaper Charlie Hebdo launched a bloody year in the French capital.
Luc Poignant, a police union official, said the man cried out "Allahu akbar," Arabic for "God is great."
The man was wearing what looked like an explosive vest, but it was fake, according to two French police officials who spoke on condition of anonymity to discuss the ongoing investigation. They said the man has not yet been identified.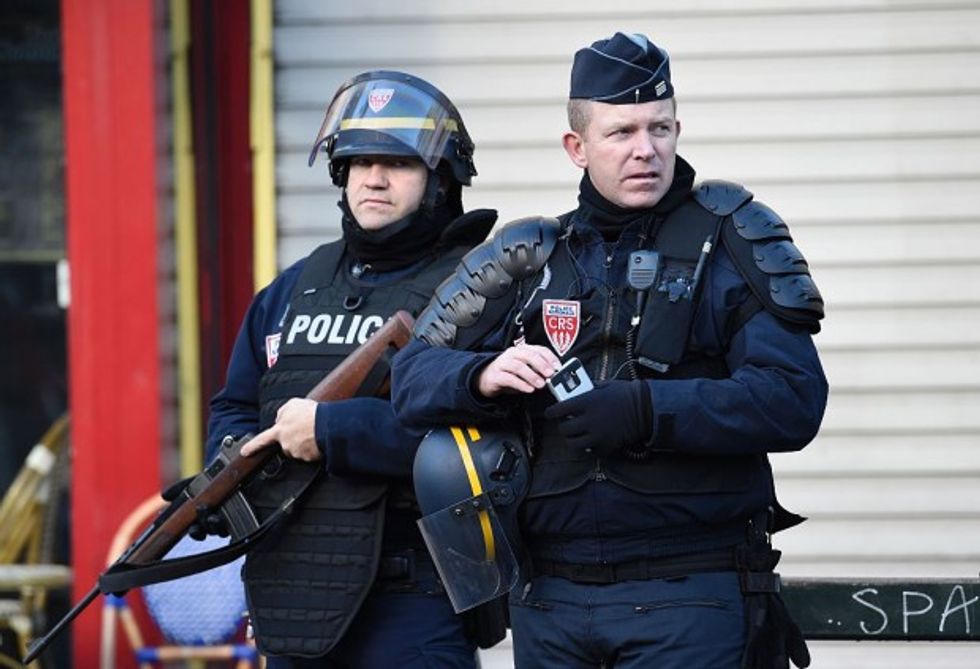 French police patrol near the Rue de la Goutte d'Or in the north of Paris, Jan. 7, 2016. (Getty Images/LIONEL BONAVENTURE/AFP)
Just a few minutes earlier, elsewhere in the city, French President Francois Hollande had finished paying homage to police officers killed in the line of duty, including three shot to death in attacks last January.
A Paris police official said police were investigating the incident at the Paris police station Thursday as "more likely terrorism" than a standard criminal act. The official spoke on condition of anonymity because he was not authorized to be publicly named according to police policy. The neighborhood in the Goutte d'Or district of northern Paris was locked down.
Hollande had said earlier that what he called a "terrorist threat" would continue to weigh on France.
In a speech to police forces charged with protecting the country against new attacks, Hollande said the government was passing new laws and ramping up security, but the threat remained high.
Hollande especially called for better surveillance of "radicalized" citizens who have joined Islamic State or other militant groups in Syria and Iraq when they return to France.
"We must be able to force these people —and only these people— to fulfill certain obligations and if necessary to put them under house arrest ... because they are dangerous," he said.
Hollande said officers die in the line of duty "so that we can live free."
France has been on high alert ever since Paris was struck again on Nov. 13 by fighters for the Islamic State. On that fateful night, the militants killed 130 people, after attacking a concert hall, restaurants and bars.
In response to Thursday's attack, police have asked residents in the surrounding areas to close all windows, stay inside and away from balconies.
#Paris: man shot dead by police described as "threatening". Police tell residents close windows, avoid balconies (AFP/Le Monde)

— Angelique Chrisafis (@Angelique Chrisafis) 1452166671.0
—