Republican White House hopeful Ben Carson came under fire Thursday after asking a group of grade-school students in Iowa which one of them is the "worst student."
"As a fifth-grade student, I was a horrible student," Carson said, according to the Des Moines Register. "Anybody here in fifth grade? Who's the worst student?"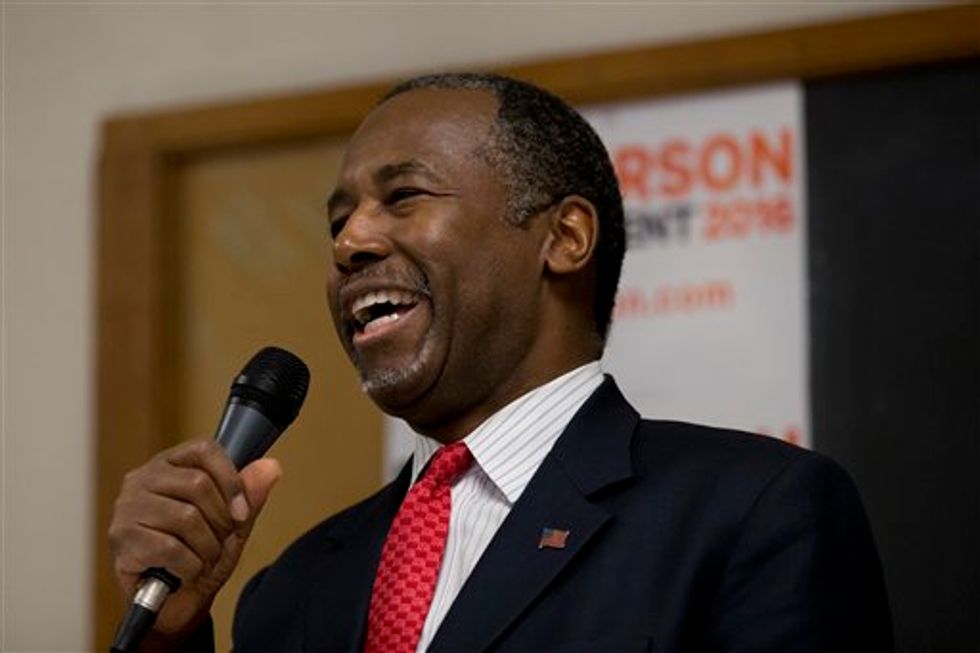 Republican presidential candidate Dr. Ben Carson speaks at a town hall, Jan. 6, 2016. (AP Photo/Jae C. Hong)
Carson's question, which came from good intentions and was being used as an anecdote to illustrate a point, prompted a group of fifth-graders to single out one of their classmates.
However, Carson was quick on his feet and turned the situation back to himself.
"Well, let me tell you, if you had asked that question in my classroom, there would have been no doubt," he told the students, adding that when he was in fifth grade, his classmates would have said that he was "the dumbest person in the world."
Fortunately, the student also took the situation in stride. After the event was over, the student said he laughed about the entire situation, adding that he would even vote for Carson if he could.
The fifth-grader even had the opportunity to meet Carson. After the event was over, Carson staffers saw a viral tweet from Register reporter Timothy Meinch, which noted the embarrassing situation.
W/ crowd of 500 @RealBenCarson just called out to 5th grade class: who's dumbest kid in class? At least half dozen kids point to 1 student.

— Timothy Meinch (@Timothy Meinch) 1452185372.0
To make up for it, campaign staffers arranged for the boy to meet the Republican candidate backstage.
.@RealBenCarson just met the 5th grade student back stage. Said he wants him to become a neurosurgeon #iacaucus https://t.co/XAO5LRcDYJ

— Timothy Meinch (@Timothy Meinch) 1452189245.0
During their meeting, Carson reportedly encouraged the boy to pursue a career in neurosurgery — just like him.
—
Follow the author of this story on Twitter and Facebook:
[facebook //www.facebook.com/plugins/like.php?href=