Rep. Debbie Wasserman Schultz (D-Fla.) lamented in a recent interview with the New York Times Magazine that young women aren't pro-choice enough.
Asked by the Times about a "generational divide" in the political landscape leading up to the 2016 presidential election, the Democratic National Committee chairwoman said, "Here's what I see: a complacency among the generation of young women whose entire lives have been lived after Roe v. Wade was decided," referring to the 1973 Supreme Court decision that legalized abortion.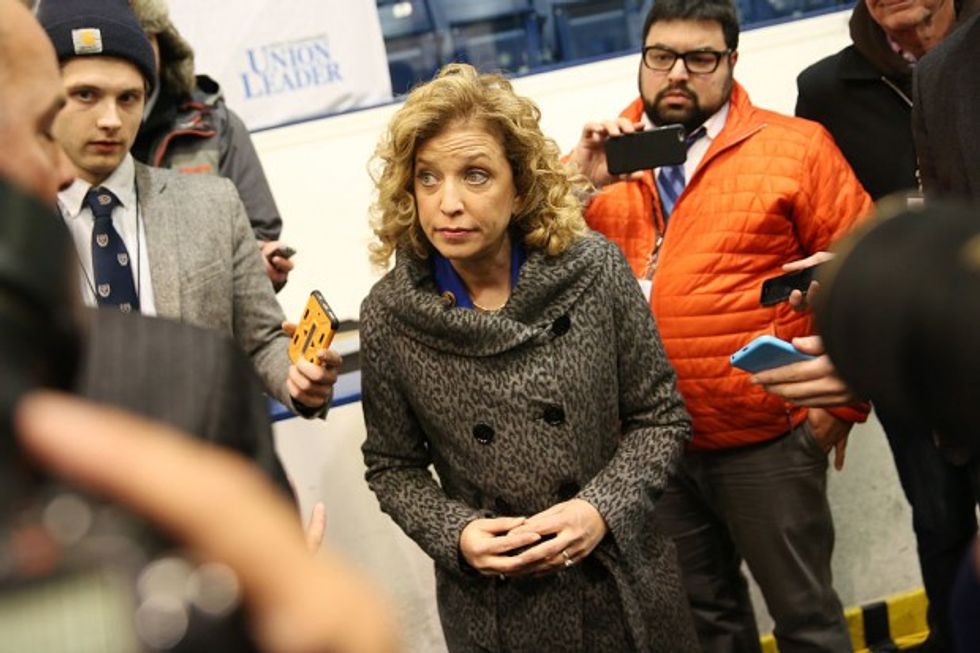 Rep. Debbie Wasserman Schultz (D-Fla.), who is also chairwoman of the Democratic National Committee, speaks to reporters before the Democratic debate Dec. 19, 2015, in Manchester, New Hampshire. (Andrew Burton/Getty Images)
After her remarks were met with backlash, Wasserman Schultz attempted to clarify her remarks on Twitter:
I want to be clear about this: Many in *my generation* got complacent after Roe, thinking the fight for safe, legal abortion was over. 1/6

— Debbie Wasserman Schultz (@Debbie Wasserman Schultz)1452122391.0
Millennials know that wasn't the case - they are leaders in the fight to protect abortion rights. They know progress isn't final. 2/6

— Debbie Wasserman Schultz (@Debbie Wasserman Schultz)1452122437.0
They've also been leaders in advancing marriage equality, expanding health care, and so many other huge, consequential battles. 3/6

— Debbie Wasserman Schultz (@Debbie Wasserman Schultz)1452122466.0
But even when we've achieved big victories, like with Obamacare, we continue to see the other side try to roll back progress. 4/6

— Debbie Wasserman Schultz (@Debbie Wasserman Schultz)1452122496.0
Remaining vigilant is not only important in our fight to protect & advance women's equality, it is essential to defend all our victories 5/6

— Debbie Wasserman Schultz (@Debbie Wasserman Schultz)1452122544.0
The mantle must be carried by each generation. We have 10 months to elect the next Democratic president. Let's keep fighting, together. 6/6

— Debbie Wasserman Schultz (@Debbie Wasserman Schultz)1452122576.0
Students for Life of America, a leading pro-life group for young Americans, was quick to react to Wasserman Schultz's remarks on Twitter.
Come to the March for Life @DWStweets and get back to us--> DNC chair: Millennials are complacent on abortion rights https://t.co/DOuSGmBx2W

— studentsforlife (@studentsforlife)1452106758.0
Sounds like the DNC is scared of the #prolifegen! https://t.co/yWiBTJREFp

— Kristan Hawkins (@Kristan Hawkins)1452108614.0
The group recently announced that it will present a Defender of Life Award to 10 millennials.
. @DWStweets says millennials are complacent on abortion https://t.co/iB9GppttG5 Meanwhile at @Students4LifeHQ https://t.co/NFB9zMZ0VG

— mallory quigley (@mallory quigley)1452113714.0
"Ms. Wasserman Schultz is in a panic because she sees what we see every day: passionate, young women making incredible strides in moving the needle in this generation's beliefs on abortion," Kristan Hawkins, the president of Students for Life of America, told TheBlaze.
Hawkins said that there has in fact been a "generational shift" on abortion.
"Voters under 30 years old were once the most ardent abortion supporters. In 1991, 36 percent of 18-29-year-olds believed abortion should be legal in all circumstances yet in 2010, only 24 percent of the same age group believed abortion should remain legal in all circumstances, making this generation more pro-life than their parents," Hawkins said.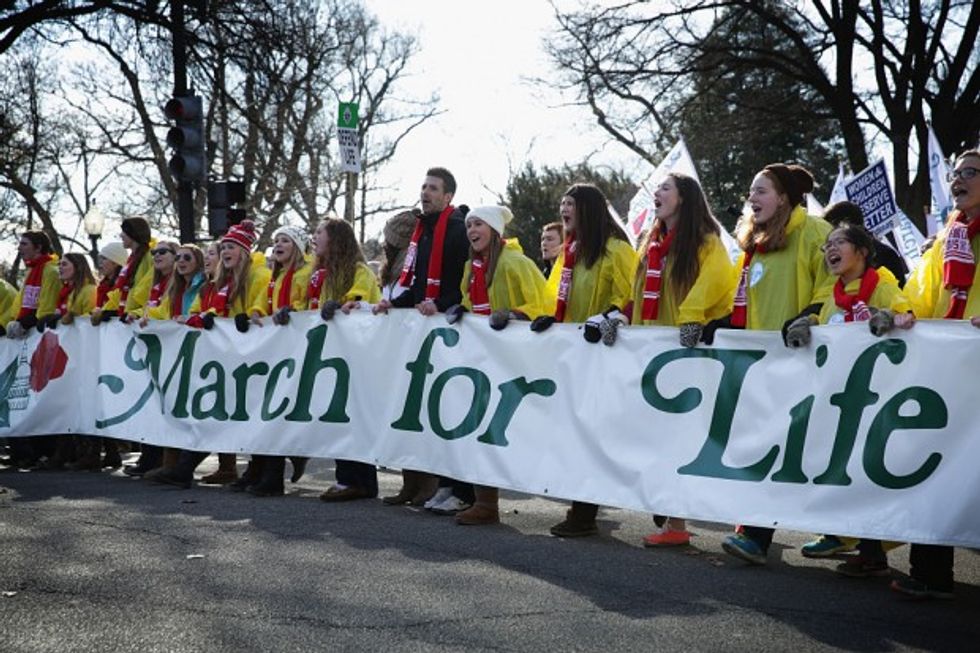 Pro-life activists participate in the annual March for Life as they pass in front of the U.S. Capitol Jan. 22, 2015. (Alex Wong/Getty Images)
Hawkins is optimistic about what the pro-life movement can accomplish in 2016.
"It's fun to watch abortion supporters like the DNC chairwoman admonish their own side for not supporting abortion enough," Hawkins said.
"Former NARAL president Nancy Keenan called this the 'intensity gap' and she was right," Hawkins continued. "In last year's annual report, Planned Parenthood bragged that they had 200 campus pro-choice groups while at the same time, Students for Life was pushing upwards of 930 groups on campuses in all 50 states."
Hawkins said that the pro-life movement is "growing faster" than the pro-abortion movement "because we empower women — we tell them they can and the abortion movement tells them they can't."
"We have the winning message because we have the truth on our side — and young women and men recognize that and are abandoning the abortion movement," Hawkins said.