Planned Parenthood Action Fund, the advocacy arm of the nation's largest abortion provider, announced Thursday that it will endorse Hillary Clinton for president.
According to the group, this is the first time in the organization's history that they have endorsed a candidate in a presidential primary.
The organization says it plans to spend "at least $20 million" during the 2016 election cycle.
"Let's be clear — reproductive rights and health are on the ballot in 2016," Cecile Richards, the president of both Planned Parenthood and Planned Parenthood Action Fund, said in a statement. "It is unthinkable that our daughters and granddaughters would have fewer rights than my generation did, yet every single GOP candidate for president wants to erase decades of progress for women — pledging to cut access to Planned Parenthood, ban safe, legal abortion, and block health insurance coverage for birth control."
"We're proud to endorse Hillary Clinton for President of the United States," Richards continued. "No other candidate in our nation's history has demonstrated such a strong commitment to women or such a clear record on behalf of women's health and rights. This is about so much more than Planned Parenthood. Health care for an entire generation is at stake."
Planned Parenthood has been at the center of a months-long controversy following the release of a series of undercover videos by the Center for Medical Progress depicting senior members of the organization appearing to discuss the sale of aborted fetal body parts to researchers for profit. Such sales are a felony in the United States.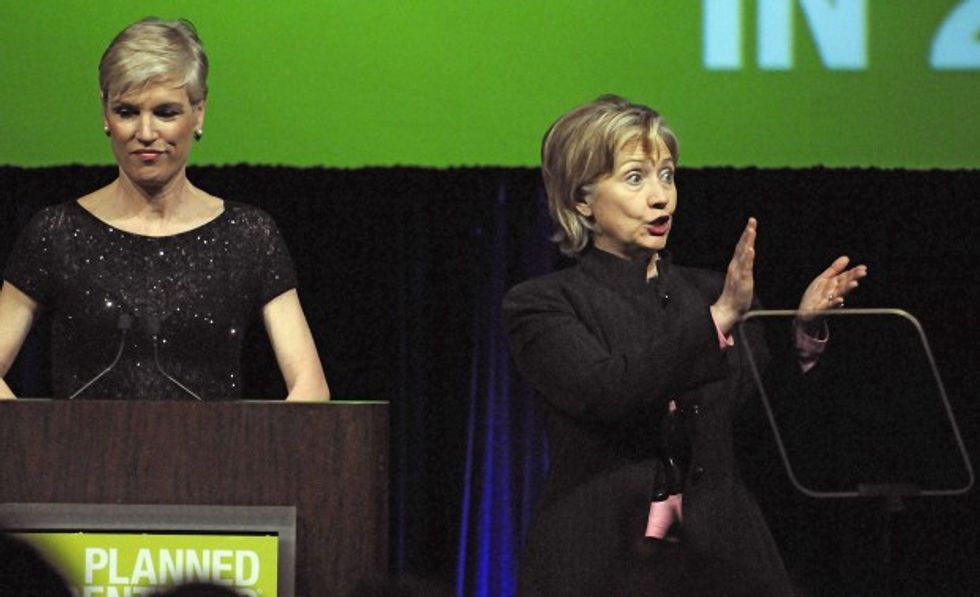 Then-Secretary of State Hillary Clinton is pictured with Planned Parenthood head Cecile Richards at the Planned Parenthood Gala March 27, 2009, in Houston. (AP Photo/Pat Sullivan)
The controversy spurred calls for Planned Parenthood to lose its taxpayer funding and for those funds to be redirected to other women's health organizations.
On Wednesday, the House of Representatives voted in favor of a reconciliation bill that would defund Planned Parenthood, as well as repeal Obamacare. The president has vowed to veto any such measure.
House Speaker Paul Ryan (R-Wis.) called defunding the organization "a very high priority."
Hillary Clinton reiterated her support for Planned Parenthood on Twitter.