It was either a hallucination, a dream or a glimpse of heaven.
Arika Stovall and Hunter Hanks don't remember how exactly the horrific car accident occurred, but Stovall does remember the man with a big white beard in the aftermath of the accident. In a lengthy Facebook post, which has gone viral, Stovall said that she often has problems with her heart and panic attacks, and the sight of her 21-year-old boyfriend, who was not moving after the accident, immediately struck fear in her — but she kept her eyes on the unknown man who appeared after the accident, even as Hanks had to be cut out of the mangled vehicle.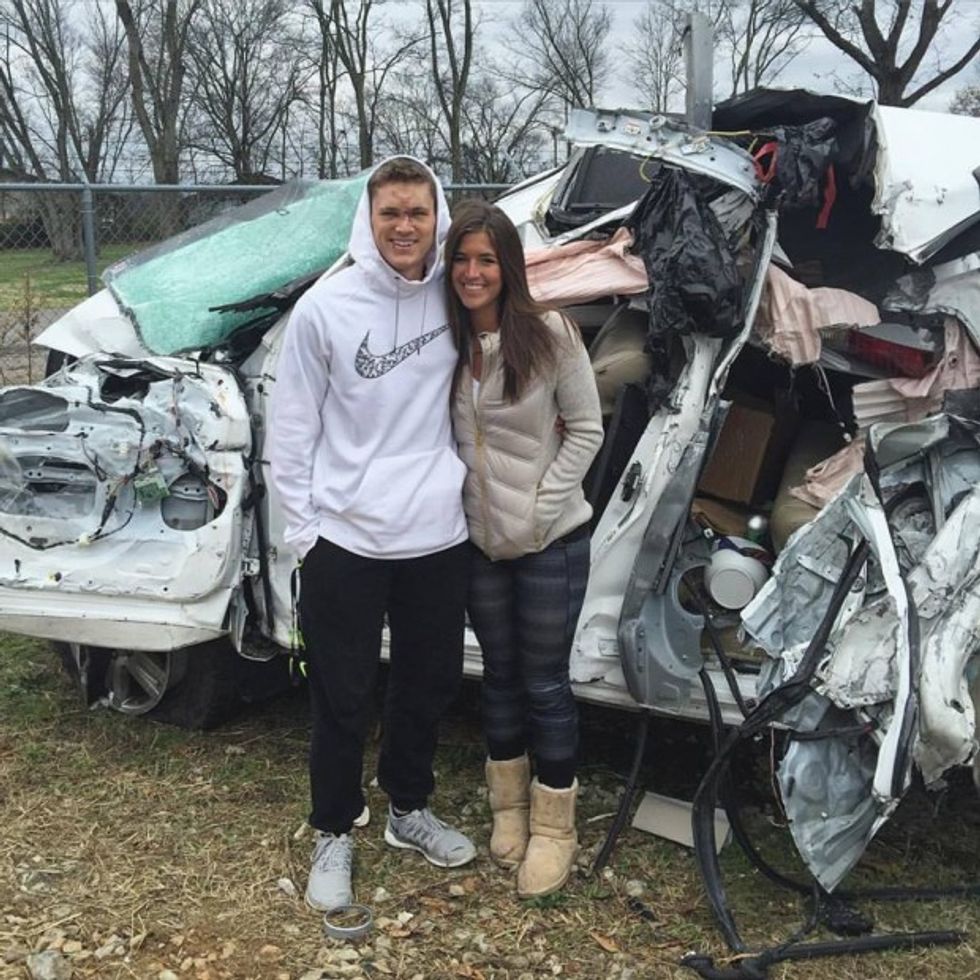 Image via Facebook/Hunter Hanks
Stovall wrote:
"From that moment until Hunter was cut & lifted out of the truck I believe with my whole heart that looking at this man helped me to literally believe in that moment that Hunter was next to me on the road. I don't know if it was a hallucination or me unconsciously dreaming or a glimpse of heaven...but all I knew in that moment was that Hunter was safe with me. This man..looking at him for a short moment..helped me not witness Hunter being peeled out of the truck. I believe if I saw that I would have had a heart attack. Right when Hunter was actually out and next to me, I asked this man when the ambulance was coming. He told me in just a second. He walked away, I blinked and a flashlight was in my face. The paramedics were there helping me and Hunter and the anxiety and worry if he was okay disappeared because we were in good hands."
According to Stovall's post, a "miracle" happened after the accident. Neither she nor Hanks suffered any broken bones or serious injuries. Both received a few stitches and suffered concussions that last less than 24 hours, she said.
"I am amazed. Absolutely taken away by the presence of God," Stovall said. "So blessed for him sending me an angel. So thankful for Hunter and his second chance at life...for his healing and health. We are so fortunate for families who traveled hundreds and hundreds of miles to be with us. And so thankful for all the thoughts and prayers that were sent our way."
Stovall's post — and touching photo — have gone viral with more than 68,000 shares on Facebook. In the photo, Hunter is seen leaning over Stovall's bed as the two smiled and shared a touching moment.
"All I cared about was seeing her and making sure she was ok before me, I didn't care what happened to me as long as she was alright," Hanks told WTVF-TV following the car accident.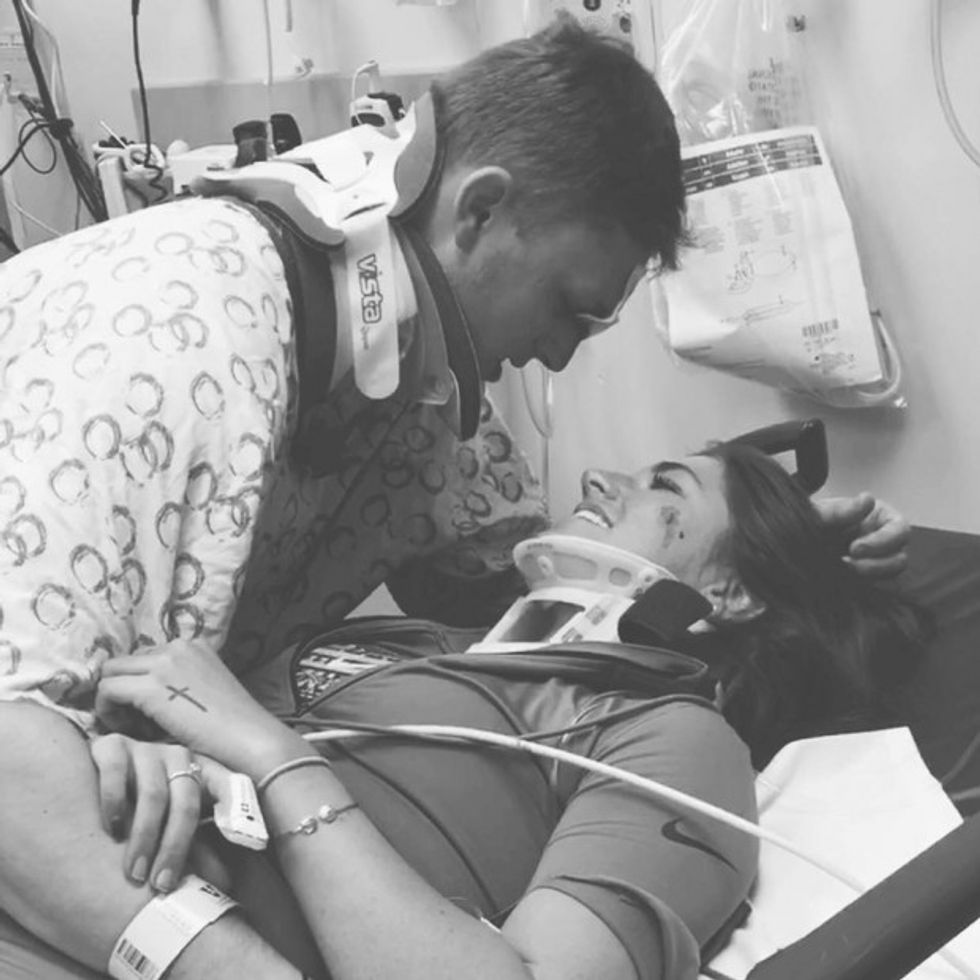 Image via Facebook/Arika Stovall
In her viral Facebook post, Stovall, 21, said that the car accident gave her another reason to be a witness of her faith to others, and if she had to go through it all again, she would. She said:
But tonight I'm praying for all of you. If there's anything you read out of this novel I'm typing up here it's this: I want everyone to to know the love and the power of God. He has a purpose...and it's so clear that NOTHING...not even a car accident like this one will cause his plans for you to change. We are put on this beautiful earth for a reason and the reason is to help people know Him. We are made to show and share His love. And if it takes a car wreck like this for me to get to do that then I would do it all over again. I'm praying that everyone who reads this can get a glimpse of Gods faithfulness. He is GOOD. And working. And the plans he has for YOU and your life aren't going anywhere. Good or bad, what you want or what you don't want...it's God's doing. It's his plans unfolding. It's his kingdom coming. Embrace the struggles and the joys of this life! Without a doubt it's a miracle we're alive, but more than that it's simply Gods plan for us. We're so grateful for this wreck and all it will do in our lives. We are blessed to be okay. And so in love with the amazing God we serve.
Stovall said that when they went back to see the truck, the couple found Hanks' Bible opened "with a page marked with scripture telling us to not be afraid; Jesus is with us."
"It's only by the grace of God (that we don't deserve) that just 2 days later we're able to smile and stand in front of this huge pile of destroyed metal that was once my best friend of a truck," Hunter wrote in his own Facebook post which has been shared more than 1,000 times.
Read both of young adult's Facebook posts in full below.