In the wake of sexual assaults reported in Cologne, Germany, on New Year's Eve — blamed largely on Middle Eastern and North African migrants — much of Europe is abuzz with debate over the problems that accompany mass migration of Eastern people into Western nations.
The streets of Cologne on Saturday hit a fever pitch over the issue, with thousands from opposing ideological spectrums holding angry protests. Some held banners with slogans such as "RAPEfugees not welcome" and "Integrate barbarity?" while counter-protesters maintained their "refugees welcome" mantra.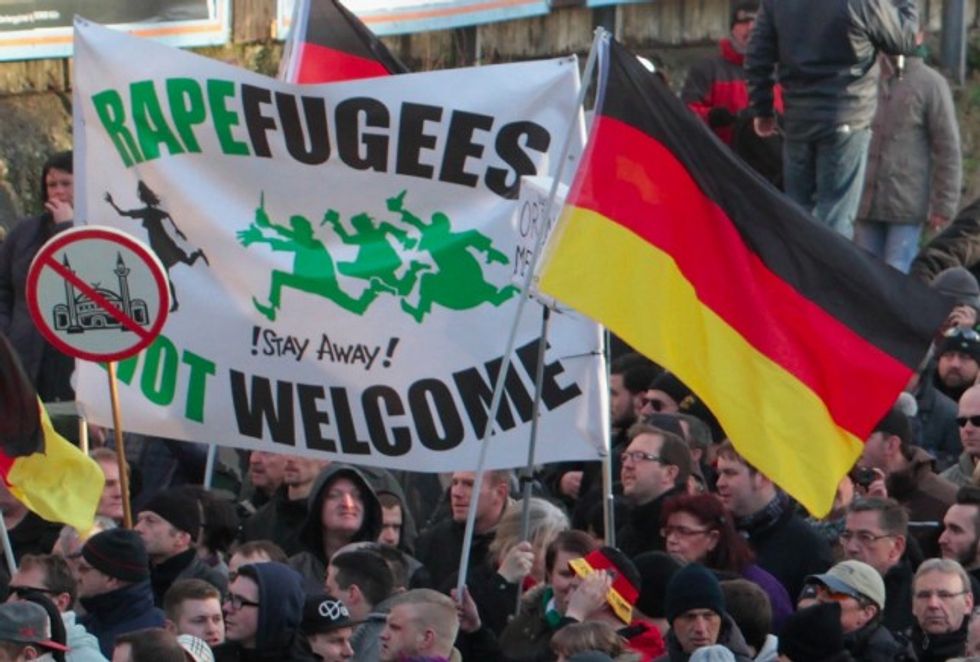 Demonstrators hold a sign "Rapefugees not welcome - !Stay away!" and a sign with a crossed out mosque as they march in Cologne, Germany, on Saturday Jan. 9, 2016. (AP Photo/Juergen Schwarz)
Stepping into the fray is New York Times contributing op-ed writer Anna Sauerbrey, who covers Germany and is an editor on the opinion page of the newspaper Der Tagesspiegel. Her most recent piece for the Times — "Germany's Post-Cologne Hysteria" — offered the following conclusion on the matter:
The real question we should be asking is not whether there is something inherently wrong with the refugees, but whether Germany is doing an effective job of integrating them — and if not, whether something can be done to change that.
Readers were quick to react:
#AnnaSauerbrey at #NYTimes blaming #Germany for migrant sexual assaults. Ignorance like this has to be challenged https://t.co/bdHpY882WZ

— billrav/Visegrad4 CZ (@bill_ravotti) January 10, 2016
Anna Sauerbrey of NYT wrote an article that was largely a pile of non-committal crap she labeled as "hysteria." https://t.co/xILY9tQXvh

— Steve Kitcoff (@SoloVoc) January 9, 2016
The narrative is back on track: all those sexual assaults are really *Germany's* fault. https://t.co/pZghFhfkwM pic.twitter.com/WPQhtf9HQN

— Tom Nichols (@RadioFreeTom) January 9, 2016
To be fair, Sauerbrey noted that the political left poorly deflected blame for the sexual assaults by calling out organized crime despite lack of evidence. More from her piece:
The left has long ignored the established correlations between crime and the poverty and poor education that plague refugee communities; the right has long overestimated the link between the refugees' culture and criminal activity, even when studies show no such link exists (excepting so-called crimes of honor, which are extremely rare).

None of this, however, fits into a TV sound bite or a tweet. Even if it did, it would probably fail to reach its audience in the heated atmosphere of the moment.
Others remained unmoved by Sauerbrey's opinion:
@annakatrein Was the irony of using "hysteria" while being an apologist for the organized sexual assault of more than 100 women intentional?

— Mark Spurlock (@MarkLSpurlock) January 9, 2016
(H/T: Young Conservatives)