Texas Sen. Ted Cruz's presidential eligibility would most likely be challenged by Democrats — should he be the Republican nominee — and ultimately decided on by the Supreme Court, according to Kentucky Sen. Rand Paul.
Appearing on CBS' "Face the Nation," Paul said Cruz's presidential eligibility will be a question as the Constitution uses the "unusual language" of "natural-born" when laying out the criteria for U.S. presidents.
"The thing is, I think all experts agree that he was naturally born in Canada, and so the legal question is: can you be naturally born in Canada and also be considered a natural-born American citizen, and it hasn't been decided," Paul, also a GOP presidential hopeful, said Sunday.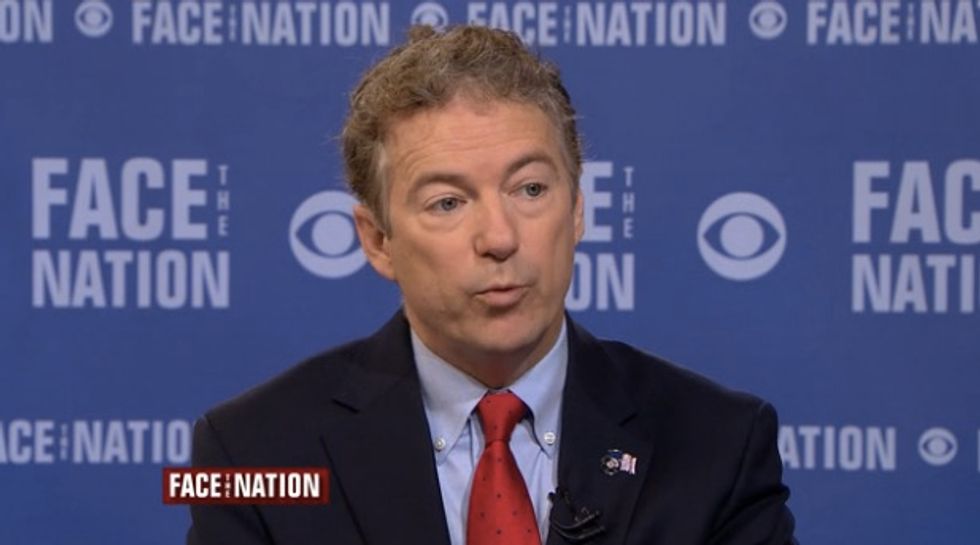 Image source: CBS News
"I think the Democrats will challenge it, at the very least, and I think it will have to decided by the Supreme Court," the libertarian-leaning senator continued.
Paul said that if Cruz is elected as the next U.S. president, "he would be the first president not born in the United States" — a feat that Paul called "extraordinary."
Cruz's eligibility to be president has been called into question during the 2016 campaign as he was born in Canada to an American mother and a Cuban father. Cruz officially renounced his dual Canadian citizenship in the summer of 2014 — something fellow GOP presidential contender Carly Fiorina said was "odd."
"Republicans are going to have to ask themselves the question: 'Do we want a candidate who could be tied up in court for two years?' That'd be a big problem," GOP presidential frontrunner Donald Trump said backstage prior to a campaign event earlier this month. "It'd be a very precarious one for Republicans because he'd be running and the courts may take a long time to make a decision. You don't want to be running and have that kind of thing over your head."
My response to @realDonaldTrump calling into question my natural-born citizenship? https://t.co/gWfAHznlCY

— Ted Cruz (@tedcruz) January 5, 2016
Senate Majority Leader Mitch McConnell (R-Ky.) said during an interview on Sunday that the Senate was not going to issue any sort of resolution on Cruz's eligibility to be the U.S. president despite the Senate issuing such a resolution for Arizona Sen. John McCain (R) in 2008.
Florida Rep. Alan Grayson (D) has already promised to file a lawsuit regarding Cruz's citizenship if the senator does indeed become the Republican nominee.