Texas Sen. Ted Cruz said he does not "intend" to deploy law enforcement officials who go door to door across the country to round up undocumented immigrants if he is elected president.
Cruz's proclamation came after being pressed by CNN's Jake Tapper during a "State of the Union" interview that aired on Sunday.
"No, I don't intend to send jack boots to knock on your door and every door in America," the GOP presidential hopeful said. "That's not how we enforce the law for any crime."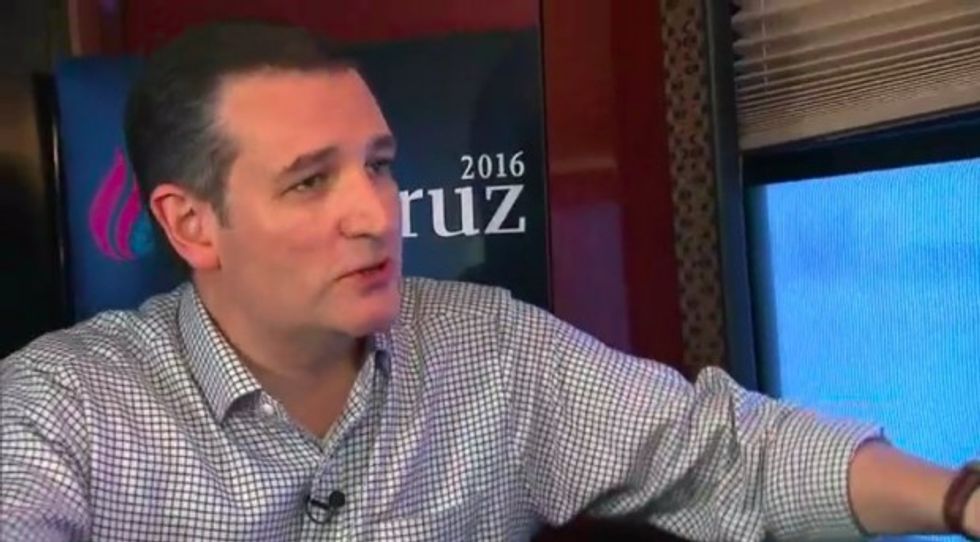 Image source: CNN
"Door to door — we don't have any system that knocks on the doors of every person in America. That is not actually how the American law enforcement system works. We also don't have people going to door to door looking for murderers," Cruz said. "We don't live in a police state. We do have law enforcement. How do we catch people? We catch them through things like e-verify, we catch them through things like the criminal law enforcement system."
Instead, Cruz said that he would enforce a "strong e-verify program" as well as a strong "biometric entry-exit system" in order to catch immigrants who are in the country illegally.
GOP presidential frontrunner Donald Trump has said that he would implement a so-called "deportation force" in order to find and deport the 11 million undocumented immigrants already in the U.S.
According to a recent NBC News/Wall Street Journal/Marist poll, Cruz barely leads Trump in Iowa by only four points among likely caucus voters. The two Republican candidates have 28 percent and 24 percent, respectively. Florida Sen. Marco Rubio is at 13 percent, and retired neurosurgeon Ben Carson is at 11 percent. No other Republican candidate is polling higher than 5 percent.