Two pro-Palestinian activists were secretly videotaped conspiring to turn in to authorities a Palestinian land broker interested in selling West Bank property to Jews — a crime punishable by death under Palestinian Authority law.
The Israeli investigative show "Uvda" ("Fact") on Thursday night broadcast the recordings captured by an Israeli posing as a pro-Palestinian activist.
Ezra Nawi, a prominent activist with the organization "Ta'ayush," told the undercover Israeli how a Palestinian property broker, identified as Moussa, had asked Nawi if he could introduce him to a prospective Jewish buyer.
"I hand them over, their photos and phone numbers directly to the Palestinian Authority security service," Nawi told the Israeli posing as a left-wing activist, referring to Palestinians who want to sell property to Jews.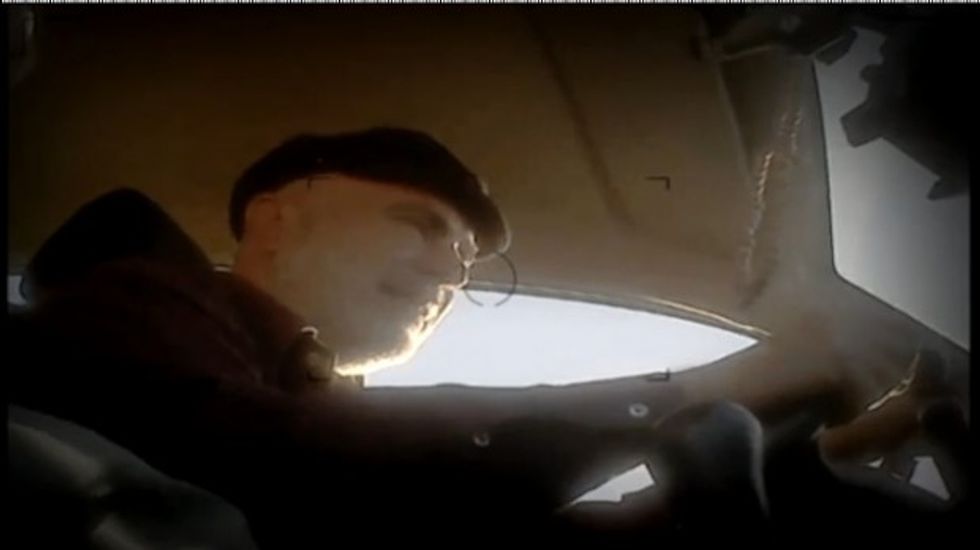 "I hand them over, their photos and phone numbers directly to the Palestinian Authority security service," Ezra Nawi, a prominent left-wing activist said as he was secretly taped. (Image source: Uvda, Channel 2)
Asked what the Palestinian Authority does to stop the sale, Nawi answered, "catches them and kills them."
"Before it kills them, it beats them up a lot … tortures them," he added.
Nawi was recorded saying that another Palestinian land broker suffered a "stroke" after he handed his name to the Palestinian Authority's Preventive Security Force which tortured him.
More secret footage showed Nawi meeting with Moussa to try to find out the names of Palestinians interested in selling their land to Israelis. Nawi said he wanted to "bring down the entire network" of sellers.
"Uvda" reported that an activist with the prominent Israeli human rights group B'Tselem worked with Nawi to set up a sting to lure the prospective seller to Palestinian Authority territory where he would be arrested.
Some pro-Palestinian activists have accused Israel of behaving like an apartheid state, while glossing over the Palestinian Authority's legal prohibition against selling land or homes to an entire faith group.
The group of Israelis behind the secret recordings told the investigative program how they decided to infiltrate so-called human rights groups after suspecting they were promoting an agenda that wasn't always humanitarian.
They founded an organization called "Ad Kan" ("That's Enough") and started to reach out to pro-Palestinian activists first via Facebook then at demonstrations, some of whom stage protests against Israeli soldiers every Friday afternoon designed to capture media attention.
A combination of left-wing Israelis, Palestinian activists and foreign anarchists attend those protests which are characterized by stone-throwing Palestinians and tear gas shooting Israel Defense Forces soldiers.
The Israelis who went undercover accused Israeli left-wing pro-Palestinian groups, many of which are funded by European governments, of hiding behind the human rights banner.
That sentiment was echoed by Israeli Prime Minister Benjamin Netanyahu who, after Thursday's broadcast, posted on Facebook that the show had "unmasked the true face of the radicals among us whose hatred for settlements has pushed them over the edge to the point of handing in innocents for torture and execution."
"Those who encourage murder cannot continue to hide behind the hypocritical pretense of caring for human rights," he added.
Responding to the recordings of its activist engaged in conspiring to hand in Palestinian land brokers, B'Tselem was unapologetic.
"Settlers in the south Hebron hills do not hesitate to use all means in order to dominate — with the backing of the government — over Palestinian lands in the area in order to dispossess them and expel them from their homes," B'Tselem said in a statement to Channel 2's "Uvda" show.
"Contacting the authorities cannot in any way be considered as 'handing [them] over,'" B'Tselem added.
B'Tselem describes itself on its website as a champion of "human rights in the West Bank and Gaza Strip for over two decades, promoting a future where all Israelis and Palestinians will live in freedom and dignity."
According to the NGO-Monitor, an Israeli research group that tracks foreign funding for Israeli non-profits, the U.S.-based Catholic Relief Services and the New Israel Fund – a U.S. 501(c)(3) tax-exempt organization – have provided funding to B'Tselem.