Appearing on CBS' "Face the Nation" Sunday, Gov. Chris Christie (R-N.J.) denied a recent accusation that he donated to Planned Parenthood.
During an interview on Fox Business Network, one of Christie's fellow Republican presidential candidates, Sen. Marco Rubio (Fla.), said that Christie had donated to the nation's largest abortion provider.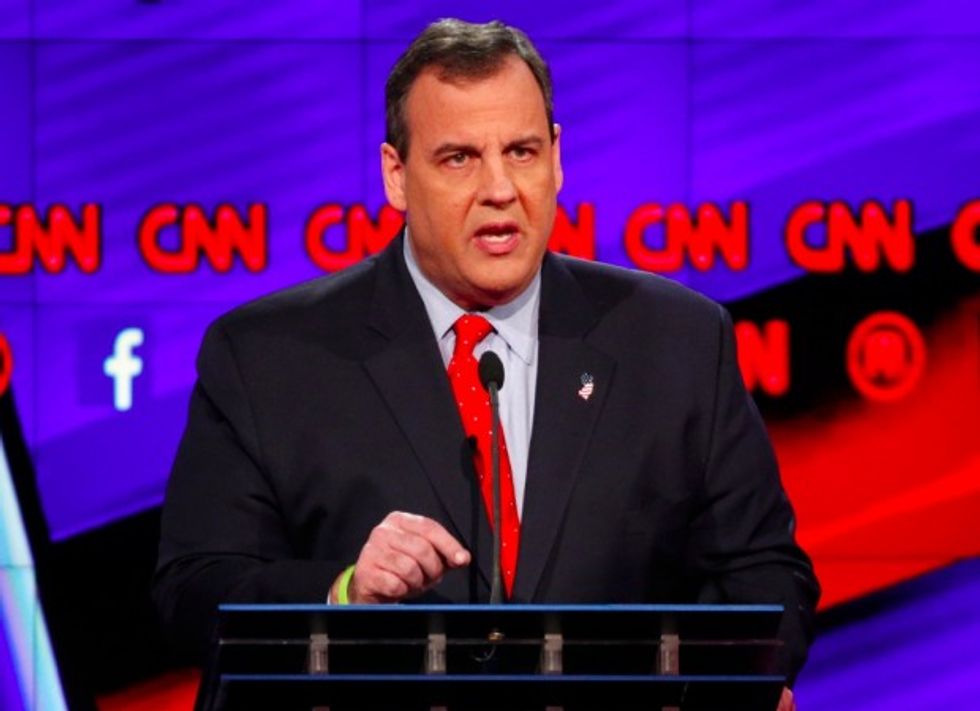 Chris Christie speaks during the Dec. 15, 2015, Republican presidential debate in Las Vegas. (AP Photo/John Locher)
"Chris Christie personally contributed to Planned Parenthood," Rubio said.
Rubio's claim was in reference to a Sept. 30, 1994, interview with the Newark Star-Ledger in which Christie said:
I support Planned Parenthood privately with my personal contribution and that should be the goal of any such agency, to find private donations. It's also no secret that I am pro-choice. … But you have to examine all the agencies needing county donations and prioritize them. I would consider all groups looking for funding, but there is a limit and we have to pick and choose.
Christie dismissed the accusation that he had donated to the abortion provider.
"I never donated to Planned Parenthood, so that's wrong," Christie said. "For him to be trying to characterize my conservative record in that way is contrary to what Marco himself said. Marco himself has said that I was a conservative reformer in New Jersey."
Christie also responded to Rubio's assertion on Twitter:
Oh @marcorubio, the way things used to be #tbt https://t.co/28d0wX7sMW

— Chris Christie (@Chris Christie) 1452168271.0
In the beginning of his political career, Christie described himself as a pro-choice Republican. He later said that he changed his mind on abortion after hearing his unborn daughter's heartbeat during an ultrasound.
"I heard a heartbeat," Christie said of the experience during a 2011 interview with Piers Morgan.
What happened was I had been pro-choice before that, and I would call myself before that a kind of a non-thinking pro-choice person, kind of the default position that I took. Then, when my wife was pregnant with our daughter Sarah who is now fifteen, we happened to go to one of the prenatal visits at 13 weeks. And they put the Doppler on my wife's abdomen — who didn't look at all pregnant at that point, visibly — and we heard this incredibly strong heartbeat. I remember we came separately, she came from her job and I came from mine, we went back to work. As I was driving back to work I said to myself, "You know, under my position on abortion I would say that a week ago that wasn't a life." I heard that heartbeat, that's a life. And it led to me having a real reflection on my position and when I took time to reflect on it I just said, "You know what? I'm not comfortable with that anymore." That was back in 1995, and I've been pro-life ever since.
Christie ran for governor of New Jersey as a pro-life candidate and has blocked state funds for Planned Parenthood during his time in office. He has also called for Planned Parenthood to lose its federal funding.
The issue of taxpayer funding for Planned Parenthood has been increasingly controversial since the release of undercover videos of senior executives at the organization appearing to negotiate the price "per specimen" of aborted fetal body parts. Such sales are a felony in the United States. Representatives for Planned Parenthood have denied illegal conduct.
The organization's advocacy arm endorsed Democratic presidential candidate Hillary Clinton on Sunday. Clinton has vowed to preserve their taxpayer funding and, in fact, over the weekend called for the repeal of the Hyde Amendment, which prohibits federal taxpayer funding for abortion.