The Fox Business Network announced on Monday the candidate lineup for Thursday's Republican debate — and for the first time, Sen. Rand Paul (R-Ky.) did not qualify.
To qualify, a candidate needed to place in the top six in an average of the five most recent national polls, or in the top five in an average of the five most recent polls in Iowa or New Hampshire.
The candidate lineup for the @FoxBusiness 9p ET #GOPDebate on Thursday, January 14th: https://t.co/P0OH4ik4dW

— FOX Business (@FOX Business) 1452556853.0
Seven candidates qualified, Fox Business announced Monday. In order, the candidates to make the main stage were businessman Donald Trump, Sen. Ted Cruz (R-Texas), Sen. Marco Rubio (R-Fla.), retired neurosurgeon Ben Carson, N.J. Gov. Chris Christie, former Florida Gov. Jeb Bush, and Ohio Gov. John Kasich.
Paul, former Hewlett-Packard CEO Carly Fiorina, former Arkansas Gov. Mike Huckabee and former Pennsylvania Sen. Rick Santorum were relegated to the undercard debate.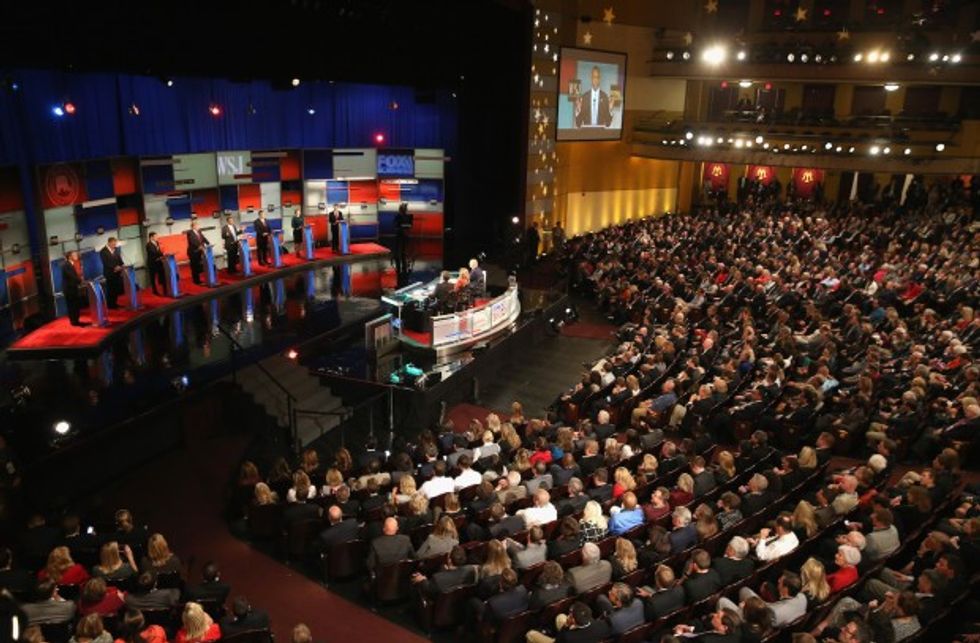 Presidential candidates Ohio Governor John Kasich (L-R), Jeb Bush, Sen. Marco Rubio (R-FL), Donald Trump, Ben Carson, Ted Cruz (R-TX), Carly Fiorina, and Sen. Rand Paul (R-KY) take part in the Republican Presidential Debate sponsored by Fox Business and the Wall Street Journal at the Milwaukee Theatre November 10, 2015 in Milwaukee, Wisconsin. (Photo by Scott Olson/Getty Images)
News of not making the debate did not sit well with Paul. The Kentucky senator vowed to skip the undercard debate and said he deserved to be placed on the main stage.
"I won't participate in anything that's not first tier because we have a first tier campaign," he told CNN.
His campaign released a statement that said, "By any reasonable criteria Senator Paul has a top tier campaign. He will not let the media decide the tiers of this race and will instead take his message directly to the voters of New Hampshire and Iowa."
The statement added, "Creating 'tiers' based on electoral results of real votes might make sense but creating 'tiers' on bad science is irresponsible."
—
Follow the author of this story on Twitter and Facebook: