Florida GOP Sen. Marco Rubio's presidential campaign and a pro-Rubio super PAC will account for more than half of the $9.4 million in spending on Iowa television ads in the month before the state's Feb. 1 caucuses, according to a Des Moines Register analysis out today.
Rubio's campaign and the political action committee Conservative Solutions PAC spent about $5.1 million on the ads, airing between Jan. 1 and election day, said the Register, which was based on Federal Communications Commission records.
The analysis looked at more than 17,000 TV ads set to air this month. But it doesn't include more recent ad buys, including those by national front-runner Donald Trump and Iowa front-runner Texas Sen. Ted Cruz, who both made buys of about $1 million in the early days of January.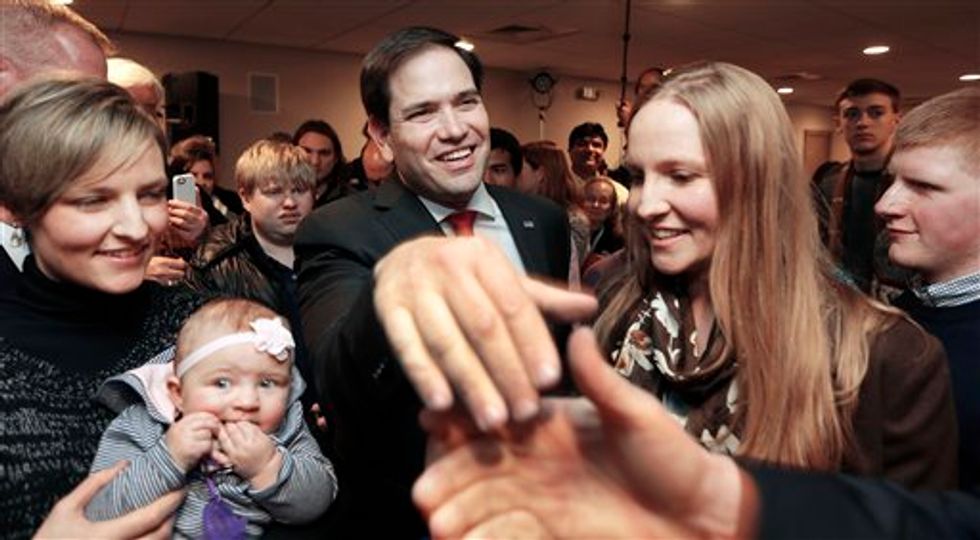 Sen. Marco Rubio (R-Fla.) shakes hands during a town hall in New Hampshire. (AP/Jim Cole)
For Rubio, who is polling third in Iowa, the ads could help sway last-minute support in a state where he's spent about 35 days campaigning so far in the 2016 race. The candidate is currently polling at second in New Hampshire, where he's been spending the bulk of his campaign time.
The Rubio Iowa ad buy was planned since mid-2015, a Conservative Solutions spokesman told the Register:
"Back in the middle of 2015, we were, because of strong fundraising in the early part of the year, able to reserve significant portions of airtime in Iowa in December and January leading into the caucus," said Jeff Sadosky, a spokesman for Conservative Solutions PAC, which supports Rubio. "That was done both to ensure we're operating as cost effectively as possible but also to ensure access to prime television time."