Tensions ran high between MSNBC's "Morning Joe" co-hosts, Joe Scarborough and Mika Brzezinski, and their liberal guest Monday morning when the three discussed whether Democratic presidential front-runner Hillary Clinton should be held accountable for any involvement she might have had in silencing women allegedly sexually abused by her husband.
Though the co-hosts said several times that they were not interested in rehashing former President Bill Clinton's past sexual indiscretions, they did want to discuss the Hillary Clinton's potential involvement in covering up or silencing women who claimed to have been abused by the former president — especially as she campaigns on the premise of women's rights. However, guest former Rep. Harold Ford Jr. (D-Tenn.) clashed with the two hosts, especially Scarborough.
"Comparing Bill Clinton to Bill Cosby is wrong," Ford, a professor at the University of Michigan School of Public Policy, said.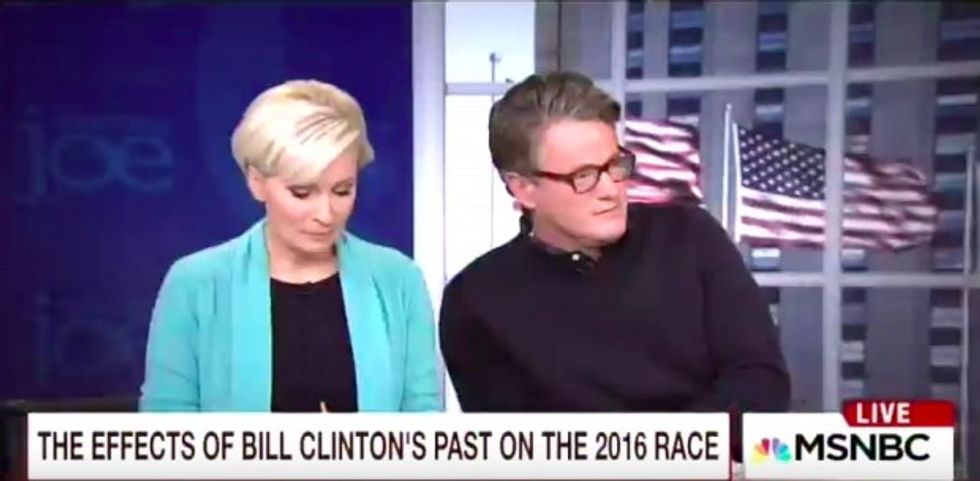 Image source: MSNBC
"If Bill Clinton's political career was not undone by these things, why should Hillary Clinton's career be undone by these things," Ford continued, visibly perturbed.
At one point, as Scarborough and Ford continued to talk over each other, Ford said that Scarborough reminded him of GOP presidential frontrunner Donald Trump — a comparison that likely was not meant as a compliment.
"This is about Hillary Clinton, not Bill Clinton's actions," Scarborough said.
"You're just trying not to talk about it," Brzezinksi accused their guest at one time.
Watch more of the brouhaha between MSNBC's "Morning Joe" hosts and Ford below.