NEW YORK (TheBlaze/AP) -- Thousands of New Yorkers thought it was a hot thing Sunday to strip to their underwear during winter and ride on public transportation, along with pantless crowds in about 60 countries.
"I'm a no-pant virgin," declared a grinning Miguel Ramos amid New York's No Pants Subway Ride. It was the Mexican-born restaurant worker's first foray into the "international celebration of silliness," as organizers billed it.
The laughter-filled ritual started in the largest U.S. city in 2002 and has expanded nationwide and overseas, from Atlanta, Chicago and Dallas to London, Berlin, Prague and Vienna.
It's coordinated by Improv Everywhere, a global flash mob.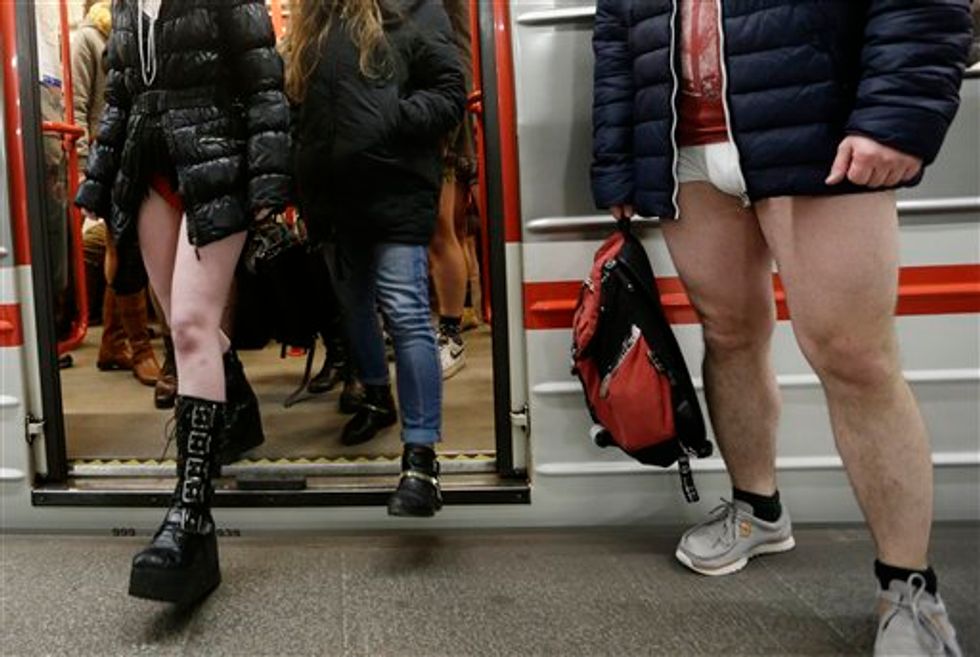 Passengers not wearing pants take part in the No Pants Subway Ride in Prague, Czech Republic, Sunday, Jan. 10, 2016. The No Pants Subway Ride began in 2002 in New York as a stunt and has taken place in cities around the world since then. (AP Photo/Petr David Josek)
New York participants were assigned personal numbers for central gathering spots in each city borough. "And then at, say, the third stop in Brooklyn, you take off your pants in the train," explained Latesha Mack, who made it to Manhattan's Union Square station in fishnet stockings below her panties. "So it's not like, a bunch of people on one train with no pants."
While most clothed straphangers weaved their way through bare flesh, some were left shocked.
That awkward moment when you forget today is the #NoPantsSubwayRide and 15 people in their underwear come into your subway car

— black mamba (@kaitalm) January 10, 2016
No pants subway ride must have been so cold ..

— D (@dianacardennas) January 11, 2016
the no pants subway ride on snap chat just looks weird

— Ben Dover (@lukestaceyy) January 11, 2016
One person noted the irony in people riding the Subway in their underwear, while complaining about "man spreading":
LOL. People cry about the way men sit on the subway and then turn around and take the train in their underwear. Smh. https://t.co/HRvLxgZxAW

— I Like Turtles (@imjustlikemusiq) January 4, 2016
A tall, elegant man - totally clothed - stopped in his tracks as he entered the station.
"I asked the police, 'What's going on?' and he said, 'It's no pants day,'" said Manhattan entrepreneur Mark Francis. "And I said, 'what?'"
The cop told him it was a "tradition." More than 4,000 New Yorkers participated.
In Phoenix, Arizona, the city's light rail system party included a pants-less outing to a pub.
Nicole Black brought her Superman underwear from 40 miles away for "a day off to have fun and enjoy and see what Phoenix has to offer" - including temperatures in the 50s making the attire reasonably comfortable.
Boston also enjoyed spring-like weather, with rain causing some riders to wipe the drops off their legs as they boarded trains.
Even families took part everywhere, carrying babies bared to their diapers.
And a Berlin woman had a cat's face splashed across her - well, cheeks.
At a London station, coats and scarves warded off the chill - at least from the waist up.
Then there were the once shy types.
Bill Murphy, a New York translator, said he didn't realize he had certain talents until Sunday - wearing only a red bikini as he burst out gyrating amid the Union Square station crowd.
"I'm 56 and I'm kind of proud of myself. At a senior age, it's supposed to be not acceptable, but I want to change the perception of that: I've become an exhibitionist today," he said.