Palestinian children holding axes, either real or fake guns and wearing mock suicide belts joined a large rally adjacent to Bethlehem last week, celebrating the 51st anniversary of the first terrorist attack by Fatah, the party led by Palestinian Authority President Mahmoud Abbas.
The reception of the all-out festivity stood in marked contrast to the request issued to Christians just a month earlier by the Palestinian Authority asking them to tone down their Christmas celebrations in the town of Jesus' birth.
Israeli Prime Minister Benjamin Netanyahu's spokesman Ofir Gendelman on Tuesday described the violent display as yet another example of the "glorification of terrorism" by the Palestinian Authority.
Glorification of terrorism in the PA: KIDS wear mock suicide vests in PA Pres Abbas' Fatah org parade in #Bethlehem https://t.co/0HxX5rD6cd

— Ofir Gendelman (@Ofir Gendelman) 1452586899.0
Images posted in the Palestinian media showed some children wearing the "suicide belts," while others brandished axes and either real or mock pistols and automatic weapons. A model of a shoulder-fired rocket even made an appearance: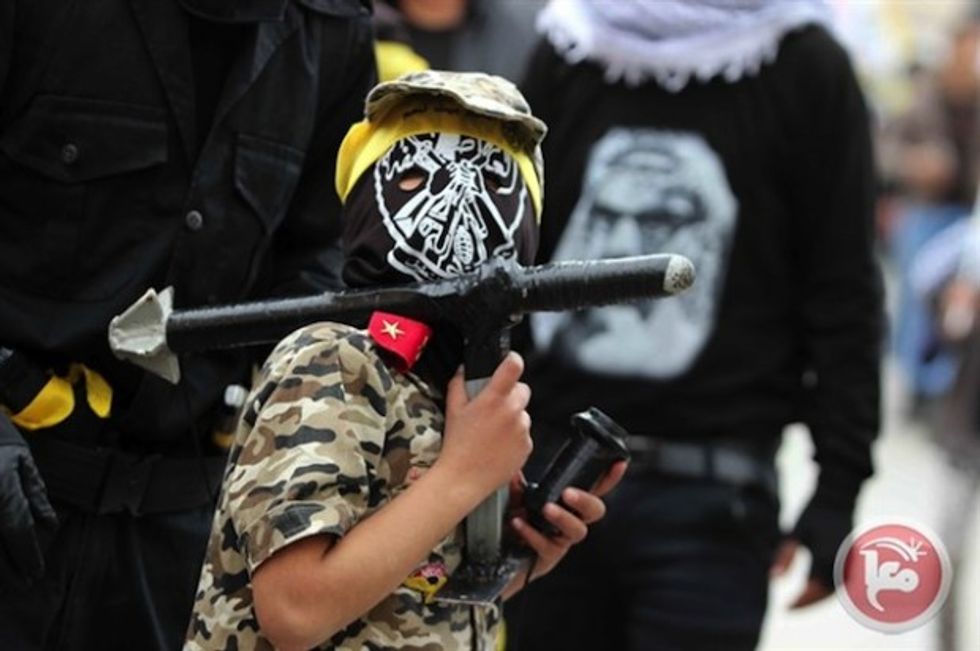 The independent Palestinian news agency Ma'an posted photos of children among those celebrating Fatah's founding by marching with either real or mock guns, rocket launchers, axes and fake suicide belts. (Image source: Ma'an)
Palestinian media reports said the event was held in Dheisheh, a refugee camp next to Bethlehem.
Palestinians have perpetrated nearly daily stabbing, shooting and car-ramming attacks on Israelis since September, a phenomenon that has won much praise and encouragement in Palestinian social media posts.
Palestinian Media Watch, an Israeli research organization that monitors anti-Israel incitement in official Palestinian Authority media outlets, reported that among those at the celebration were top Fatah and Palestinian Authority officials, including Fatah Central Committee member Mahmoud Al-Aloul, Head of the General Intelligence Services Majed Faraj, and Minister of Tourism and Antiquities Rula Ma'ay'a.
Notably, the independent Palestinian news agency Ma'an posted photos of the armed children on its Arabic website. Those images could not be found in a search of its English-language site which is followed closely by foreign media and international diplomats.