Democratic presidential candidate Hillary Clinton asked the Obama administration Monday to end the new series of round-ups of Central American immigrants.
In the initial round-up, which occurred New Year's weekend, 121 adults and children in Georgia, Texas and North Carolina were taken into custody at the order of the U.S. Department of Homeland Security. According to immigration officials, the individuals illegally passed through U.S. borders and remained in the country after a judge had ordered them to leave.
Several Arizona churches have responded by opening their doors and providing refuge to immigrant families.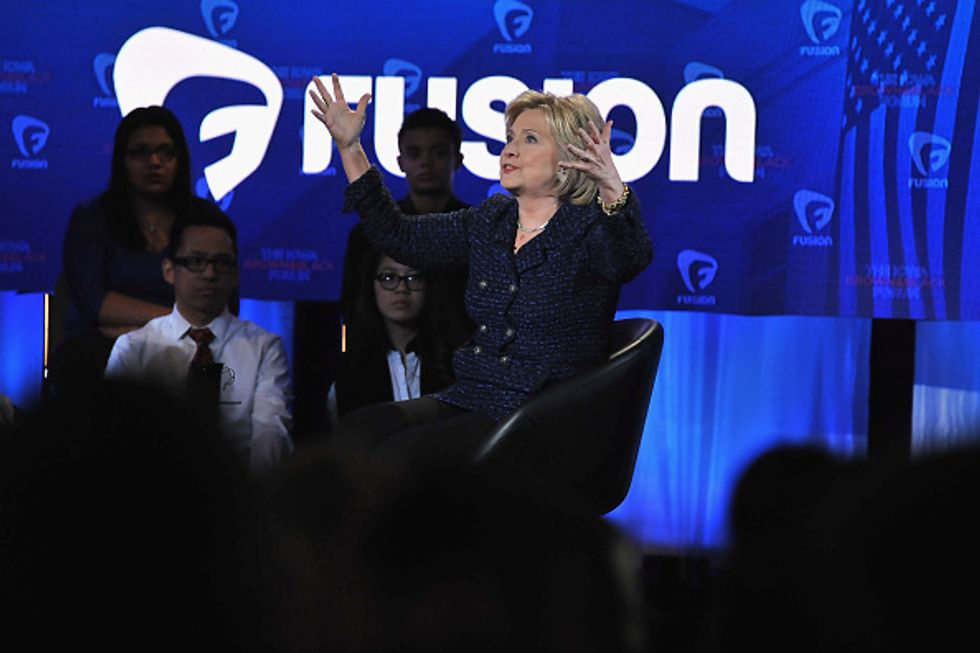 Democratic presidential candidate Hillary Rodham Clinton speaks onstage during Fusion's Brown & Black Democratic Forum at Drake University Jan. 11 in Des Moines. (Fernando Leon/Getty Images for Fusion)
Clinton has requested that the Obama administration provide attorneys for all the children who arrived at the U.S.-Mexico border without their parents. Before Monday, Clinton had been facing criticism from her Democratic competitors Vermont Sen. Bernie Sanders and former Maryland Gov. Martin O'Malley for not speaking out as soon as the raids began more than a week ago.
The call to end the raids came in conjunction with Clinton's appearance at Fusion's 2016 Brown & Black Democratic Presidential Forum, a convention launched in 1984 to allow Democratic candidates to separately address minority communities and the press.
According to NBC News, Clinton neglected to answer whether she would deport illegal immigrants if elected president, saying that the matter warranted clarification beyond a simple yes or no. When journalists pressed Clinton, she assured that children would receive "due process."
"Our immigration enforcement efforts should be humane and conducted in accordance with due process, and that is why I believe we must stop the raids happening in immigrant communities," Clinton said in a statement.
"We have laws and we must be guided by those laws, but we shouldn't have armed federal officers showing up at peoples' homes, taking women and children out of their beds in the middle of the night," she said.
Under current laws, the U.S. government is not obligated to provide attorneys to immigrants in any immigrant proceeding. In recent years, however, the federal government has provided a small amount of funding for minors who come to the border unaccompanied by parents.
DHS has defended the recent arrests as messages to other potential immigrants that they will be sent home. The Obama administration wishes to avoid a repeat of what took place in the summer of 2014 when tens of thousands of immigrants arrived at the border. In recent months, there been an increase in the number of families arriving at the U.S.-Mexico border.
Clinton also said Monday that the asylum and refugee system should be repaired to allow all people "the chance to tell their story" and that Congress should fund the president's request for $1 billion in aid to contain criminal organizations, work with regional partners and improve living conditions in Central America.
O'Malley was asked during the forum whether he feared that Clinton would continue the immigration policies of the Obama administration if elected.
"No, because she's not going to be president, I am," O'Malley said.
O'Malley and Sanders began speaking out against the raids shortly after the round-up plans were first reported.
After Monday evening's forum, Clinton received some backlash from Fusion, the media outlet that hosted the event, including an article Monday night that critiqued the Democratic candidate's response to a question about "white privilege." The piece accused Clinton of not offering sufficient answers to questions and "shameless Latino-pandering."
(H/T: NBC News)