In his final State of the Union address, President Barack Obama said his biggest regret was not healing the divisions in Washington -- a theme which he campaigned on in 2008.
"It's one of the few regrets of my presidency is that the rancor and suspicion between the parties has gotten worse instead of better," Obama told a joint session of Congress Tuesday. "There's no doubt a president with the gifts of Lincoln or Roosevelt might have better bridged the divide, and I guarantee I'll keep trying to be better so long as I hold this office."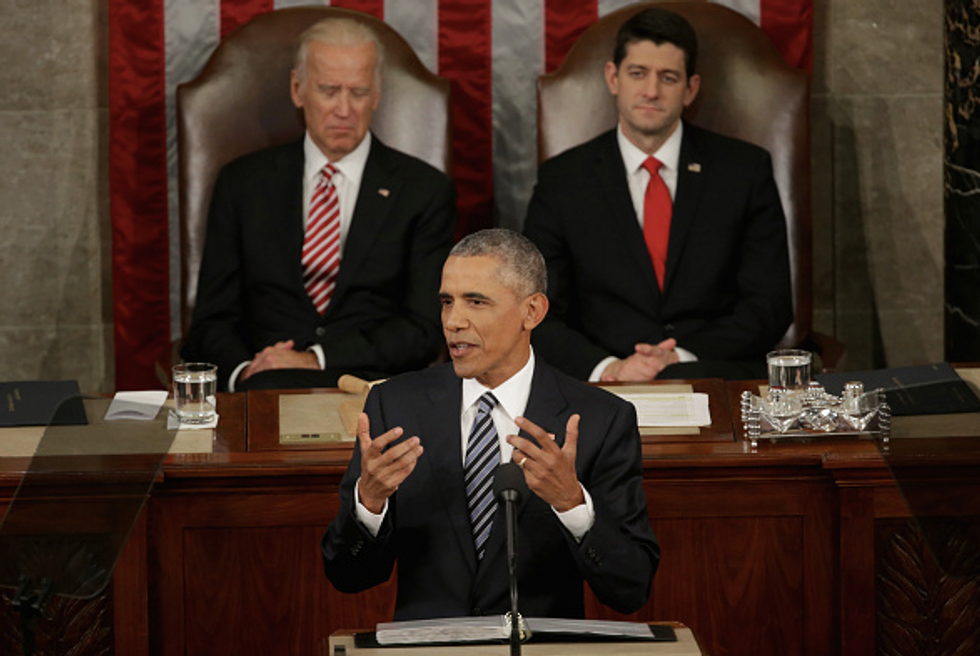 President Barack Obama delivers the State of the Union speech before members of Congress in the House chamber of the U.S. Capitol January 12, 2016 in Washington, DC. In his last State of the Union, President Obama reflected on the past seven years in office and spoke on topics including climate change, gun control, immigration and income inequality. Also pictured are Vice President Joe Biden (Top L) and U.S. Speaker of the House Rep. Paul Ryan (R-WI) (Top R). (Alex Wong/Getty Images)
Kicking off a highly contentious presidential election year, Obama said he hoped to see bipartisanship achieve greater opportunities, a rising standard of living and peaceful planet.
"It will only happen if we work together," Obama said. "It will only happen if we can have rational, constructive debates. It will only happen if we fix our politics."
Not surprisingly, Democratic candidates for president praised the speech, while Republican candidates ridiculed it.
Though widely criticized for ignoring Congress, Obama talked about separation of powers, but also the need to be conciliatory.
"Democracy grinds to a halt without a willingness to compromise; or when even basic facts are contested, and we listen only to those who agree with us," Obama said. "Our public life withers when only the most extreme voices get attention."
He called for an end to political drawing of congressional districts, for campaign finance reforms and for laws making it easier to vote.
Despite his conciliatory language, he used dire rhetoric to push the election and political reforms he supported.
"If we give up now, then we forsake a better future," Obama said. "Those with money and power will gain greater control over the decisions that could send a young soldier to war, or allow another economic disaster, or roll back the equal rights and voting rights that generations of Americans have fought, even died, to secure."
He further seemed to say his critics were insincere.
"Anyone claiming that America's economy is in decline is peddling fiction," Obama said. "What is true — and the reason that a lot of Americans feel anxious — is that the economy has been changing in profound ways, changes that started long before the Great Recession hit and haven't let up. Today, technology doesn't just replace jobs on the assembly line, but any job where work can be automated."
The president cautioned against overstating the power of the Islamic State.
"As we focus on destroying ISIL, over-the-top claims that this is World War III just play into their hands. Masses of fighters on the back of pickup trucks and twisted souls plotting in apartments or garages pose an enormous danger to civilians and must be stopped," Obama said. "But they do not threaten our national existence. That's the story ISIL wants to tell. That's the kind of propaganda they use to recruit."
He further defended Muslims.
"When politicians insult Muslims, when a mosque is vandalized, or a kid bullied, that doesn't make us safer. That's not telling it like it is. It's just wrong. It diminishes us in the eyes of the world. It makes it harder to achieve our goals. And it betrays who we are as a country."
In his final address to a joint session, he touted his most popular and least controversial achievement.
"If you doubt America's commitment — or mine — to see that justice is done, ask Osama bin Laden," Obama said. "Ask the leader of al Qaeda in Yemen, who was taken out last year, or the perpetrator of the Benghazi attacks, who sits in a prison cell. When you come after Americans, we go after you."
Going into an election year, joked, "I'm going to try to make it shorter. I know some of you are antsy to get back to Iowa."
The president also seemed to be taking aim at Republican presidential candidate Donald Trump.
"America has been through big changes before – wars and depression, the influx of immigrants, workers fighting for a fair deal, and movements to expand civil rights. Each time, there have been those who told us to fear the future; who claimed we could slam the brakes on change, promising to restore past glory if we just got some group or idea that was threatening America under control," Obama said.
He also seemed to take a veiled shot at Texas Sen. Ted Cruz, another leading GOP presidential candidate.
"The world will look to us to help solve these problems, and our answer needs to be more than tough talk or calls to carpet bomb civilians," Obama said. "That may work as a TV sound bite, but it doesn't pass muster on the world stage."
—