The United Nations system for determining which Syrian refugees are eligible to come into the United States is deeply flawed and lacks precision, a new study finds.
The Center for Immigration Studies, a pro-border enforcement think tank, is holding a panel discussion Tuesday regarding a study allegedly showing that United Nations High Commissioner for Refugees is giving "benefit of the doubt" screenings.
The report comes as debate continued regarding resettlement of Syrian refugees inside the United States.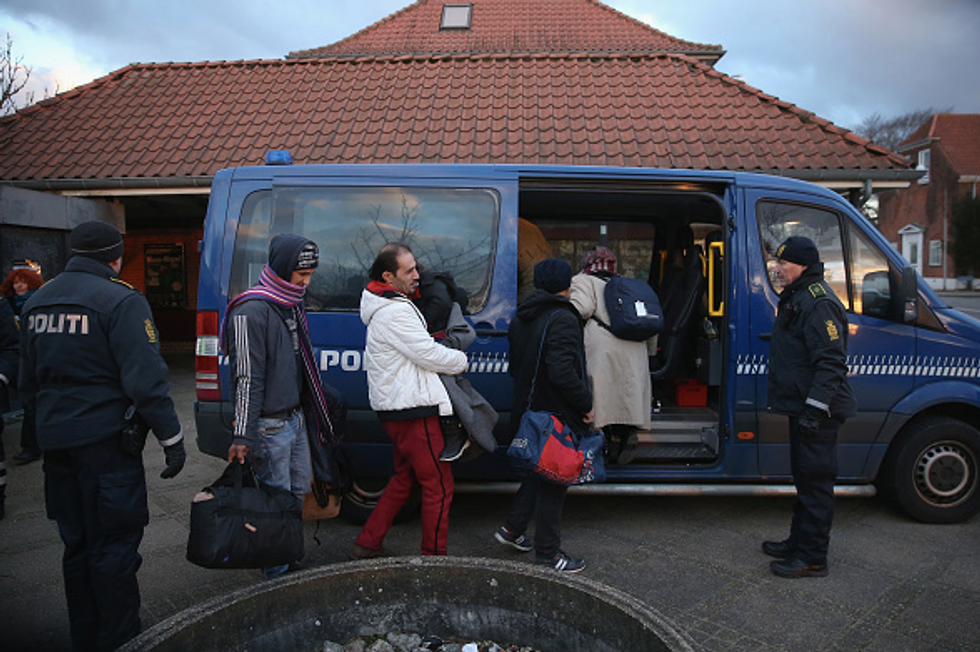 Danish police escort a family from Syria seeking asylum in Denmark after finding them while checking the identity papers of passengers on a train arriving from Germany Jan. 6 in Padborg, Denmark. Refugees still have the right to apply for asylum in Denmark, and those caught without a valid passport or visa who do not apply for asylum are sent back to Germany. (Sean Gallup/Getty Images)
"The majority of Americans are fearful of increasing the number of refugees from countries with terrorist networks entering the U.S.," Nayla Rush, a senior researcher at the Center for Immigration Studies, said. "But Americans would be even more concerned about safety and national security if they knew it is the UNCHR which is, in a large part, deciding not only who can move to the U.S. but in doing so also selecting those who will have the opportunity to become American citizens and later sponsor family members."
The UNHCR screening process could contain holes, according to the CIS report, citing U.N. guidelines that say, "The mere absence of information, or one's inability to find information that supports an applicant's claim, should not in itself justify a negative eligibility decision."
The guidelines do go on to say applicants' statements "must be coherent and plausible, and must not run counter to generally known facts."
However, the UNHCR handbook says that being identified with an international terrorist group does not alone grounds to exclude someone from resettlement. From the UNHCR handbook:
Of all the exclusion clauses, article 1F(b) may be particularly relevant as acts of terrorist violence are likely to be disproportionate to any avowed political objective. Each case will require individual consideration. The fact that an individual is designated on a national or international list of terrorist suspects (or associated with a designated terrorist 1 organisation) should trigger consideration of the exclusion clauses but will not in itself generally constitute sufficient evidence to justify exclusion. Exclusion should not be based on membership of a particular organisation alone, although a presumption of individual responsibility may arise where the organisation is commonly known as notoriously violent and membership is voluntary. in such cases, it is necessary to examine the individual's role and position in the organisation, his or her own activities, as well as related issues as outlined in paragraph 19 above.
The CIS report says that the Syrian refugees likely benefitted from a "group determination" of refugee status, which is the UNCHR's broad assessment of matters rather than specific facts on individuals.
The Obama administration announced that it wants to accept 10,000 refugees. In response, the House of Representatives passed a bipartisan bill last year calling for tighter screening inside the United States.
The policy in the United States has gained new attention after Germany, which allowed one of the largest groups to enter, reported a large number of arrests of military-aged males for assaulting women on New Year's Eve in the country.
The U.S. government has donated $4.5 million to the UNHCR since the beginning of the Syrian crisis in 2011. As of Dec. 31, 2015, there were 4.4 million registered Syrian refugees in the region, divided among Turkey, Lebanon, Jordan, Iraq, Egypt and North African countries.