The U.S. military will face unrelenting pressure to lower its general standards to allow more women to occupy the final 10 percent of positions that were previously unavailable to them, according to remarks made by U.S. Gen. John Kelly, head of the U.S. Southern Command, on Friday.
Kelly's concerns arose after Secretary of Defense Ash Carter ordered the military to open up all remaining positions for women applicants in December. Ash refuted the Marine Corps' concerns about including women in certain types of infantry and combat positions, according to the Associated Press.
"We are a joint force, and I have decided to make a decision which applies to the entire force," Carter said, according to the AP. "Implementation won't happen overnight. And while at the end of the day this will make us a better and stronger force, there still will be problems to fix and challenges to overcome. We shouldn't diminish that."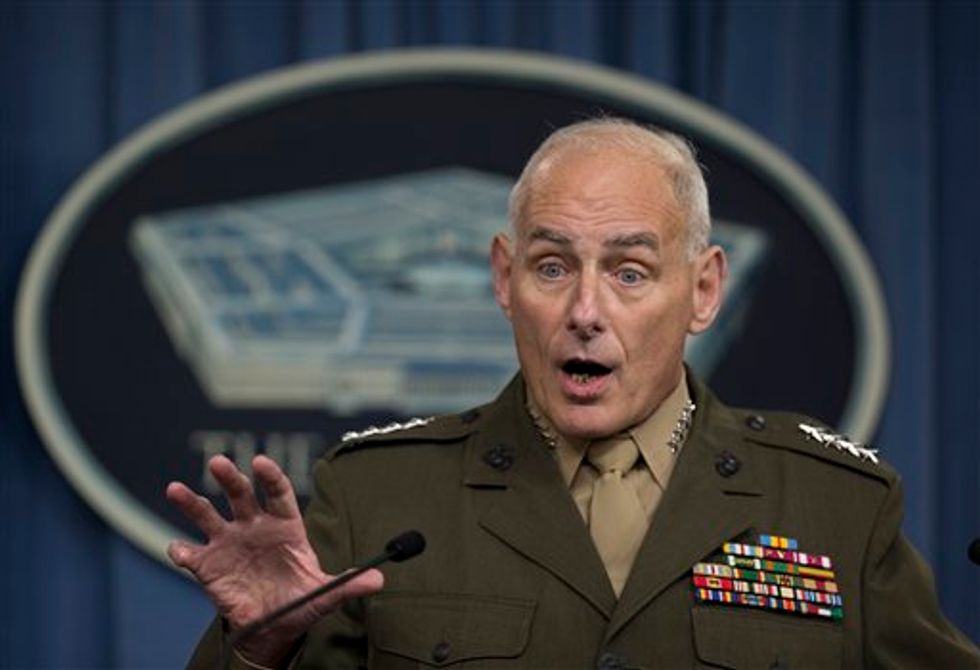 U.S. Southern Command Commander Gen. John F. Kelly speaks to reporters during his last briefing at the Pentagon Jan. 8. (AP Photo/Manuel Balce Ceneta)
Kelly, who has been a Marine for 45 years, expressed his concerns with Ash's order during a news conference with reporters Friday, during which he stated that his "greatest fear" was the possibility that the military would loosen its strict training standards in order to integrate women into every aspect of service.
"There will be great pressure, whether it's 12 months from now, four years from now, because the question will be asked whether we've let women into these other roles, why aren't they staying in those other roles?" Kelly told the reporters. "If we don't change standards, it will be very, very difficult to have any numbers — any real numbers come into the infantry, or the Rangers or the Seals, but that's their business."
A spokesperson for Carter responded to these types of concerns, saying, "Going forward, Secretary Carter has directed that mission effectiveness and maintaining the welfare of the force is paramount and cannot be compromised," according to the Washington Free Beacon. "Everyone who serves in uniform — men and women alike — have to be able to meet the high standards set for the job they are in."
In addition to these concerns, Ray Mabus, the secretary of the Navy, reportedly angered many Marines by giving the Corps 15 days at the beginning of 2016 to integrate its female and male trainees in boot camp and Officer Candidate School, despite longstanding traditions, as well as ordering the Marines to ensure that all position titles are "gender-integrated," according to the Washington Free Beacon. This could mean the removal of "man" from traditional titles, such as "infantryman."
(H/T: Washington Free Beacon)
—
Follow Kathryn Blackhurst (@kablackhurst) on Twitter