Troopers with the Department of Public Safety finally recovered a stolen big-rig truck in Texas Wednesday after in a highway chase, followed by an hours-long stand-off involving law enforcement authorities from various counties, including Dallas, Greenville and Hunt County.
KXAS-TV reported that more than 35 law enforcement vehicles were involved in the chase, which began in Sunnyvale, went through Garland and into Hunt County.
Lonny Haschel with the DPS told KXAS-TV that the 18-wheeler was a produce truck that had been reported missing . City, county and state agencies assisted in the pursuit.
DPS and the Kaufman County Sheriff asked the Dallas County Sheriff's office to help detain the vehicle in Sunnyvale, but the driver kept going, KXAS reported.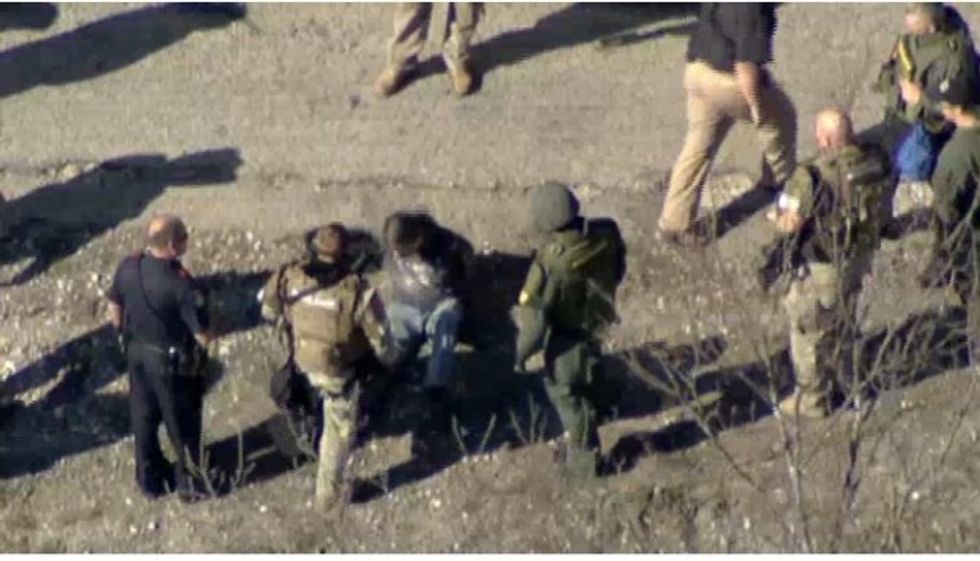 Image source: KXAS-TV
The big-rig had been traveling on a service road with several blown tires, which authorities spiked earlier in the chase.
After successfully funneling the vehicle's path and leading it to a dead end, authorities surrounded the truck with guns drawn, but the driver refused to exit. After hours of no response, officers driving a tactical vehicle pulled up next to the vehicle, then directly in front of it.
Hundreds, if not thousands of vehicles were lined up on Interstate 30 in Hunt County near Greenville. Groups of onlookers gathered to observe the events unfold from a safe distance.
At around 1:20 p.m. local time, authorities fired what appeared to be tear gas into the truck. Shortly after, a man with a long black ponytail opened the passenger door. A dog jumped out of the vehicle, following the driver, whom police tackled to the ground and handcuffed.
It is unclear at this point who the man is.
(H/T: KXAS-TV)