© 2023 Blaze Media LLC. All rights reserved.
Elections by the People': New Social Platform Allows Voters to Take Control of Elections With Their Own Town Halls
"Even if we only influence a few percent of the voting public, [we] have the potential to empower people and change elections."
As voters walk into the voting booth this election, they won't be entirely alone.
Change.org has become synonymous with petitions as it revolutionized the way people across the globe could demand just what its name says — change. Now, the "empowerment platform" is delving into the world of politics with a new tool designed to increase engagement between voters and politicians that seek their support.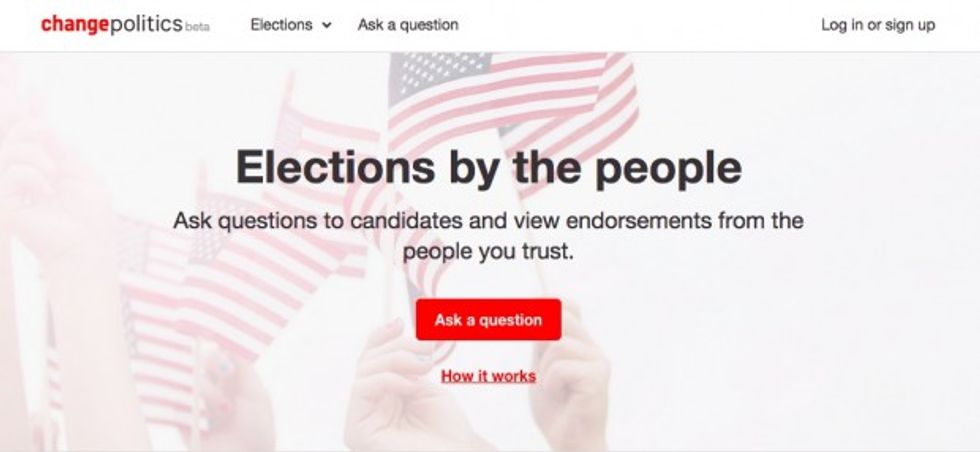 Image source: ChangePolitics.org
"Elections by the people," Change Politics' website boasts on its front page. Launched Thursday, the new site from the social enterprise company is created to "empower voters to make informed decisions on Election Day" in two different ways: Voters can ask questions directly to candidates through a sort of digital town hall;  and they can to see who people they respect — family members, pundits, local community leaders, large organizations, etc. — have endorsed.
"We think it's possible for people, by using recommendations by their friends and through the site and changing or adjusting their vote because of it, we change elections," Ben Rattray, CEO of Change.org, told TheBlaze in an interview prior to Change Politics' launch. "And this is not just at the national level but certainly at the local level around school boards and mayors and city councilors and ballot initiatives where people have tremendously little information."
"Even if we only influence a few percent of the voting public, [we] have the potential to empower people and change elections," Rattray said.
Ben Rattray, CEO of Change.org (D Dipasupil/FilmMagic)
Several 2016 presidential hopefuls have already signed onto Change Politics and promised to answer these town hall-style questions, including Democratic candidates former Secretary of State Hillary Clinton, former Maryland Gov. Martin O'Malley and Vermont Sen. Bernie Sanders, and Republican candidates Dr. Ben Carson, former Hewlett-Packard CEO Carly Fiorina, New Jersey Gov. Chris Christie, former Florida Gov. Jeb Bush, former Arkansas Gov. Mike Huckabee and Ohio Gov. John Kasich.
With the control in the hands of the voters, Rattray said it "incentivizes candidates to gain the trust of the most influential people in a community, rather than the usual political activists."
"Many elections are decided by only a few points, and the people that we think are going to be most likely to use [Change Politics] are voters that impact those elections," Rattray said.
People already rely on recommendations for movies and restaurants, Rattray said, so it seems like a no-brainer that voters would utilize a site built for recommendations from trusted sources on political candidates or issues.
"Instead of trying to build a new social network around social issues, we provide tools that empower people to do things that they already want to do, which is mobilize others to advance a cause they care about or specific legislation," Rattray told TheBlaze. "It's not about changing behavior; it's about servicing an existing need people have identified."
Several questions have already been asked on the site, ranging from how do presidential candidates expect to reduce gun violence to alleviating the national debt.
Rattray said viral campaigns on Change.org are oftentimes unexpected — and he expects that same unpredictability from Change Politics. 
Want to leave a tip?
We answer to you. Help keep our content free of advertisers and big tech censorship by leaving a tip today.
more stories
Sign up for the Blaze newsletter
By signing up, you agree to our
Privacy Policy
and
Terms of Use
, and agree to receive content that may sometimes include advertisements. You may opt out at any time.