The City of Philadelphia and federal investigators continue to be at odds in the wake of last week's shooting that left one officer in the hospital, following an attack from a man who claims to be motivated by the Islamic State.
During a press conference on Thursday, FBI Director James Comey said that although the shooting has not yet been deemed an act of terrorism, the FBI continues to investigate the case as an act of terror.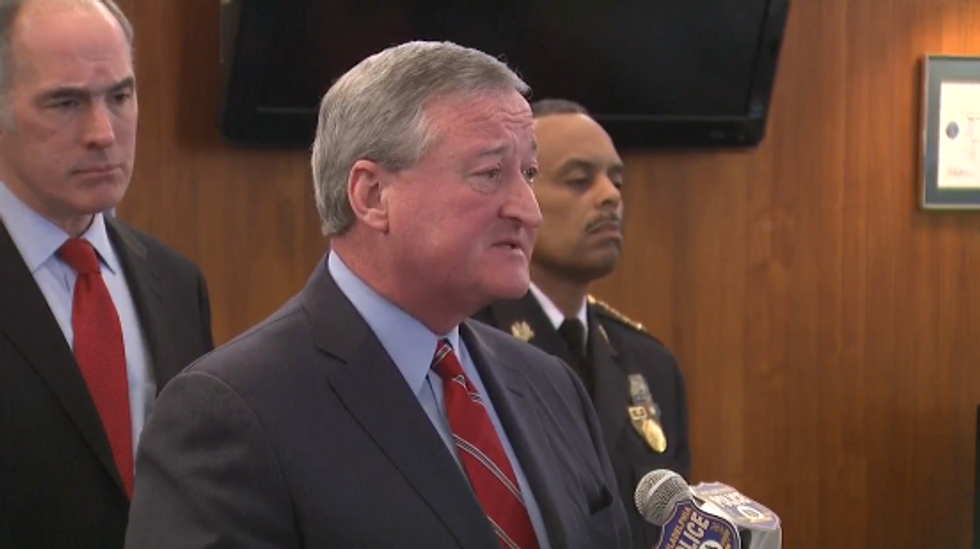 Image credit: KWY-TV/screenshot
"We at the FBI level, we are investigating the attack as a terrorist attack," he said on Thursday, according to KYW-TV.
According to investigators, the suspect in the case, Edward Archer, admitted to investigators last week that his attack had religious implications, while pledging allegiance to the Islamic State.
However, Philadelphia Mayor Jim Kenney is still withholding judgement.
At the same press conference, Kenney said he doesn't believe "speculation" is effective, while reminding his community that there are more than 200,000 Muslims in the city who are "not represented by the actions of Mr. Archer." He also rebuked Republicans.
"The 200,000 Muslims who live in Philadelphia are not represented by the actions of Mr. Archer," Kenney said. "He is a criminal and they are not criminals. I think it is important that we make very clear that regardless of where this leads that those folks, who are God-fearing, tax paying Americans, should not be painted with that broad brush. I think it is important that we highlight that."
"Was I misinterpreted by Republicans? Yes, I think it's pretty easy for them to do. They misinterpret a lot of things," the mayor added. "The FBI and police have not concluded that this is an act of terrorism. They are investigating it as it could be, but I think our FBI and police know more than Rush Limbaugh."
Despite the difference in opinion early into the investigation, investigators do not believe Archer was part of a larger terrorist cell — positive news that can be embraced by all sides in the situation.
Listen to Kenney's comments below:
(H/T: KYW-TV)
—
Follow the author of this story on Twitter and Facebook:
[facebook //www.facebook.com/plugins/like.php?href=