Israeli Prime Minister Benjamin Netanyahu said Sunday that the lifting of nuclear-related sanctions against Iran would free up more money for the Islamic Republic to pursue terrorism.
"What is clear is that Iran will now have more resources to divert to terrorism and its aggression in the region and around the world, and Israel is prepared to deal with any threat," Netanyahu said at his weekly cabinet meeting, according to a transcript released by his office.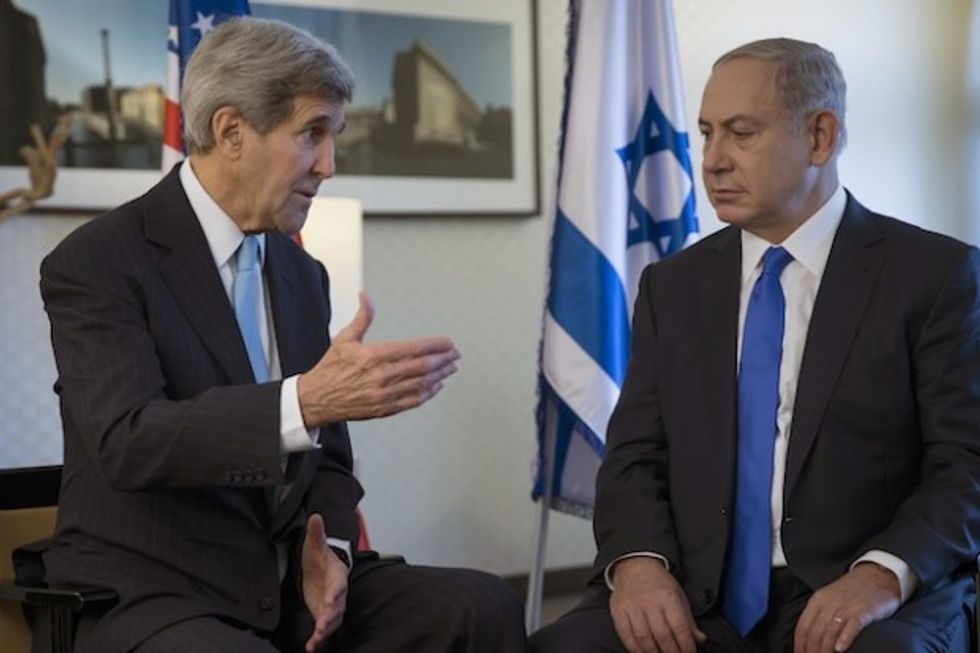 U.S. Secretary of State John Kerry, left, speaks with Israeli Prime Minister Benjamin Netanyahu during a meeting in Berlin, Germany Thursday, Oct. 22, 2015. (Carlo Allegri/Pool Photo via AP)
Netanyahu's assessment stood in stark contrast with that of U.S. Secretary of State John Kerry, who a day earlier said that both the world and the Middle East were now safer thanks to the implementation of the Iran nuclear deal.
"Today … the United States, our friends and allies in the Middle East, and the entire world are safer because the threat of a nuclear weapon has been reduced," Kerry said Saturday in Vienna.
The Israeli leader vowed that his government would monitor "all of Iran's international violations, including regarding the nuclear agreement, the ballistic missile agreement and terrorism."
He also urged other countries to "enact severe and aggressive sanctions against each violation."
"Were it not for our efforts to lead sanctions and thwart Iran's nuclear program, Iran would have had nuclear weapons some time ago. Israel's policy is exactly as it has been – not to allow Iran to obtain nuclear weapon," Netanyahu added.
The U.N.'s nuclear agency on Saturday certified Iran had met all of its commitments under the international nuclear agreement, allowing the lifting of U.S. nuclear-related sanctions.
In a statement issued Saturday night, Netanyahu's office warned that "Iran has not abandoned its aspirations to acquire nuclear weapons and continues to destabilize the Middle East and spread terrorism throughout the world."
Israeli Public Security Minister Gilad Erdan said the implementation of the deal marked "a new and dangerous time in which Iran is free of most economic sanctions without having to stop its nuclear plan and without having to give explanations about its military activity as it had to in the past."