Rep. Robert "Bob" Dold (R-Ill.) broke with party lines this week when he backed equal rights legislation for lesbian, gay, bisexual and transgender people — a move that is being heralded by the Human Rights Campaign.
"Illinois has a long and proud history of fighting for equal rights, and I am proud to continue this tradition by supporting the Equality Act," Dold said in a statement. "Engraved on the front of the Supreme Court is the phrase 'equal justice under the law,' but as long as any Americans can be legally discriminated against, there is not equal justice in this country."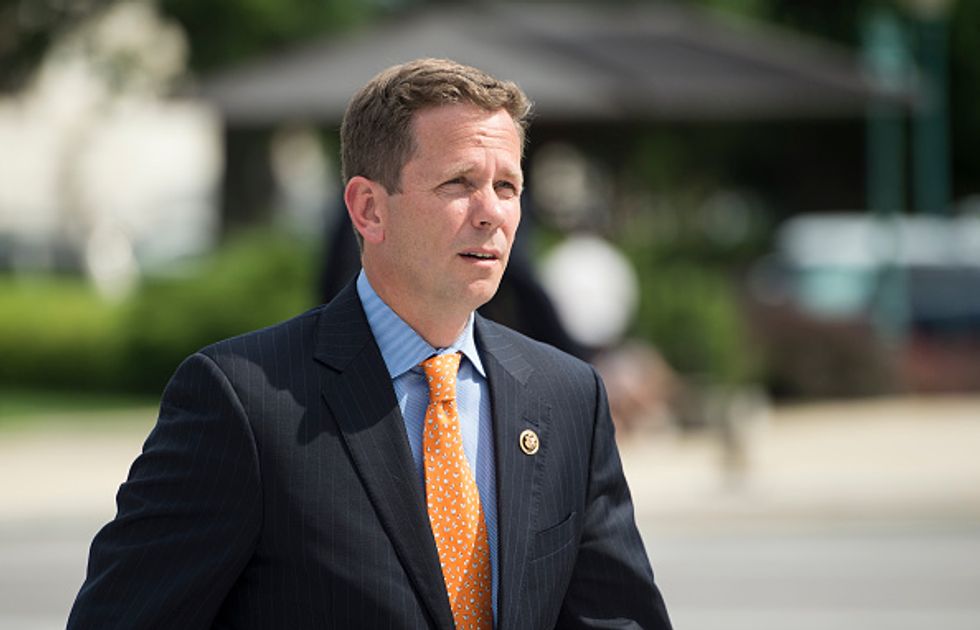 UNITED STATES - JULY 15: Rep. Bob Dold, R-Ill., walks to the House chamber for a vote on Wednesday, July 15, 2015. (Photo By Bill Clark/CQ Roll Call)
"Congress must act to ensure that all Americans, including the LGBT community, are protected equally from discrimination under federal law, just as they already are in my home state of Illinois," he continued. 
HRC, the largest LGBT advocacy group, applauded Dold's move on Friday as HRC President Chad Griffin said the lawmaker "is showing tremendous leadership."
"Far too many LGBT people – nearly two-thirds — have faced unfair and unjust discrimination in their lives, much of it in the workplace," Griffin said in a statement. "In co-sponsoring the Equality Act, Congressman Dold showed how important it is that LGBT people be able to have a fair chance to earn a living, provide for their families and live free from fear of discrimination."
Dold is facing another tough reelection this year. After redistricting, he lost his seat in 2012 to Rep. Brad Schneider (D-Ill.) but beat out Schneider to gain his seat back in 2014.
According to The Hill, Dold has said that the Equality Act isn't perfect as it is right now, but "it marks an important first step in the process of crafting a bipartisan bill that ensures equal rights for all Americans while also fully protecting the religious freedoms our Constitution guarantees."
The Equality Act has 172 co-sponsors, including Dold. The Senate version of the legislation has 39 Democratic supporters as well as Sen. Bernie Sanders (I-Vt.) and Sen. Angus King (I-Maine).
According to the Advocate, President Barack Obama and Vice President Joe Biden have both endorsed the act as well as all of the Democratic presidential candidates: Sanders, former Secretary of State Hillary Clinton and former Maryland Gov. Martin O'Malley.