The final Democratic debate before Iowa, Sunday night's face-off was crucial to both Vermont Sen. Bernie Sanders and former Secretary of State Hillary Clinton — two candidates who, while they sparred with one another, still seemed to hold their own.
While the gloves remained on for the two candidates for the most part of the NBC debate held in Charleston, South Carolina, Clinton and Sanders failed to miss opportunities to hit one another over key issues such as gun control, health care and Wall Street — with Sanders' voice almost giving out from his notorious yelling not long after the debate had begun.
When it came to guns, Sanders' voting record was dragged through the mud by Clinton as she accused him of voting "with the [National Rifle Association], the gun lobby numerous times." Clinton continued her campaign's attacks of Sanders that began over the weekend as he announced his support of legislation that would undo a law that grants gun manufacturers legal immunity — a 2005 law that he once supported.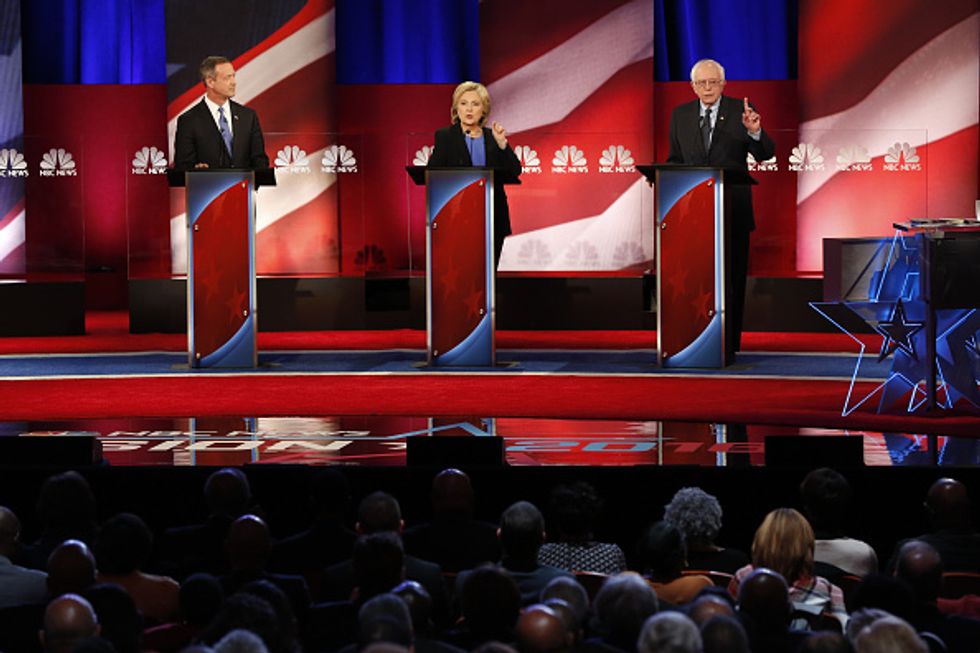 2016 Democratic presidential candidates Martin O'Malley, former governor of Maryland, from left, Hillary Clinton, former Secretary of State, and Senator Bernie Sanders, an independent from Vermont, participate in the Democratic presidential candidate debate in Charleston, South Carolina, U.S., on Sunday, Jan. 17, 2016. (Photographer: Patrick T. Fallon/Bloomberg via Getty Images)
Sanders attempted to redeem himself among voters and proponents of stronger gun control legislation by touting his low NRA rating — a D minus. The self-identified Democratic socialist retorted by asserting that Clinton's attacks were "very disingenuous" — an accusation that he has made multiple times over the weekend on a variety of issues, including health care.
Clinton could not praise President Barack Obama's controversial health care law enough while on the debate stage and contended that the Democratic nominee should work to "defend and build on the Affordable Care Act and improve it" — a jab at Republicans as well as Sanders.
"We finally have a path to universal health care. We have accomplished so much already," Clinton said. "I do not want to see the Republicans repeal it, and I don't want us to start all over again with a contentious debate."
Sanders contended that he didn't want to eradicate Obama's health care law, but instead further build upon it and called her accusations "nonsense."
At times, the attacks between the candidates almost became personal, especially as Sanders said the key differentiating point between himself and Clinton was her campaign contributions. 
"Well, the first difference is I don't take money from big banks," Sanders said. "I don't get personal speaking fees from Goldman Sachs." 
"You received over $600,000 in speaking fees from Goldman Sachs in one year," Sanders continued to accuse Clinton.
Once again, Sanders found common ground with Clinton amid recently rehashed accusations of her husband's past sexual transgressions while in the White House. While Sanders has condemned former President Bill Clinton's actions in the past as "deplorable," Sanders instead took the opportunity to condemn the media Sunday night for asking him about the scandals at all.
"I cannot walk down the street without being told how much I have to attack Hillary," Sanders said, adding that he wanted to debate Hillary on issues, not argue about her husband's past. 
For former Gov. Martin O'Malley, the soundbite of him begging for just 10 more seconds before the debate moderators cut to a commercial break was almost glaringly indicative to his campaign and the amount of time — or lack thereof – he was able to have during the debate. Polling in single digits, O'Malley falls vastly behind the other two candidates.
According to Real Clear Politics' aggregated polling data, Clinton is in the lead with 51.0 percent. Sanders follows Clinton with 38.3 percent, and O'Malley rounds out the Democratic contenders at 2.3 percent.