In a radio interview Sunday, Juanita Broaddrick revealed new details regarding her history with former president Bill Clinton. Broaddrick, who alleged in 1999 that Clinton had raped her two decades before, claimed that within weeks of the rape, he began calling her repeatedly at work to arrange to see her again.
"I was shocked to say the least that he would have the audacity to call me after what he did to me," Broaddrick shared on "Aaron Klein Investigative Radio," the widely listened to Sunday night radio program.
According to Broaddrick, just a few weeks after the 1978 alleged assault, then-attorney general of Arkansas and candidate for governor Clinton called the nursing home that she owned, requesting to speak with her.
"He immediately said, 'Hi, this is Bill Clinton. I was just wondering when you were coming back to Little Rock again,'" Broaddrick described.
"This just caught me so off guard. I had not expected anything like this at all. And I told him I would not be coming back to Little Rock again and definitely would not ever be seeing him again. And I hung up."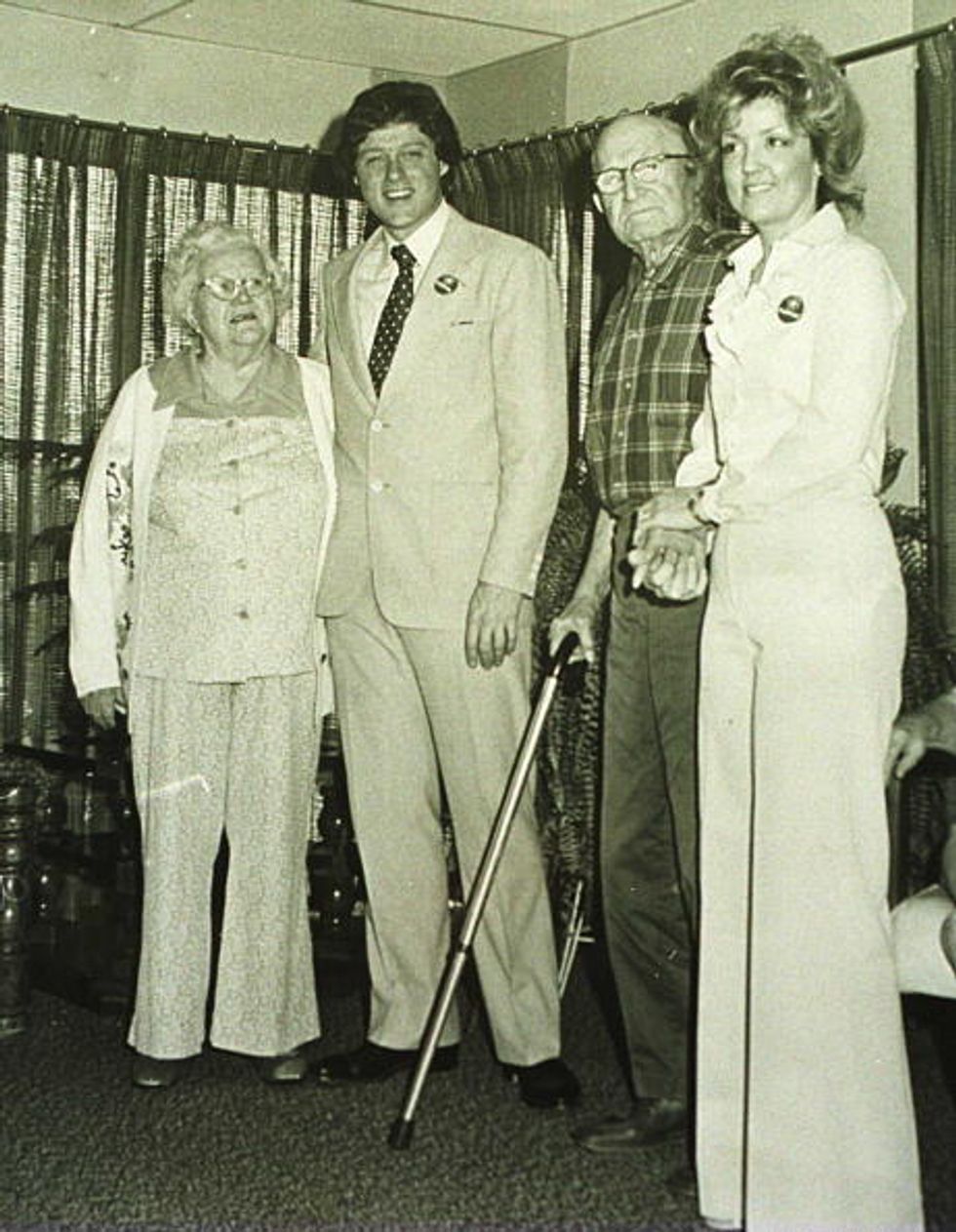 Bill Clinton on a visit to Juanita Broaddrick's (right) nursing home in Van Buren, Arkansas in 1978. (Getty Images)
Broaddrick told Klein that Clinton called the nursing home on numerous occasions over the next six months.
And you would think that would have been the end of it. But it wasn't. About two or three weeks later, I was in a meeting and my administrator came into the meeting and she said, "You are wanted on the phone." And she said it was Mr. Clinton. And I told her, I said, "please tell him I'm not here." She wasn't aware of what had happened to me. Nor were the nurses. The two directors of nursings [sic] were the only two who had known what he had done to me. So she wasn't aware, but she was very caught off guard why I wouldn't speak to him.

And I went into her office later and I said if there are ever any phone calls from him, I can't explain but I do not want to have any phone calls from him.  Whenever he calls please tell him that I'm not here.

And then it happened a couple of more times. The board secretary answered the phone. And she said, "Mr. Clinton is on the phone." And I just looked at her and I said please tell him that I'm not here.

And I think there was probably a total of maybe four or five calls within a six-month period after the assault. And I think he finally figured out I wasn't going to talk to him again.
When Klein asked Broaddrick what she thought Clinton wanted from her, she shared: "I think he thought, well this is just a usual occurrence. I probably was with him and I am wondering whether I can get with this woman again. I was shocked to say the least that he would have the audacity to call me after what he did to me."
Klein said that he had heard two similar but separate stories off the air from Clinton sexual assault accusers, including one of the most famous of his accusers. Klein said the accusers each claimed they never made that detail of the story public because they just didn't focus on that part.
In a follow-up conversation, Broaddrick told Klein that she also didn't think that detail about the phone calls was particularly relevant.
Broaddrick tweeted about the alleged assault two weeks ago, garnering the expected media attention.
I was 35 years old when Bill Clinton, Ark. Attorney General raped me and Hillary tried to silence me. I am now 73....it never goes away.

— Juanita Broaddrick (@atensnut) January 6, 2016
The tweet came after Hillary Clinton was heckled about Broaddrick at a town hall event in Derry, New Hampshire by Katherine Prudhomme O'Brien, a GOP state representative from Rockingham and a survivor of rape herself.
When recently asked about her husband's previous affairs and sexual assault allegations, Hillary refused to comment.
"I have nothing to say, and I will leave it to voters to determine whether any of that is at all relevant to their decision," she told the Des Moines Register.
After a decade of silence, Broaddrick spoke on Klein's program back November. She told Klein that Clinton singled her out in 1978 during a gubernatorial campaign stop at her nursing home. "He would just sort of insinuate, you know, when you are in Little Rock let's get together. Let's talk about the industry. Let's talk about the needs of the nursing homes, and I was very excited about that."
That same year, Broaddrick took Clinton up on his offer and attended an industry convention in Little Rock with her friend and nursing home employee Norma Rogers. Broaddrick claimed that Clinton changed their plans to meet in a hotel coffee room and instead arranged to meet in her room, where the alleged attack occurred.
Broaddrick said she did not want to describe the alleged rape again, explaining that the painful details are available in previous news reports.
Broaddrick initially said that she shared the blame since she agreed to let Clinton into her room.
Three weeks after the incident, Broaddrick said she was still in a state of shock and denial about the attack. She  attended a private Clinton fundraiser at a local dentist's home, where she was directly approached by Hillary.
Broaddrick said a friend of hers who had driven the Clintons to the event from the airport told her that "the whole conversation was about you coming from the airport. Mostly from Mrs. Clinton."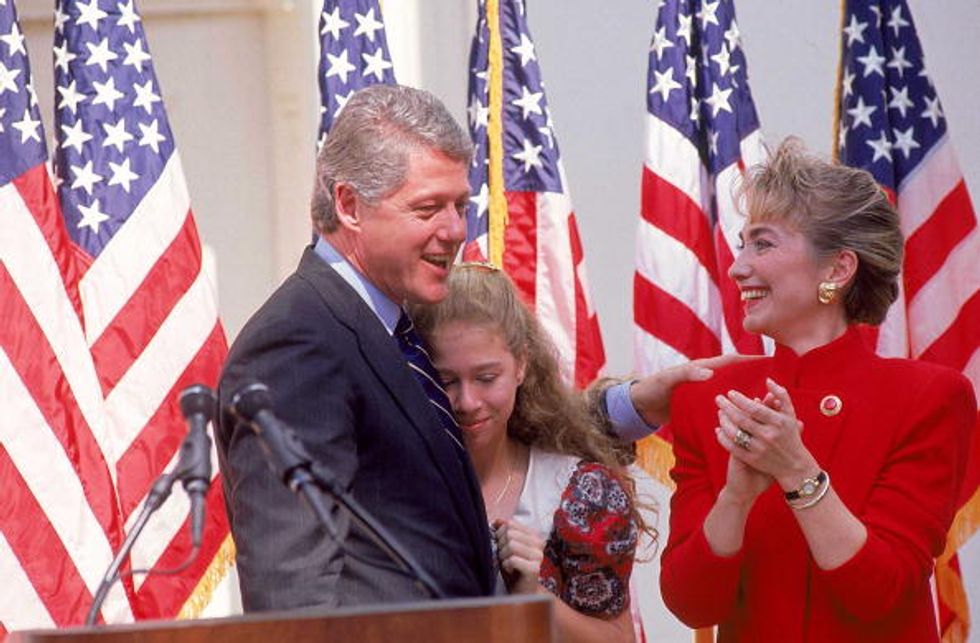 Then-Arkansas Governor Bill Clinton celebrating with Hillary and their daughter Chelsea at a press conference announcing his candidacy for president of the United States, 1991. (Cynthia Johnson/The LIFE Images Collection/Getty Images)
Broaddrick told Klein that Hillary approached her at the event "and said, 'It's so nice to meet you' and all of the niceties she was trying to say at the time."
"And said, 'I just want you to know how much Bill and I appreciate the things you do for him.' And I just stood there, Aaron. I was sort of you might say shell-shocked."
"And she said, 'Do you understand? Everything you do.'"
She said that Hillary then tried to take a hold of her hand, but that was too much for Broaddrick, who "immediately left."
Broaddrick recalled, "what really went through my mind at that time is 'She knows. She knew. She's covering it up and she expects me to do the very same thing.'"
Broaddrick said she kept quiet about the alleged rape for so long because she felt responsible for letting Clinton into her room.  "I don't know if you know the mentality of women and men at that time," she told Klein. "But me letting him come to my room? I accepted full blame."
"And I thought, 'This is your fault and you have to bear this. There's nothing you can do. He's the attorney general. And this is your fault.'"
But things changed in 1991, when Broaddrick said Clinton approached her at a meeting at the Riverfront Hotel in Little Rock.
She claimed Clinton found out she was at the hotel "and they called me out of the meeting and pointed to an area to go down around the corner by an elevator area. And I walked around the corner, and there he stands."
"And he immediately comes over to me with this gushing apology. Like, 'I'm so sorry for what happened. I hope you can forgive me. I'm a family man now. I have a daughter. I'm a changed man. I would never do anything like that again.'"
Broaddrick shared that she thought Clinton was sincere until he announced his run for president a week later.
"But still I have to thank him for that day, because the blame then went off of me and on to him. And I knew that it wasn't my fault. I knew that I didn't use good judgement, but I knew that the incident was no longer my fault."
---
(H/T: Breitbart)