LYNCHBURG, Va. — As far as protests go, Liberty University students' protest against Republican presidential hopeful Donald Trump's visit on Martin Luther King, Jr. Day was probably among the most peaceful to occur at an event for the billionaire candidate.
In fact, campus pastor David Nasser met with protest leaders ahead of Monday's Convocation with Trump to ensure their safety and right to protest.
"David Nasser was letting me know that he was praying for us individually, and he met with me at Panera last week and said that he would make sure no one interfered with us, that we were protected," Eli McGowan, an alumnus of Liberty and a current student at the university's law school, told TheBlaze.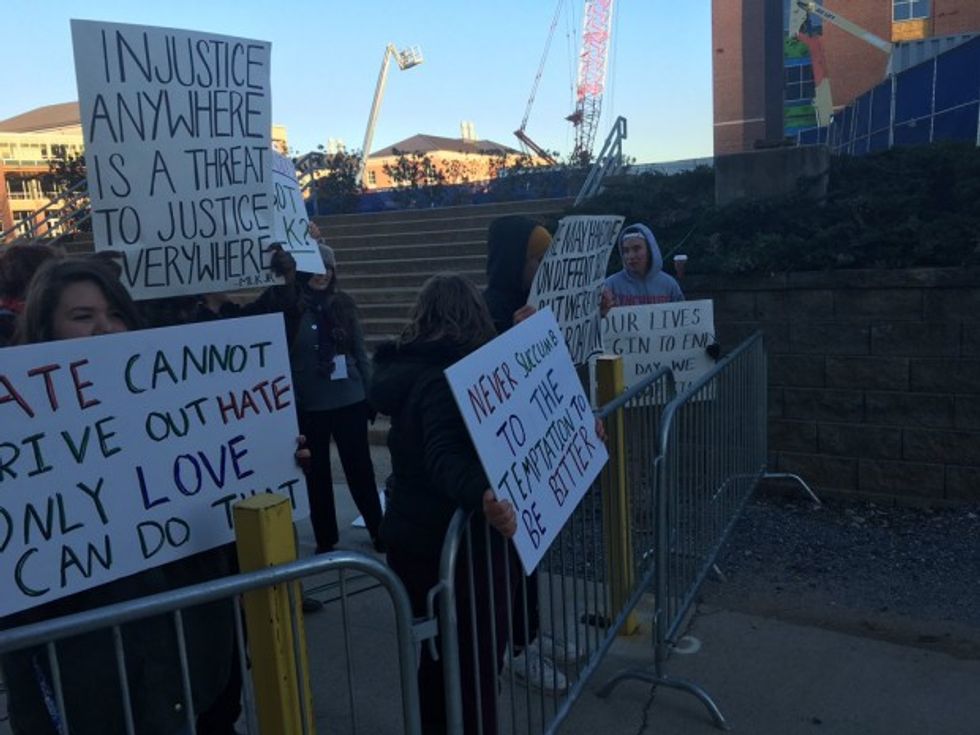 Small group of protesters gather at Donald Trump's speech at Liberty University Monday, Jan. 18. (Image source: Twitter/Eli McGowan)
McGowan also voiced his gratitude to the university for ensuring protesters were protected because "there's definitely been violence inspired at Trump rallies in the past."
But even though the administration seemed to be working with McGowan, the protest did experience some mild pushback.
When the protesting first began at 6 a.m., only McGowan and his wife, Emily McGowan, were there holding protest signs right outside the entrance to the Vines Center, the arena in which Trump delivered his address. However, as the morning progressed, the group — which grew to around 30 students when the college's Convocation began at 10:30 a.m. — was moved by university police several times.
"We probably reached our maximum of about 30 people, and that's when we decided to move locations. When we first arrived, we were in front of the Vines Center, but then the police told us that they were not going to allow us to remain in front of the Vines Center," McGowan said. "So we were kind of moved into the alleyway between the Vines Center and the retaining wall."
January 18, 2016
Though he was hoping for more cooperation from law enforcement, McGowan said the protest went well and that the university has been "supportive of our right to do this."
"We got to interact some, get flipped off some," he said of students and visitors passing by their demonstration.
Ultimately, McGowan said the protest ended up on a patch of grass down the road from the Vines Center, toward the middle of campus, which he said was public property.
When asked about the main motivation behind his protest, McGowan told TheBlaze that it wasn't necessarily about Trump visiting the college, but more so about the day he came — Martin Luther King, Jr. Day.
"The main backlash over the event was not political, it wasn't really related to Trump," McGowan, who is currently supporting Kentucky Sen. Rand Paul (R) for president, said. "It had more to do with — and this is very common in Christian circles — people really value conformity around this campus."
McGowan went on to say he believes that's the case because so many students value "Christ's love ... to the exclusion of any other attribute — truth, justice, mercy, compassion," adding that it was eyeopening to see the number of people "who see protesting as inherently disrespectful."
According to McGowan, though, it was inviting Trump to speak on MLK Day that was "inherently disrespectful."
"We knew so many people would be hurt by a decision that we see is inherently disrespectful to the legacy of Dr. King," McGowan said, adding that Trump is someone "known around the world" as someone who "divides people along racial, ethnic, national lines."
Seeking to cater to his Christian audience and honor MLK Day, shortly after taking the stage, Trump told the audience he was dedicating the "record crowd," which was approximately 11,000 people, to King. During his speech, he also said — as president — he would "protect Christianity."
To that, McGowan had a simple response: "I mean, it's a free country. He can say what he likes to say. It doesn't mean that people are going to think of it as particularly wise or enlightening."
"He's definitely trying to bring more supporters into the tent because the evangelical base is something that's required, requisite, not only for the nomination, but for any chance of winning the general election," McGowan said.
—
Follow the author of this story on Twitter @tregp: