Nearly half of young people are actively seeking pornography weekly or more frequently — and more than one-in-four individuals between the ages of 25 and 30 first viewed smut before hitting puberty, according to a groundbreaking new study about porn consumption.
One of the more startling themes in the study, titled, "The Porn Phenomenon," is that smut consumption seems to be a bigger problem among younger respondents, with many reporting that they see little wrong with adult entertainment.
This is not entirely surprising considering the expansion of new technologies that offer more access to smut over time, but the results are being seen as overtly troubling by Josh McDowell Ministry , the Christian organization that commissioned the landmark study.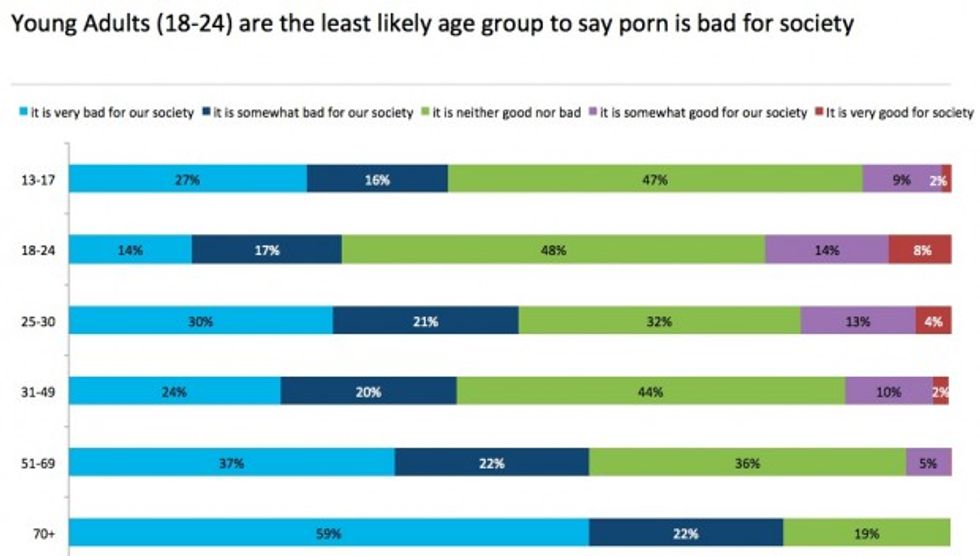 Josh McDowell Ministry/Barna Group
"Twice as many young adults ages 25-30 first viewed pornography before puberty than did the next generation — Gen X," reads a press release announcing the results. "More than one quarter (27 percent) of young adults ages 25-30 first viewed pornography before puberty. This is significantly higher than the GenX cohort, of which only 13% started viewing porn before puberty."
Josh McDowell Ministry, which commissioned the Barna Group to conduct the research, found that nearly half of young adults come into contact with porn at least one time per week, even if they aren't explicitly looking for it. Digging deeper, 16 percent see it daily, 32 percent weekly and 23 percent once or twice per month.
As for teens, these proportions are eight percent for daily, 21 percent for weekly and 21 percent for once or twice per month, according to a press release that details the results.
Most teens (90 percent) and young adults (96 percent) also tend to have a cavalier attitude about porn, speaking about it in either accepting, encouraging or neutral ways, according to the study. This is reinforced with the finding that only one-in-20 young adults and one-in-10 teens say that their friends view looking at smut as a "bad thing."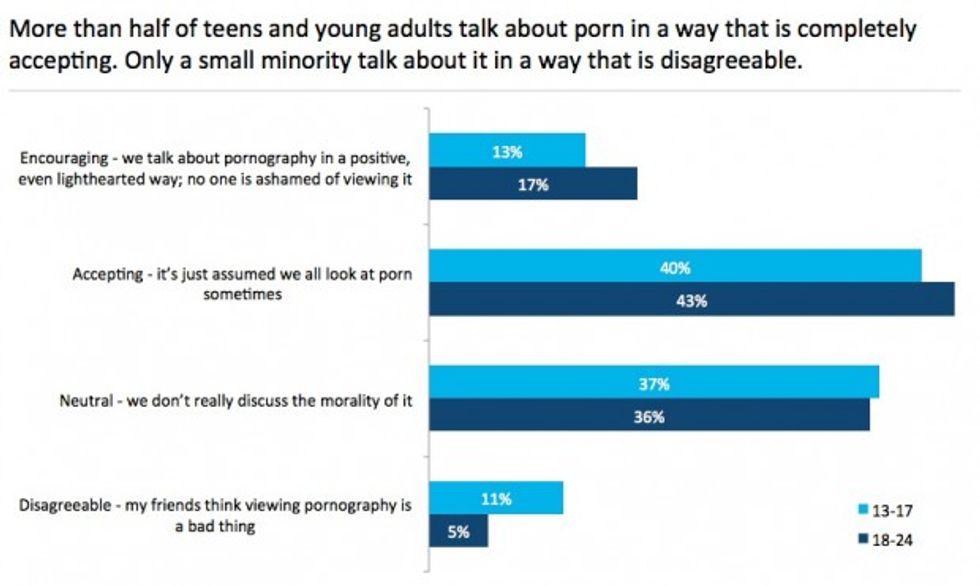 Josh McDowell Ministry/Barna Group
In fact, more teens and young adults — 56 percent — believe that not recycling is "usually or always wrong" as opposed to 32 percent who say the same about viewing porn, showing that young people view not recycling as more immoral than consuming adult entertainment.
And when it comes to pastors and youth ministers, the study yielded some additional shocking findings, as more than half of youth pastors reported that at least one teen had approached them for help with dealing with porn use over the past year. Furthermore, some pastors, themselves, are also struggling with the issue.
Twenty-one percent of youth pastors and 14 percent of pastors admitted in the survey that they currently struggle with porn use — and 12 percent of youth pastors believe they are addicted, as are five percent of pastors.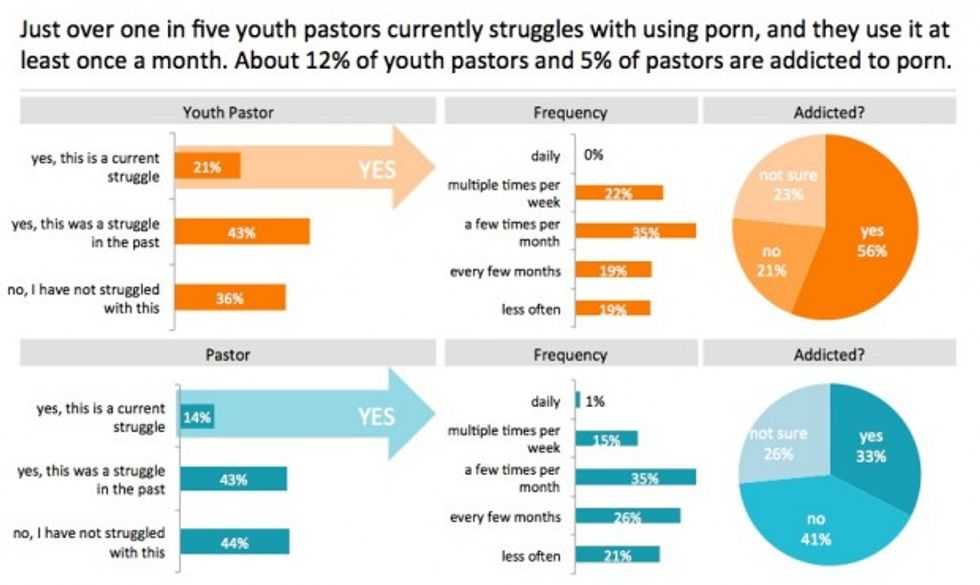 Josh McDowell Ministry/Barna Group
These findings have led Josh McDowell, leader of Josh McDowell Ministry, a part of Cru, to sound an alarm on the issue.
"Pornography violates all relational values between the individual and self, the individual and society, the unity of our families and our moral fabric and fiber as a nation," McDowell said in a statement. "When we objectify and demean life by removing the sanctity of the human person, our future is at risk."
The study, which is dubbing itself "the most comprehensive, in-depth and wide-ranging study to date on pornography among the American population," included a nationally-representative field of 3,000 survey participants; it was conducted through four online surveys that measured the general population, American teens, pastors and Christians.
Read the entire study here and learn more about McDowell's four-day "Set Free Summit" that will address the issue of porn this upcoming April.
--
Front page image via Shutterstock.com.
--
Follow the author of this story on Twitter and Facebook: