When retired Navy SEAL Marcus Luttrell approached the podium set up at the head of a small room at the 2016 SHOT Show at Sands Expo and Convention Center on Tuesday and began recounting his special relationship with Matt "Axe" Axelson, the room went silent.
Luttrell's presence demands that kind of attention. But even more piercing than his stare were his words that day. His message about Axelson was part of an effort to raffle off a specially made Axelson Tactical rifle, the benefits of which will go to the Special Operations Wounded Warriors. Brownells teamed up with Axelson Tactical and SOWW to make it happen.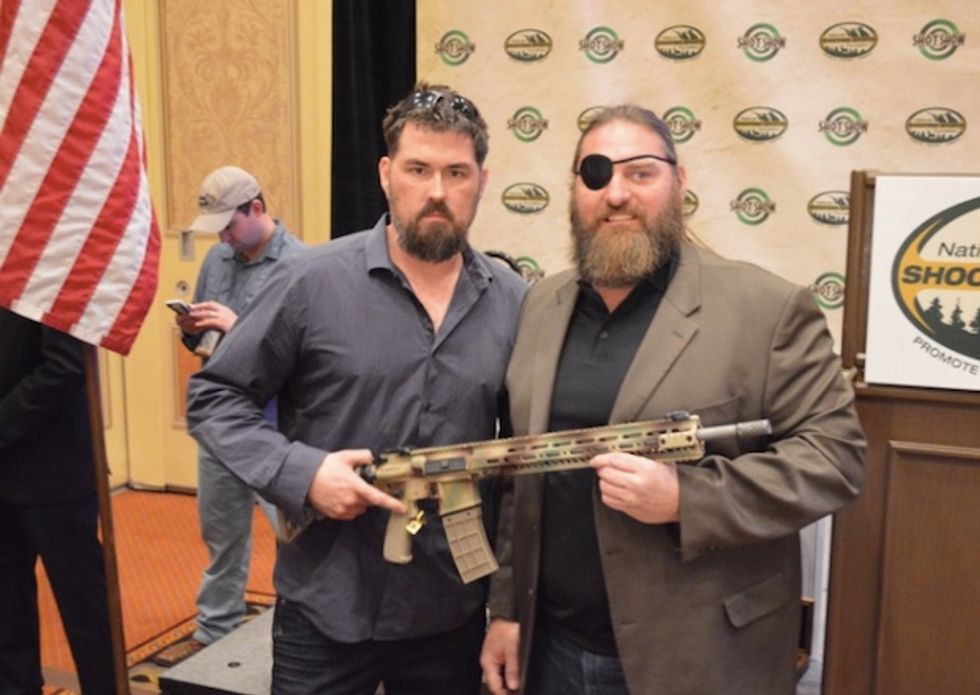 Navy SEALs Marcus Luttrell and Ron Bellan (TheBlaze/Mike Opelka)
Axelson died during Operation Red Wings fighting alongside Luttrell and two other SEALs, Michael Murphy and Danny Dietz, in Afghanistan. Luttrell was the only one who came home alive. His harrowing story is outlined in the best-selling book "Lone Survivor," which was also turned into a movie staring Mark Wahlberg.
After their deaths, Luttrell said he told each family "exactly" how their sons died. It was a task so difficult that he could only do it once. Axelson's parents, Donna and Corky, were in attendance at the event.
"I told them, 'I will never tell you that story again,'" Luttrell said Tuesday. "The look on the face when you deliver that news…it hits you in a place that nothing else can."
Luttrell said the Axelson family built the Axelson Tribute Rifle to represent their son as a man and a Navy SEAL, "so you know everything they put into it is 100 percent and from the heart."
Watch some of the raw video of Luttrell's speech here:
But there was also a "surprise" in store for Luttrell and former Navy SEAL Ron Bellan, who founded the Special Operations Wounded Warriors charity.
Right after both men delivered short speeches, Pete Brownell, CEO of Brownells stores, asked Bellan to join him back on stage for the surprise: An unexpected $10,000 check to benefit the charity and efforts to help our nations veterans.
Watch the awesome moment below:
From now until July 4, $50 raffle tickets for the special rifle will be on sale here. The winner will be announced on July 8. You can read about all of the rifle's specifications here.
---