A Fort Worth, Texas, mother was outraged last week when she walked into her son's day care facility last week and found the only adult in the room on a table, allegedly fast asleep.
When Siobhan Howard went to pick up her six-year-old son Keylon, who has been going to Tonae's Child Care since November, she said the only day care worker inside a room of about a half-dozen children was curled up on a table asleep.
"It seemed like an okay place," Howard told WFAA-TV. "But I was just shocked."
For proof, the outraged mother whipped out her phone and snapped a photo: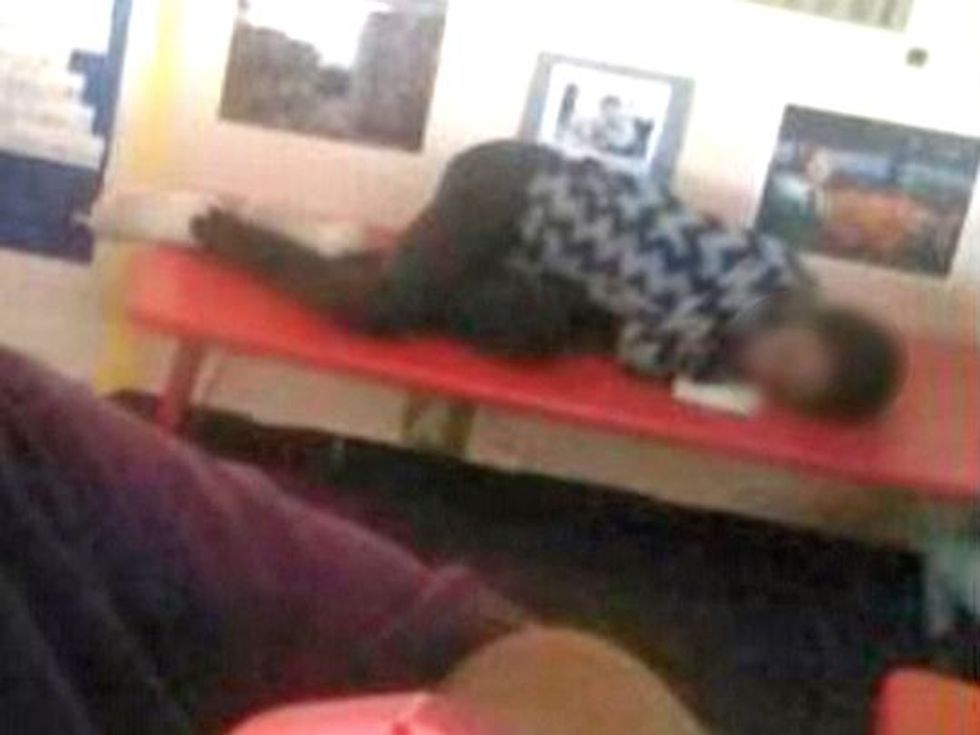 Siobhan Howard shared this image of a woman sleeping in a daycare center. (Image source: Facebook/Siobhan Howard)
"I had to really take a picture and say, 'This is real,'" Howard said. "And I had to show my husband this is what is happening. ... It wasn't like she was in a chair and nodded off."
Jocelyn Brooks, the owner of the day care center, refused to do an on-camera interview, but did tell WFAA-TV over the phone that the employee was not asleep for very long and that she was tired from caring for a newborn herself.
Brooks went on to say, "No child was hurt, and it wasn't intentional."
Ultimately, Howard posted the incriminating image on her Facebook profile because she was concerned for other parents in the area who might take their children to Tonae's Child Care.
Tonae's Child Care in Fort Worth, Texas. (Image source: WFAA-TV)
"I walked out with [Keylon]. Anyone could've walked out with him," she said, adding that, though the sleeping worker was in the same room her son was in, there were other adults in the building at the time.
Department of Family and Protective Services spokeswoman Marissa Gonzales told WFAA-TV that the investigation into Howard's allegations could take up to 30 days to complete, adding that the facility in question has racked up more than 20 violations over the past two years.
The violations cover a range of issues from minor infractions to issues marked as "high risk level," the majority of which deal with background check paperwork for employees.
—
Follow the author of this story on Twitter: