Penny Novak and her family were out for a stroll Monday afternoon in San Clemente, California, when they noticed a fisherman struggling with his line out on the pier. When Novak looked down to see what the man had caught, she immediately reached for her phone and began recording a video. The creature the fisherman was battling for his line was a great white shark.
"Its head was fully out of the water, its mouth was open. It was just like something out of a movie," Novak told KNSD-TV.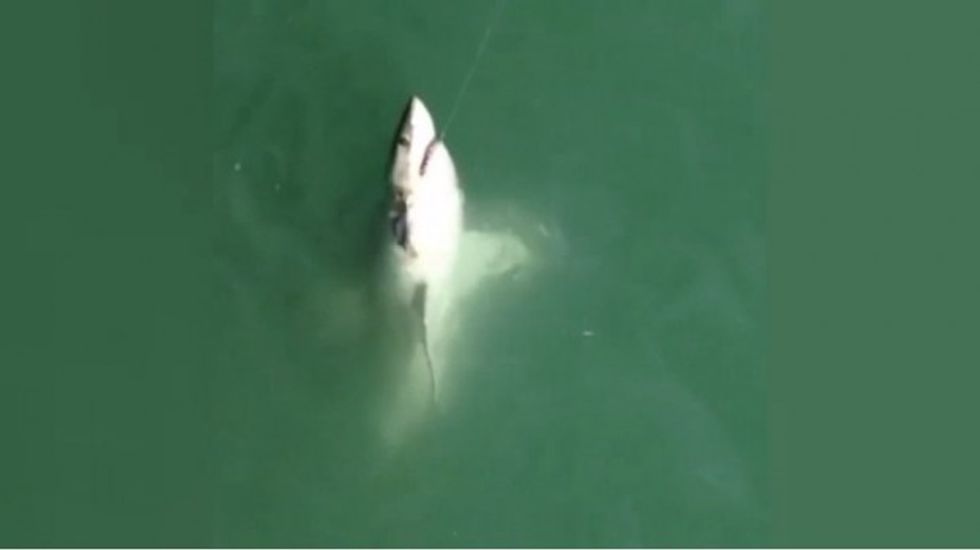 Image source: KNSD-TV
According to Novak, the fisherman struggled for about 15 minutes, trying to get the shark to let go. He apparently had no desire to reel the massive creature in.
"Then finally, it went under the water for a little bit. We all thought maybe it died, and then all of the sudden it came back up and we heard like a big, loud crunch, and then it moved around a little bit and broke free and then took off," Novak said.
KNSD-TV presented Novak's video to Andrew Nosala marine biologist with Scripps Institution of Oceanography. He confirmed the shark was indeed a great white and estimated it to be about 6 feet long — a baby by great white standards. According to Nosal, mature great whites average about 9 feet.
Though Nosal said that sightings like this are not uncommon, young great white sharks are typically seen farther off the Orange County and northern San Diego County coasts in the summer months.
Warmer winter weather caused by El Nino likely has something to do with the close encounter.
Nosal claimed that the fisherman who tried to keep the shark on the line put it in a life-threatening situation. In order to breathe, great whites need to keep moving forward.
"In this case, the shark couldn't really do that," Nosal said, "so it was probably losing oxygen during that fight. But luckily at the end, it seems to have broken free and seemed to swim off, which is a really good sign."
Novak said that when she first saw that the shark was so close to San Diego County, she immediately thought of her family members.
"I was a little freaked out because my family likes to surf, so I was thinking, oh my gosh — this is just like 'Jaws,'" she said.
But Nosal assured viewers that ocean-goers have little to fear from young sharks, especially compared to their older relatives who inhabit the colder waters of Northern California.
"We've actually detected some tagged baby white sharks off of Scripps Pier in La Jolla," Nosal told KNSD-TV. "So they're around, and we normally don't see them, and that's a testament to the fact that they're not really interested in us and they typically keep their distance."
Of course, any big shark with a big mouth is potentially dangerous, Nosal said, but the young ones mainly feed on fish and are unlikely to approach humans.
(H/T: KNSD-TV)