Tom Hardy has climbed his way to the top of the film industry, earning a reputation as a Hollywood bad boy and a go-to for troubled drug-addict-alcoholic-PTSD-type roles.
In 2015, Hardy was cast as both of the Kray twins in "Legend," which told the story of two of London's most notorious East End gangsters and was set in the the 60s.
This year, the 38-year-old Brit received an Oscar nomination for his turn as a gruff woodsman who abandoned his fellow frontiersman (Leonardo DiCaprio) in Alejandro Inarritu's Oscar-nominated epic, "The Revenant."
Hardy has landed many other dark or complex roles in films such as "Inception" (2010), "Warrior" (2011) and, of course, "The Dark Knight Rises" (2012).
"Playing the bad guy is a safe way of entering a fantasy world," Hardy recently told the Daily Mail. "I'm fascinated by someone who announces, 'I am going to change the world to suit my needs,' instead of 'I am going to change myself to fit better into society.' It's quite compelling to watch, because we know that, whatever happens up there on the screen, in real life there is no fall-out or harm done."
Knowing this about Hardy, it's easy to understand why he so often chooses the path of the exiled, misanthropic drifter, as he did in the post apocalyptic film, "Mad Max: Fury Road" (2015), which was also been nominated for a Best Picture Oscar.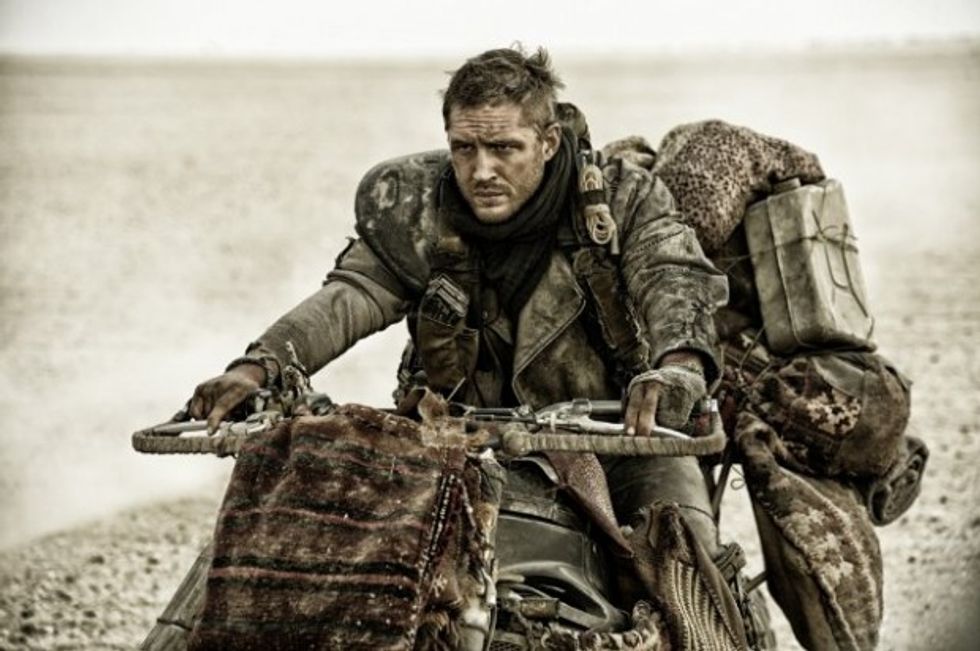 Tom Hardy as Max Rockatansky in "Mad Max: Fury Road." (Image source: IMDb)
"Now, I am an actor, not a criminal!" Hardy assured. "But if I am able to put myself into the shoes of those people and revel in this as a safe place to learn a little bit about it, then that is extremely interesting to me."
What separates the "interesting" from reality for Hardy?
"Now, out here in the real world, there are real-life people who do heinous and horrible things," he explained. "And they're not just in the gangster world, either. You can go right through society, from commerce, to politics, to shopkeepers, and find them in all walks of life. The bad people out there are terrifying."
Deep down, Hardy is just a nice, easy-going guy with a pretty rocky past.
"I'm actually fairly contained in my real life," he said. "And it's not like people are frightened of me when they meet me socially. Well, maybe some people can be, but once they've broken bread with me and talked to me, they will find out that I'm not really Bane from Batman, if you know what I mean."
But despite growing up in a "painfully middle-class" environment, the actor has known some rough times, many caused by his own poor choices.
"I grew up used to having lots of attention from my mother," he said. "The house was full of books and music; gifts and holidays abroad were plentiful; and an expensive private education was a given."
The "one problem," though, according to Hardy, was that he was "a bit of a naughty boy" during his younger years or, rather, as he noted, "a lot of a naughty boy!"
When he was 11, a policeman visited his school and gave a talk on the dangers of sniffing glue. According to Hardy, his immediate reaction was to think: "Bang — I know where to find that now!" Hardy's struggle with drugs escalated rapidly. By age 13, he was taking hallucinogens.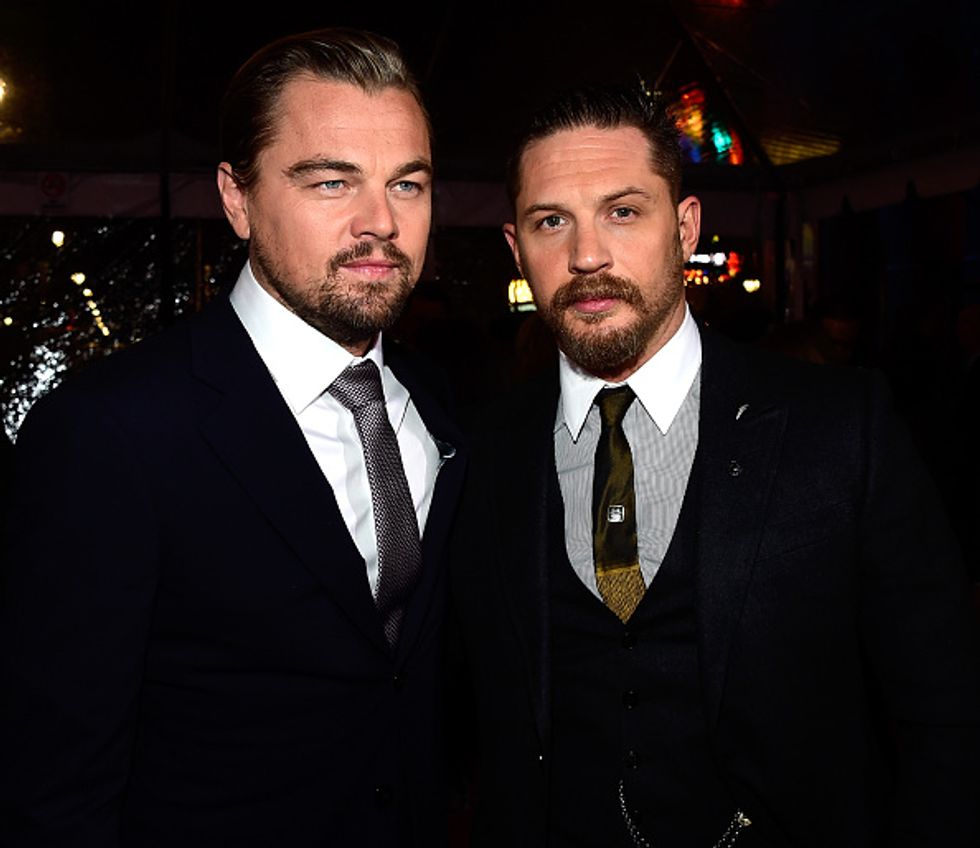 Tom Hardy and Leonardo DiCaprio attend the premiere of "The Revenant" Dec. 16 in Hollywood. (Getty)
The actor was expelled from his private boarding high school and had several early run-ins with the law, including being arrested for joyriding. By 16, Hardy was dependent on crack cocaine and alcohol.
Hardy once reportedly said, "I would have sold my mother for a rock of crack."
His battle with drugs and alcohol continued even as he emerged as an actor. The "Band of Brothers" actor collapsed after a crack cocaine binge in 2003 and was found lying in a pool of blood and vomit in London's Soho neighborhood.
"That was a lesson to me," he told the Daily Mail. "In death, I was reborn."
The horrifying wake-up call was enough to prompt Hardy to go to rehab. He has been clean since, focusing his energy and aggression on physical fitness. In addition to boxing and martial arts, Hardy has trained with the U.K.'s Royal Marines
"The only thing that saved me through that dark time was acting," he revealed. "I originally got into it because I wanted to make my father proud of me. Because I was an only child, this was very important to me — and there wasn't very much of anything else that I could do."
"But acting was something I could do," Hardy continued, "and because I found that I was good at it, I wanted to make the effort to invest time and effort into doing it. These days, I'm lucky enough to do it for a living; and I love it and I learn from it every day."
Hardy and his wife, actress Charlotte Riley, recently welcomed their first child, a sibling for 7-year-old Louis, Hardy's son from his previous relationship with Rachael Speed.
"That was when the penny dropped that there was no longer very much time for me to think about myself any more — about what I might like to do or who I want to be — because there is somebody now on the planet who really needs me to get my act together and focus on something that is more important than me," he said.
Though the actor did not share details about the family's newest member, he did say that, as for many men, the experience of becoming a father was a profound one.
"When I go home, I am not Tommy the actor, I am Tommy the dad, largely because my children aren't allowed to watch any of my films yet. My older son really wants to watch 'Mad Max,' but I've told him that he can't — he's got to watch the Harry Potter films first!"
(H/T: Daily Mail)