American balladeer Woody Guthrie, well-known for his song "This Land Is Your Land," signed his name to a lease for a Brooklyn apartment in December 1950. On that same lease is the signature of a man the singer-songwriter would later deem a "racist": Fred Trump, father of the current Republican presidential front-runner.
During Guthrie's two-year tenancy in one of Fred Trump's properties, a public housing development called "Beach Haven," his relationship with the New York real estate tycoon inspired some of his most bitter writings, which were recently discovered in Tulsa, Oklahoma, the Conversation reported Thursday. Guthrie, who was no stranger to the Communist movement in America, went on to write about how "Old Man Trump" stirred up "racial hate."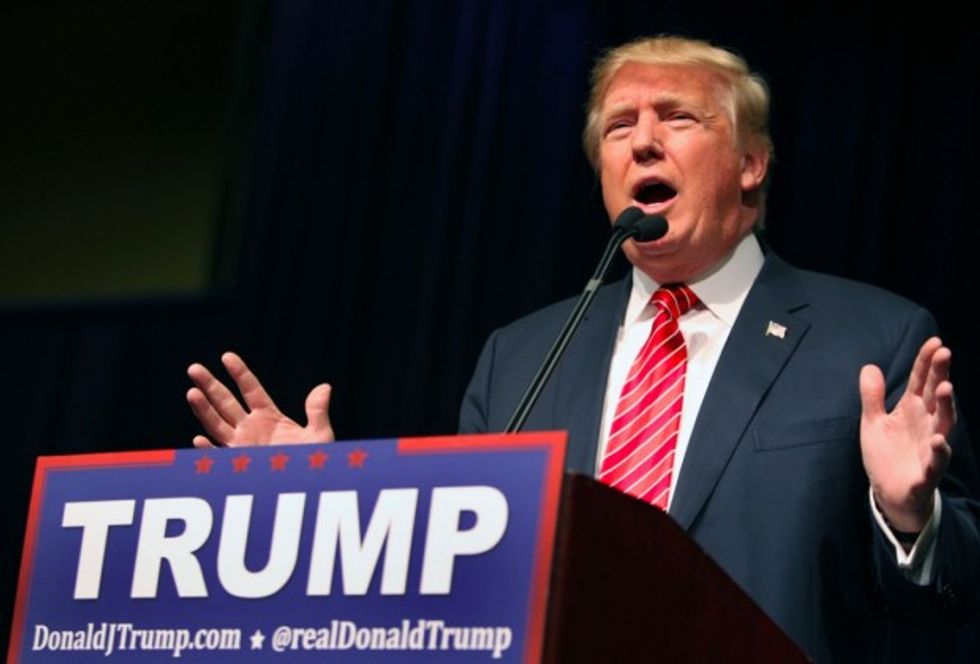 Republican presidential candidate Donald Trump speaks during a rally at the Reno Ballroom and Museum in Reno, Nevada, Jan. 10. (AP Photo/Lance Iversen)
Following World War II, due to the influx of servicemen to New York, affordable public housing became a necessity. Among the first developers to seek a partnership with the Federal Housing Authority was Fred Trump, who would go on to make a fortune not only on the construction of the project, but also through collecting rents on the property.
By 1954, the FHA had grown suspicious of "Old Man Trump," and a U.S. Senate committee opened an investigation for profiteering off public contracts and overestimating his "Beach Haven" building costs to around $3.7 million, according to the Daily Beast.
After Guthrie was already in the midst of the lease, he discovered that, in his mind, Trump enthusiastically embraced the FHA's guidelines to steer clear of "inharmonious uses of housing," or, as biographer Gwenda Blair put it, "a code phrase for selling homes in white areas to blacks."
It is important to note that such "restrictive covenants" were common among FHA contracts at the time. However, it is Guthrie's recently released writings about Trump that suggest alleged "racist" tendencies.
In his writing, Guthrie lamented about "Beach Havens," a predominantly white neighborhood which he had started to refer to as "Bitch Havens." According to the songwriter, Trump propped-up ideologies that kept decent housing — both public and private — out of reach for African-American citizens:
I suppose Old Man Trump knows just how much racial hate he stirred up in the bloodpot of human hearts when he drawed that color line here at his Eighteen hundred family project.
Guthrie's writings about "Old Man Trump" might not be so relevant had Republican presidential contender Donald Trump not recently said how important his father's legacy is to his own legacy.
"My legacy has its roots in my father's legacy," candidate Trump said last year.
Later, Guthrie, who died in 1967 of Huntington's Disease, reworked his signature ballad "I Ain't Got No Home" into a blistering attack against his landlord, writing, "Beach Haven ain't no home! ... Where no black ones come to roam! No, no, no! Old Man Trump! Old Beach Haven ain't no home!"
In 1979, 12 years after Guthrie's death, Village Voice reporter Wayne Barrett published an exposé about Fred and Donald Trump's real estate empire, in which he dedicated a lot of time to investigating cases brought against the Trumps in 1973 and 1978 by the Civil Rights Division of the U.S. Justice Department.
The investigation showed that Trump agents had participated in "racially discriminatory conduct" that "created a substantial impediment to the full enjoyment of equal opportunity." But the most damning of evidence came from some of Trump's own employees, which Barrett summarized:
According to court records, four superintendents or rental agents confirmed that applications sent to the central [Trump] office for acceptance or rejection were coded by race. Three doormen were told to discourage blacks who came seeking apartments when the manager was out, either by claiming no vacancies or hiking up the rents. A super said he was instructed to send black applicants to the central office but to accept white applications on site. Another rental agent said that Fred Trump had instructed him not to rent to blacks. Further, the agent said Trump wanted "to decrease the number of black tenants" already in the development "by encouraging them to locate housing elsewhere."
Possibly the most incriminating writing from Guthrie was that the Trumps were "way ahead of God" because "God don't know much about any color lines."
Out of all of Guthrie's writings, one thing is clear: he was not fan of "Old Man Trump."
(H/T: The Conversation)
—
Follow the author of this story on Twitter: