The latest attacks coming against GOP presidential contender Texas Sen. Ted Cruz are over his failure to report a $1 million loan he took from Goldman Sachs. Republican front-runner Donald Trump has been leading the charge, which Ted Cruz's father is now calling "ludicrous."
The $1 million loan from Goldman Sachs, and a subsequent loan from Citibank, were "inadvertently omitted" from the required filings, according to the New York Times. Regardless, Trump has used the information as fuel against his No. 1 primary opponent.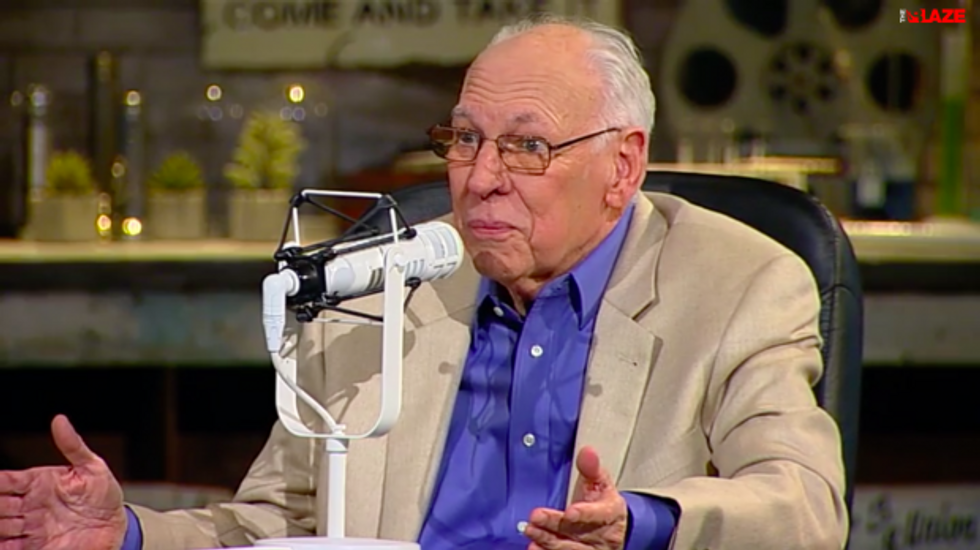 Rafael Cruz discussing his son's presidential campaign with Glenn Beck Friday. (Image source: TheBlaze TV)
"I mean, you give a campaign contribution to Ted Cruz, you get whatever the hell you want. Excuse me, he didn't report his bank loans, excuse me ... say whatever you want, he didn't report bank loans. He's got bank loans from Goldman Sachs, he's got bank loans from Citibank, folks, and then he acts like Robin Hood," Trump recently said at a rally. "Say whatever you want, but it doesn't work that way."
The billionaire candidate also tweeted that Goldman Sachs "owns" Ted Cruz, adding that he "will do anything they demand."
Was there another loan that Ted Cruz FORGOT to file. Goldman Sachs owns him, he will do anything they demand. Not much of a reformer!

— Donald J. Trump (@realDonaldTrump) January 16, 2016
But, during Glenn Beck's radio program Friday, Ted Cruz's father, Rafael Cruz, was quick to push back against Trump's assertions. When asked if he believes his son is "owned by the big banks," Cruz simply said, "That doesn't make any sense."
"Well, I'll tell you what, that is so ludicrous," Cruz told Beck on The Glenn Beck Radio Program. "I mean, does that mean everybody who has a home mortgage is owned by the banks? That doesn't make any sense."
According to former Federal Election Commission official Kent Cooper, though Ted Cruz sent a letter to the commission to correct the error, officials were still "lacking critical information" that candidates are required to disclose, including the exact amount and whether or not there were co-signers. But the Texas senator contested that claim, dismissing the issue as a "paperwork error," indicating that he did disclose the loans in his annual personal disclosure.
Rafael Cruz, too, dismissed the controversy by downplaying the error, telling Beck that the collateral for his son's Goldman Sachs loan was his own assets.
"Yeah, it's not a secret loan," Beck agreed. "It's not something that he went and had to have special connections. ... Nobody gave him any special favors."
Complimentary Clip from TheBlaze TV
The full episode of The Glenn Beck Program, along with many other live-streaming shows and thousands of hours of on-demand content, is available on just about any digital device. Click here to watch every Glenn Beck episode from the past 30 days for just $1!
—
Follow the author of this story on Twitter: