With the ongoing water crisis in Flint, Michigan, at the forefront of national news, many people have been wondering how they can tell if their drinking water has been tainted with lead or any other contaminants and bacteria.
Flint's water woes began in April 2014 when the city switched from using water from Lake Huron to pumping water from the Flint River to save money. But because the waters from the river had not been properly treated, health problems stemming from lead contamination began to afflict the people, according to WRDW-TV. Now, the residents of Flint have been asked to use only bottled water and filtered water for the foreseeable future until the issues have been resolved.
Although most cities in the U.S. are not experiencing a water crisis to this degree, the possibility of water contamination is a very real threat. The average U.S. household of four people uses 350 gallons of water per day for drinking, bathing and washing dishes and clothes, LifeZette noted.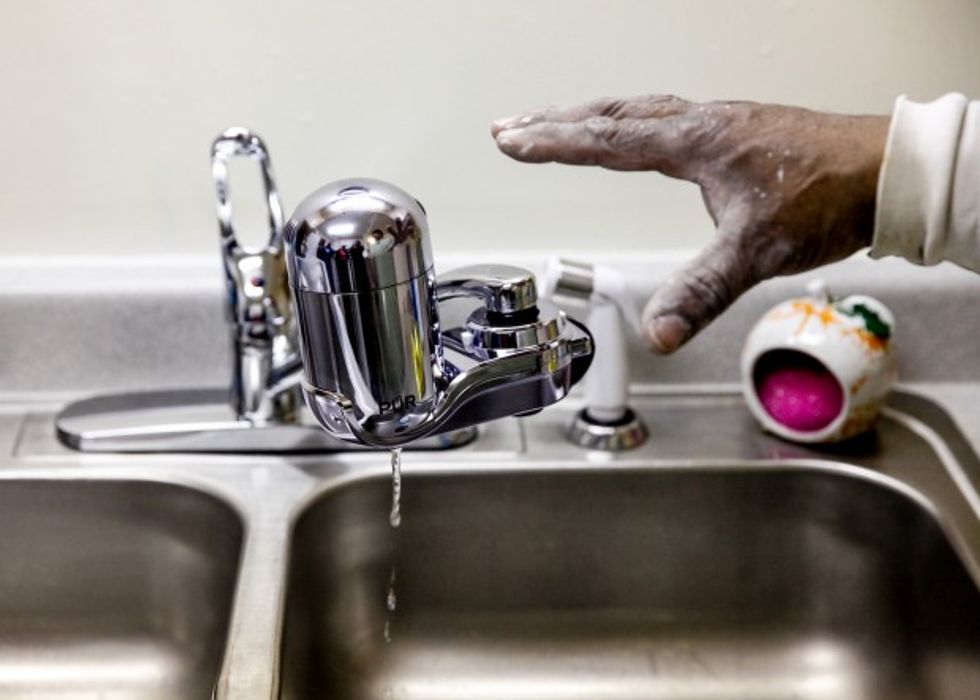 Fred the handyman at the Shiloh Commons installs a new water filter in a residence Jan. 21 in Flint, Michigan. The city's water supply had been contaminated by lead after a switch from Lake Huron to the Flint River as a source in April 2014. At a local fire station, residents were provided with water testing jugs, filters and clean water brought in by the National Guard. Residents also brought in water samples from their homes that would be sent out for lead testing. (Sarah Rice/Getty Images)
"It's so important for people to get educated about their own water," Brian Oram, a professional geologist and licensed soil scientist, told LifeZette."It's the obligation of the city or town you reside in to address any of your water concerns, but most likely you will get pushback, as it's a bureaucracy, even if it's a small one. Flint is a great example, because responsibility for the disaster is unclear, and that line in the sand easily shifts."
But if a homeowner's water pipes are off the main line, Oram noted that the homeowner must take repsonsiblity for the water, saying, "its incumbent upon homeowners to get the water tested, know their pipe status, and take appropriate action," according to LifeZette.
The Environmental Protection Agency has stated that the corrosion of pipes and other plumbing materials in the home often lead to contaminated drinking water, according to WRDW. If a house was built before 1980, it is often a good idea to check out the pipes and plumbing for excessive corrosion. Although most water systems do test for lead contamination, the larger test sometimes does not reflect accurately the condition of an individual home.
Because the contaminants that make people sick often are tasteless and colorless, the EPA recommends several different strategies for homeowners — one of which is to buy a do-it-yourself water analysis kit that can be obtained from a local water supplier or home improvement store. Oftentimes, county health departments may offer to come out and test a household's water supply for bacteria and contaminants, if asked, according to WRDW. But if people choose to test the water on their own with a personal kit, they do have the option to send the results to a nearby certified lab for testing.
WRDW noted that when looking for a certified lab, the nearest one can be found by calling the Safe Drinking Water Hotline at 800-426-4791.
—
Follow Kathryn Blackhurst (@kablackhurst) on Twitter
—
Front page image via Shutterstock