Conservative Republicans and Hillary Clinton have publicly expressed one common opinion: The mainstream media coverage heavily favored Barack Obama during his first presidential campaign in 2008.
Now the president seems to agree.
"I think that the truth is in 2007 and 2008, sometimes my supporters and my staff, I think, got too huffy about what were legitimate questions she was raising," Obama said, referring to Hillary Clinton, whom he faced for the 2008 Democratic presidential nomination. "And, you know, there were times where I think the media probably was a little unfair to her and tilted a little my way in calling her out when she was tough and not calling some of our folks out as much when we were tough in ads."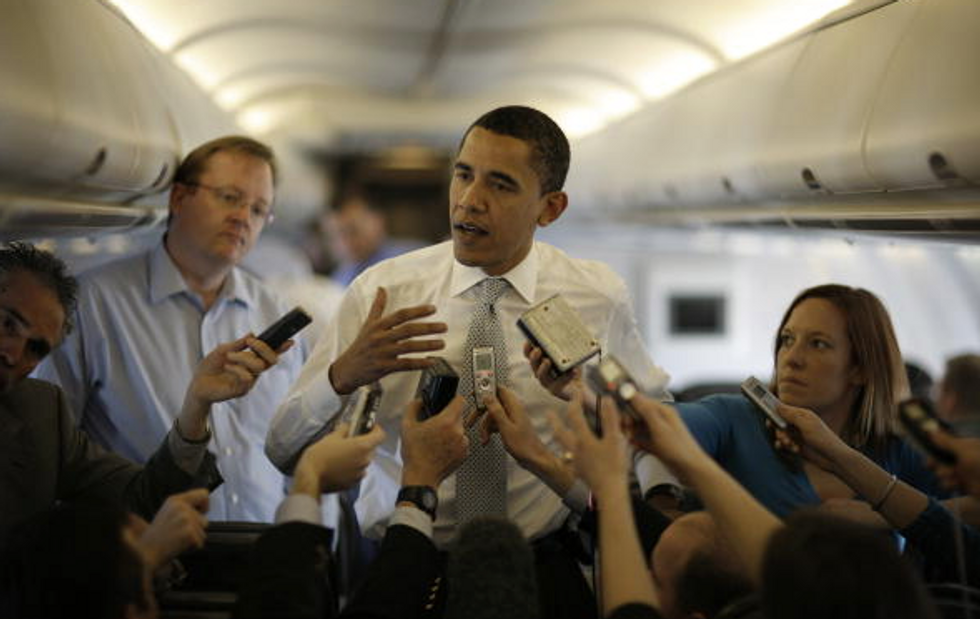 Then-candidate Barack Obama speaks to the traveling media aboard his campaign plane Feb. 28, 2008. (Charles Ommanney/Getty Images)
A week before the 2016 Iowa caucuses, Obama talked to Politico about the presidential race and about his first campaign for the presidency when a big win in Iowa propelled him to the nomination and ultimately to the presidency.
Obama predicted that if Vermont Sen. Bernie Sanders continues to be competitive against Clinton in the fight for the Democratic nomination when the voting begins, the media scrutiny will pick up.
"If Bernie won Iowa or won New Hampshire, then you guys are going to do your jobs and, you know, you're going to dig into his proposals and how much they cost and what does it mean, and, you know, how does his tax policy work, and he's subjected, then, to a rigor that hasn't happened yet, but that Hillary is very well familiar with," Obama told Politico reporter Glenn Thrush.
The Media Research Center, a conservative media watchdog group, studied the 2008 primary coverage titled "Obama's Margin of Victory: The Media" and found that particularly with regard to the three network news casts, Obama received overwhelmingly positive coverage against largely negative coverage for Clinton.
"He rarely admits it out loud, but Obama has always known the media favored him in 2008. How could you fail to notice?" Tim Graham, director of media analysis at the MRC, told TheBlaze. "He and Hillary weren't really that different on the issues. He had charisma, she didn't. Liberal reporters wanted the sleeker racing horse."
Graham cited the New York Times writing about Obama's "high-school-smooth face with that deep saxophone of a voice," while then-NBC News anchor Brian Williams asked him if his departed mother would love the magazine covers of the candidate.
Obama has occasionally acknowledge favorable media coverage, joking at his first White House Correspondents Association Dinner in 2009, "All of you voted for me."
During the Politico interview, Obama went on to say Clinton's gender meant she had to campaign more fiercely.
"I mean, we had as competitive and lengthy and expensive and tough primary fight as there has been in modern American politics, and she had to do everything that I had to do, except, like Ginger Rogers, backwards in heels," Obama said. "She had to wake up earlier than I did because she had to get her hair done. She had to, you know, handle all the expectations that were placed on her. She had a tougher job throughout that primary than I did and, you know, she was right there the entire time and, had things gone a little bit different in some states or if the sequence of primaries and caucuses been a little different, she could have easily won."