Swedish Prime Minister Stefan Lofven has said it is "too early" to draw conclusions from the stabbing death of a female aid worker Monday at a center for refugee teens.
A 15-year-old asylum seeker was arrested on suspicion of murder, local media reported, quoting Swedish police.
"Many of those young people who come to Sweden have had traumatic experiences and there are no easy answers," Lofven said on a visit to the center where the attack took place.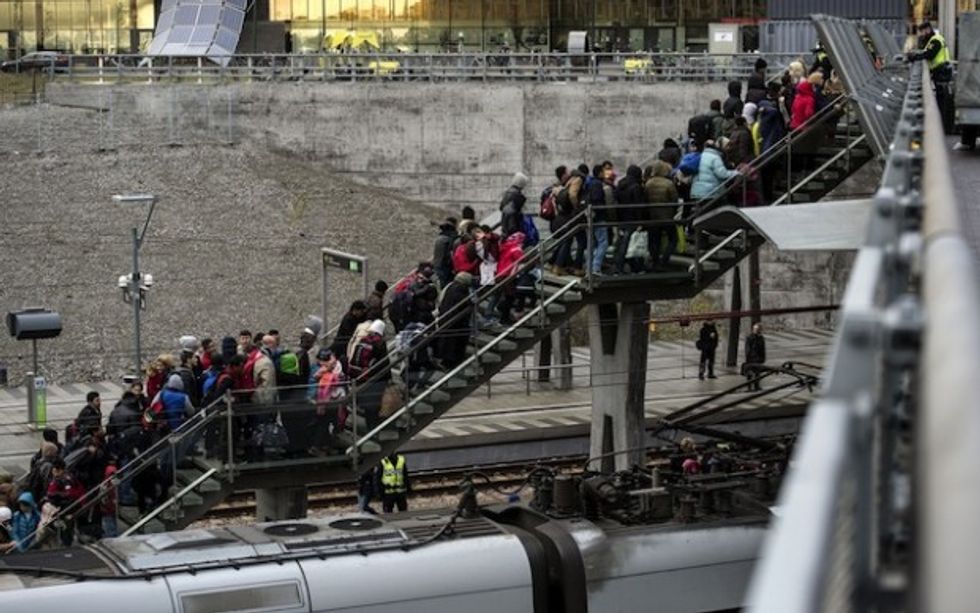 Police organize the line of refugees on the stairway leading up from the trains arriving from Denmark at the Hyllie train station outside Malmo, Sweden, Nov. 19. (Johan Nilsson/AFP/Getty Images)
Police spokesman Thomas Fuxborg told Agence France-Presse that the suspect was living at a center for unaccompanied migrants between the ages of 14 and 17 in the western Swedish town of Molndal. He did not say from which country the teen came.
"It was messy, of course, a crime scene with blood. The perpetrator had been overpowered by other residents, people were depressed and upset," Fuxborg told the TT news agency, the pan-European English-language website The Local reported.
Swedish media identified the victim as 22-year-old Alexandra Mezher.
"She was a person who wanted to do good, who wanted to be good. And then someone murdered her when she's doing her job," Mezher's cousin told Swedish media.
Police have complained that they don't have the resources to cope with the growing number of threats and violent incidents reported at migrant facilities, which has more than doubled over the past year according to the Swedish Migration Agency.
"These kinds of calls are becoming more and more common. We're dealing with more incidents like these since the arrival of so many more refugees from abroad," Fuxborg said.
National Police Commissioner Dan Eliasson has requested 4,100 additional officers to face the parallel challenges of securing migrant centers and deporting those who don't qualify for asylum, all amid the backdrop of a heightened state of alert in Europe following the deadly Paris attacks.
"We are forced to respond to many disturbances in asylum reception centers. In some places, this takes significant police resources. This was not the case six months ago and it means that we won't be able to respond as effectively in other areas," Eliasson told the TT news agency, AFP reported.
Even as they fight crime, Swedish police have been instructed to refrain from informing the public about the key identifying details of criminal suspects, including skin color, ethnicity and nationality in order to avoid being labeled racist, a Swedish newspaper reported last week, citing an internal police memo circulated in September.
As his country faced its own surge of violence, the Swedish prime minister ruffled feathers in Israel last month after suggesting that Palestinian stabbing attacks in Israel do not constitute terrorism.
"No, it is not classified as [terrorism]," Lofven told the Swedish news agency TT. "There is an international classification regarding what constitutes or does not constitute [terror]. As far as I know, the [knife attacks in Israel] are not defined as terror."
The Times of Israel reported in December that Lofven later clarified his remarks, saying, "I meant that it was unclear if the knife attacks are organized by a group classified as a terrorist organization. … Nonetheless, the attacks themselves do constitute terror."
Israel was already smarting from a statement by Swedish Foreign Minister Margot Wallstrom who accused Israel of carrying out "extrajudicial executions" in cases when security forces or armed civilians have killed knife-wielding Palestinians attacking or trying to attack Israelis.