From the very first audience question at Monday's 2016 town hall in Des Moines, Hillary Clinton was forced to contend with the presence of Sen. Bernie Sanders in the Democratic primary — and atop the early-state polls.
Clinton is still up about 15 percentage points nationally on the Vermont senator, according to the Real Clear Politics average.
But just one week before voting begins in the Feb. 1 caucuses in Iowa, the long-assumed frontrunner and former secretary of state is positioned in the polls to lose both Iowa and New Hampshire to Sanders. Losses in the first two states would at least be a massive embarrassment, and potentially could mark the first steps in an unexpected and painful primary loss reminiscent of her 2008 fall to then-Sen. Barack Obama.
The first question to Clinton from the audience at the town hall came from a student who identified himself as leaning toward the self-described socialist. The student asked Clinton why she couldn't seem to pick up support with young people the same way that Sanders has.
The polls back up the questioner's data: A recent Des Moines Register poll showed that Sanders has 59 percent support from Democratic caucus-goers 45 and under in Iowa, compared to 27 percent for Clinton.
In her response, Clinton argued that her political enemies' arguments about her character may be more believable for young people who are new to politics than older voters who have been paying attention for decades.
"There's nothing to it. They throw so much at me, and I'm still standing," Clinton said.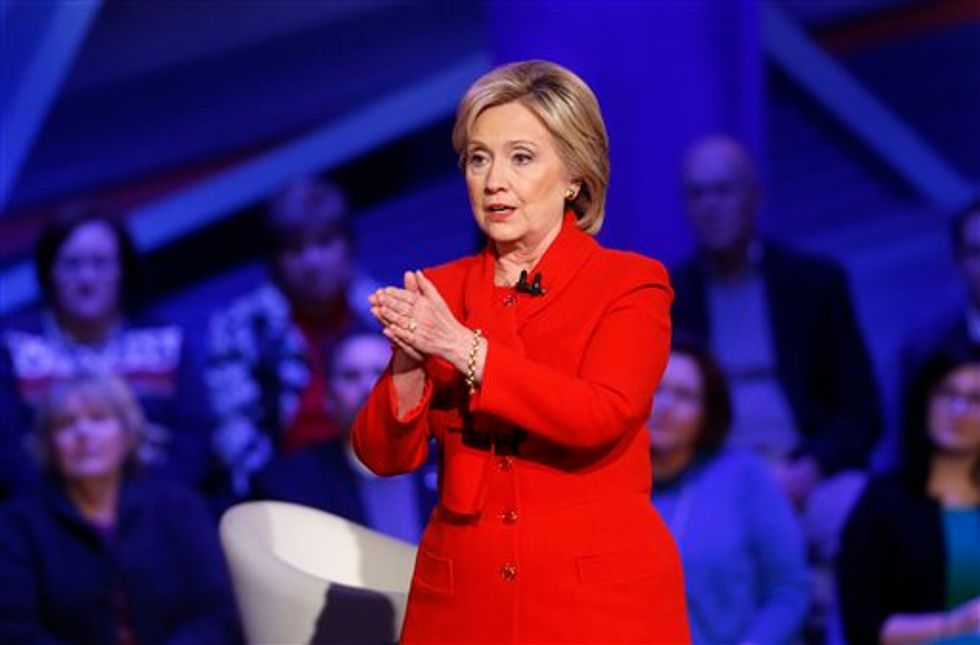 Hillary Clinton speaks during a CNN town hall Monday. (AP/Patrick Semansky)
She asked the student to consider why her political rivals have spent millions of dollars trying to damage her reputation, arguing that it's "because I've been on the front lines of change and progress since I was your age."
Clinton said that she's interacted with scores of young supporters, and urged young people to join together and support the eventual Democratic nominee no matter who it is.
"I'm totally happy to see young people involved in any way," Clinton said.
At the end of her time, Clinton was asked to watch a Sanders ad —  a goosebump-inducing television spot featuring Simon & Garfunkel's song "America" that shows the candidate interacting with scores of cheering voters.
"I think that's great. I think that's fabulous. I loved it," Clinton said, pointing to the ad's emotional resonance: "You campaign in poetry, you govern in prose. And we need a lot more poetry in this campaign and in our country."
Clinton said she respects Sanders greatly and appreciates what he's done in the campaign, and concluded: "But I believe that I'm the better person" to be president. 
She started to explain why, but got cut off by the moderator for a final question.
Earlier in the town hall, Sanders had also taken questions from the audience at Drake University in Des Moines — spelling out his anti-wealth disparity or "rigged" economic policies and quipping about trying to win over Clinton's supporters one town hall answer at a time.
When explaining his social welfare plans, Sanders said that his policies would require raising taxes. He also explained why he thinks he's doing so well in the polls — admitting that even he's been surprised by the level of support he's seen across the nation.
"Our message has resonated much faster, much further than I thought it would," Sanders said.
Sanders' main argument for what separates him from Clinton was that he voted against the Iraq War, while she voted for it.
Former Maryland Gov. Martin O'Malley, who's also seeking the nomination, was asked an interesting question by the CNN moderator — since Iowa's caucuses require 15 percent support for a candidate's voters to count, O'Malley was asked whether his supporters should back Clinton or Sanders if he doesn't get the necessary amount of support.
O'Malley didn't answer the question, and practically begged Iowans to stick with him.
"My message to the O'Malley supporters across this state is this: Hold strong at your caucus. Because America is looking for a new leader," said O'Malley, who is polling at less than 2 percent nationally in the Democratic primary.
He made a veiled reference to both Sanders and Clinton, saying that neither "old ideologies or old names" will move the nation forward.
"My candidacy is in your hands," O'Malley told Iowa voters. "Do with it as you will."
—
Follow the author of this story on Twitter and Facebook:
[facebook //www.facebook.com/plugins/like.php?href=