An elite private school in Indianapolis cancelled classes Monday as news of the beloved headmaster's suicide rocked the community.
Park Tudor's Dr. Matthew D. Miller, 46, died by hanging, a coroner confirmed to WXIN-TV.
The timing of Miller's suicide has raised questions. WXIN reported that Indiana Internet Crimes Against Children Task Force had begun to conduct an investigation into potential child pornography and exploitation crimes by Park Tudor's basketball coach,  Kyle Cox, who resigned in December. Police had served a search warrant for Cox's home as well as Park Tudor earlier this month, and the task force interviewed Miller last week.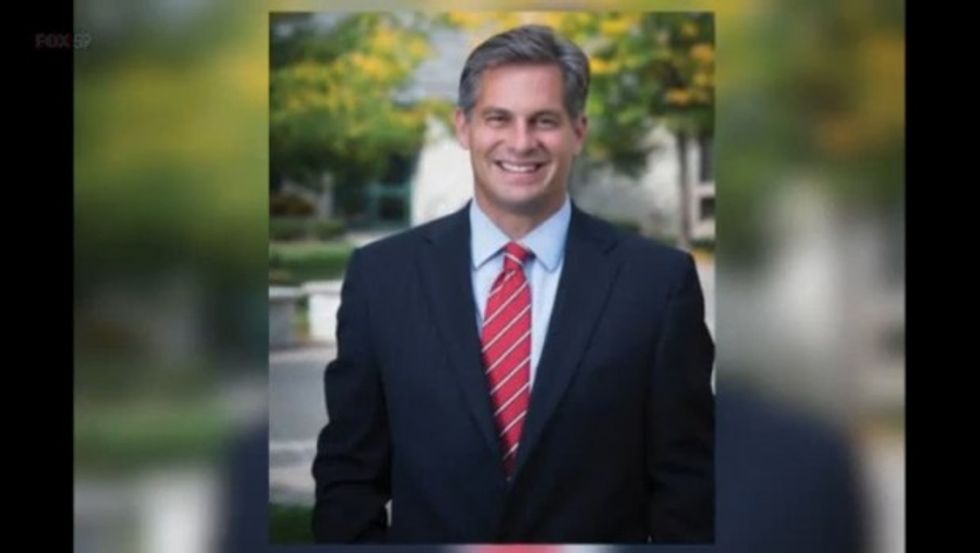 Park Tudor private school's headmaster, Dr. Matthew Miller (Image source: WXIN-TV)
The Marion County Prosecutor's Office said that the investigation into Cox, 31, was still ongoing and would not confirm if Miller had any connection to the child pornography charges. The school maintained in a letter to parents Monday that no employee, including Miller, is a subject of the investigation. Miller's interview with law enforcement, the school said, was a standard character witness interview.
"It's a very tragic loss for the Park Tudor community," Marya Jones, a 1978 graduate of the school, told WXIN. "I love the school — that's why my daughter is a student here."
"It has nothing to do with the kind of educator that he was," Jones said of the ongoing investigation. "He was a phenomenal educator. I don't believe there is a connection."
According to the Indianapolis Star, Park Tudor is one of the state's most exclusive private schools with notable alumni ranging from Indianapolis Colts owner Jim Irsay's daughter to IndyCar driver Ed Carpenter. According to the school's website, tuition for junior kindergarten is $16,430 for the 2015-2016 school year, senior kindergarten through fifth grade is $19,020 and sixth through 12th grade is $20,170.
While classes were cancelled Monday, the school did remain open for anyone who wished to receive counseling, the Star reported. Miller's biography has already been removed from the school's website.
"We are a family, and we feel it is important that members of our community be able to gather in a safe and supportive environment," Peter Kraft, interim head of the school, said in an email to parents of Park Tudor students Sunday.
"The entire Park Tudor community is deeply saddened by this sudden loss," President of the Park Tudor Board of Directors Rob Brown said in a statement. "We ask that you keep Dr. Miller's family, our students and our community in your thoughts and prayers at this difficult time."