An Alabama woman was shocked to discover that the seventh-place winner in a local half-marathon was none other than her bloodhound Ludivine.
April Hamlin told CNN that she had let Ludivine out to relieve herself and that she must have wandered down to the starting line of the race.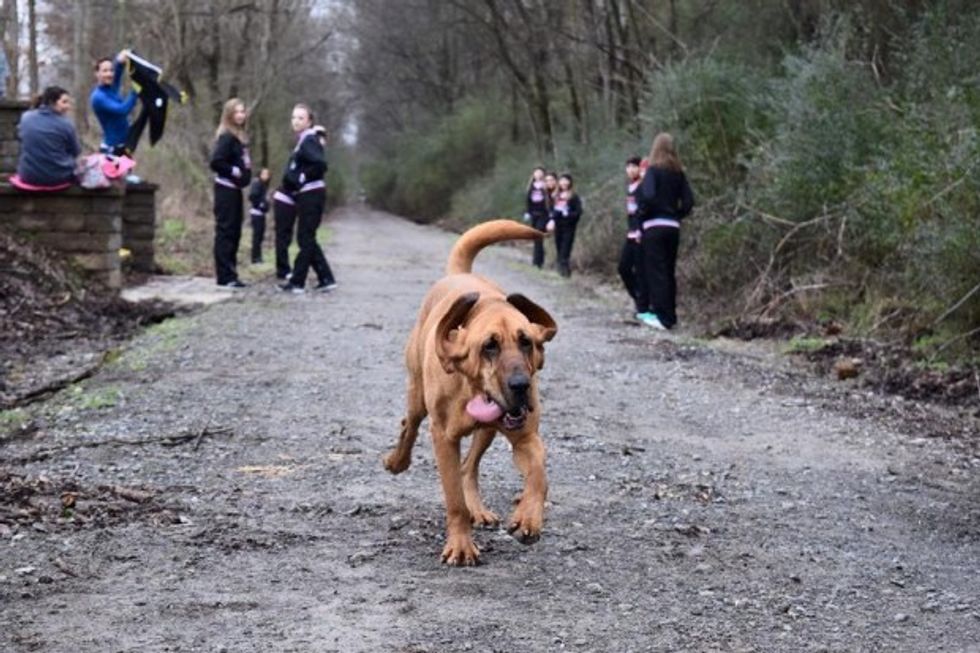 Ludivine accidentally ran a half-marathon — and placed seventh. (Image via Elkmont Half Marathon — The Trackless Train Trek/Facebook)
She discovered that Ludivine had run the Elkmont Half Marathon from friends.
"Apparently, she went to the race start and took off with the runners at the starting shot. She stayed with a few of the front runners, ran off to sniff some animal carcasses, romp in the water, and then back to the race," Hamlin said. "I understand she stayed on the course for 13.1 miles, finished seventh, and was the highest placed female."
"Her owner doesn't even run! That's what makes the story even better," Gretta Armstrong, the director of the race, told CNN.
According to NBC's "Today," Ludivine ranked seventh out of 165 runners with a final time of 1 hour, 32 minutes and 56 seconds. She earned a medal for her efforts.
Hamlin told "Today" that she has "mixed feelings" about the story going viral.
"The story going viral is funny to me, and everyone that knows Ludivine. She is so laid-back," Hamlin said. "I do hate some people are saying I should have the dog taken from me for being an irresponsible pet owner, but she is a beloved pet who is loved, more than anybody else, by my two children."
Organizers of the event are considering renaming next year's event the "Hounddog Half."