Fox News host Megyn Kelly told "Extra" that it would "probably be a bad decision" for Republican presidential candidate Donald Trump to skip the network's upcoming debate.
"Extra" interviewer AJ Calloway talked to Kelly on the set of "The Kelly File" as the war of words between Trump and the news network was raging Tuesday evening.
"It would probably be a bad decision to not show up at the Fox News debate," Kelly said. "I think this is the last chance they have before voting begins, and he's still within two points of Ted Cruz. It's a tight race out there, but obviously it's up to Mr. Trump. Whether he's there or not there, the show will go on."
Trump has said that he will not participate in Thursday's debate because Kelly, who will be a moderator at the debate, is "biased" against him, a charge Kelly denied.
"Of course there is no bias there whatsoever," Kelly said. "I neither like nor dislike him, I don't have any feelings about them. I study these guys as subjects — they are subjects for me to study and to help the audience get to know, so I don't really spend a lot of time thinking about him."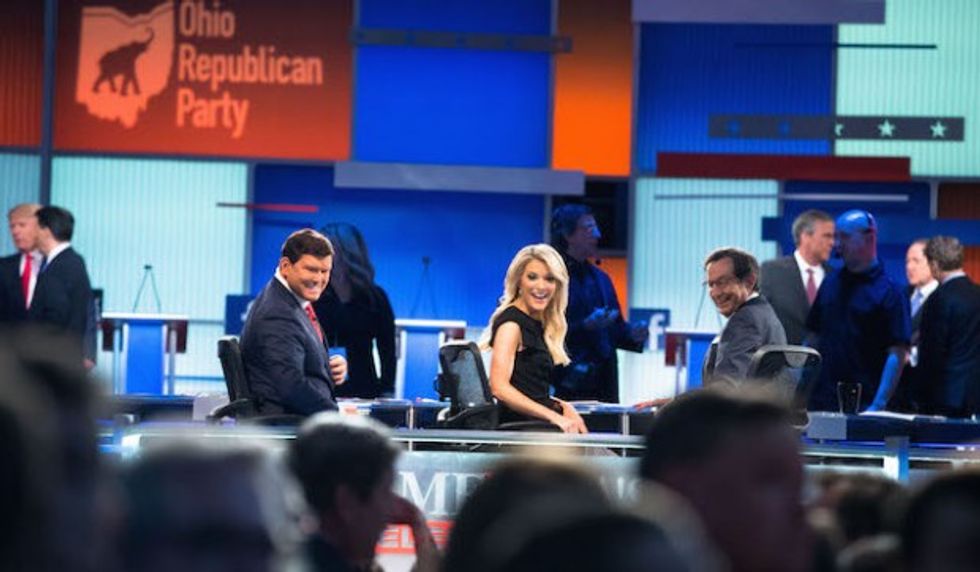 Fox News moderators from right, Chris Wallace, Megyn Kelly and Bret Baier, wait through a commercial break during the first Republican presidential debate Aug. 6 in Cleveland. (AP Photo/John Minchillo)
Kelly questioned whether or not Trump will actually boycott the debate so soon before the upcoming Iowa caucus.
"I will be surprised if he doesn't show up. Donald Trump is a showman, he's very good at generating interest, perhaps this is an effort to generate interest in our debate," Kelly said. "If it is, that is great, maybe we will have more eyeballs; if he doesn't show up, maybe we will have fewer eyeballs — but either way, it is going to be OK."
Kelly said her questions for Trump are written.
"They've been written for over a week now," Kelly said. "They are tough questions, but they are fair questions, and he will get hit no harder than anyone else on that stage."
Kelly noted that the presidential race is still "fluid," as many Iowa voters "don't decide until the last minute."
"Anything could happen," Kelly said. "I was on the air for eight hours last time Iowa caucused four years ago."
When asked about Trump's claim that he discovered her, Kelly laughed. "That was news to the viewers of 'The Kelly File,'" she said.
Kelly said she is unconcerned about Trump's comments about her, but it's tough on her husband.
"He doesn't like to see me get attacked, but it's part of the business I've chosen," she said.