A freaky fad has emerged in Thailand: lifelike dolls believed to posses human souls.
But it gets weirder. Thai Smile Airways, a branch of Thailand's national carrier Thai Airways, recently introduced a new policy that will allow passengers to purchase seats for their Luk Thep ("child angel") dolls, CNN reported.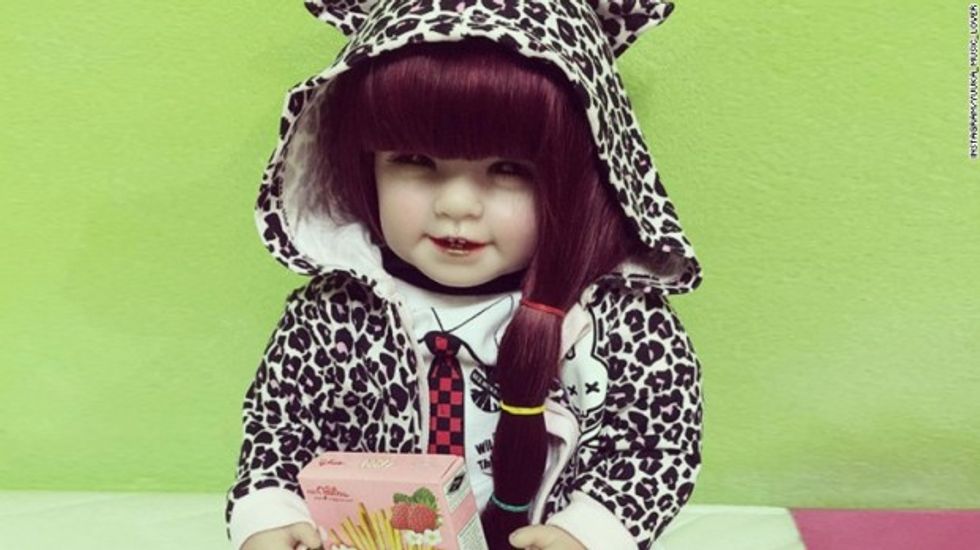 Image source: CNN
The toys have gained massive popularity since local celebrities began touting the dolls' ability to bestow good fortune upon their owners. Today, people often share photos of winning lottery tickets and other strikes of luck believed to be linked to the dolls.
Since the Luk Thep dolls, which range in size from 10 to 22 inches in height, are believed to actually possess children's spirits, many Thais treat them like adopted children. The price of a Luk Thep doll can range from 3,500 baht ($97) to 13,000 baht ($362).
But not everyone in Thailand is on board with the "child angel" craze. One hotel in Ban Tom announced Wednesday that it would ban all Luk Thep dolls from its premises, Bangkok Post reported. Other dolls, however, will still be welcome.
Thai Smile recently released an internal memo, which has since been circulated among Thai media, according to CNN. The memo announced that Luk Thep dolls will now be buckled up like real passengers and will be served snacks and drinks. They will even be barred from sitting in exit rows — just like real children.
Other airlines have opted for an entirely different approach.
"We treat the dolls like any other dolls," Patee Sarasin, CEO of budget airline Nok Air, told CNN. "The customers can put the dolls on their lap while flying. If they want to buy a seat, it is the most expensive price possible."
Sarasin said that his airline does not "encourage customers to buy seats for the dolls," but they "cannot stop them from buying another seat if they wish to do so."
Thailand's Department of Civil Aviation is now reportedly discussing the Luk Thep doll issue with local aviation agencies and airlines to draw up a policy that will comply with security regulations, according to CNN.
On Tuesday morning, police at Chiang Mai Airport reportedly recovered one of the dolls hidden inside a black suitcase that was being used as a drug vessel. Police say they found 200 tablets of yaba, a methamphetamine-based drug made in Thailand.
Exclusive interview with the "Luk Thep" detained for drug smuggling https://t.co/TbVcgTu7YI #Thailand https://t.co/n179ENPTMc

— Richard Barrow in Thailand 🇹🇭🇬🇧 (@Richard Barrow in Thailand 🇹🇭🇬🇧) 1453802023.0
Watch the video of the disturbing new trend:
(H/T: CNN)