It's common for people living in big cities to not carry cash with them, and now, with technological advances, pretty much any convenience store, food truck or news stand is guaranteed to accept plastic.
This technological shift surely made it harder on panhandlers hoping that passersby would "spare some change." One Detroit homeless man decided it would behoove him to be more accommodating with his requests.
He goes by "Honest Abe," and he accepts cash, credit or debit. The high-tech homeless man, whose real name is Abe Hagenston, uses a credit and debit card reader attached to his cell phone.
Hagenston has been homeless in Detroit, living under the 8 Mile overpass, for about seven years, according to WWJ-TV. He shared that the relatively mild winter this year has actually made it harder on him financially.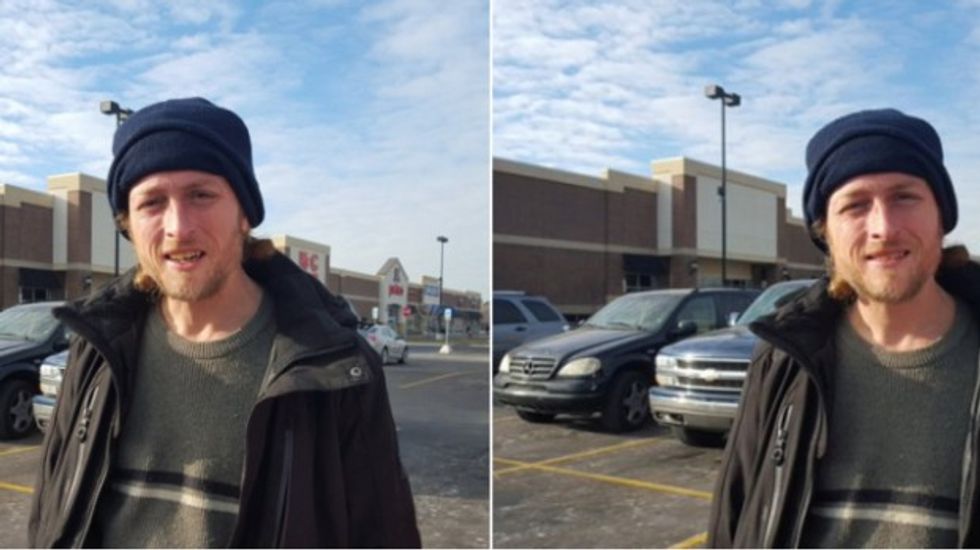 Abe Hagenston. (Image source: WWJ-TV)
"It's not really that easy, what we're lacking is snow," Hagenston told WWJ. "Of course, there's no snow removal. I used to look forward to that, doing some shoveling."
Hagenston explained that, without the extra money he typically earns shoveling, he hasn't been able to buy new eyeglasses, and he shared that he could use a new prescription.
But Honest Abe wasn't going to let that stop him. With a little innovation, Hagenston and a group of fellow homeless people have created something "like a union" in order to panhandle in shifts. He also came up with a new way to collect from donors.
"I'm the only homeless guy in America who can take a credit card," Hagenston said. "It's all done safely and securely through square.com."
Hagenston told the station that in addition to change, he now accepts Visa, MasterCard and American Express.
Square readers attach to smart phones, turning them into functioning card readers. They cost about $10 each, and square providers charge vendors a percentage fee per transaction.
Volunteers discovered Hagenston during a recent counting of the number of homeless in Detroit. According to WWJ, last year's count of people who live on the streets of Detroit amounted to a rough estimate of 2,700.
Stacy Brackins, a case manager with mental health agency Detroit Central City, spent Wednesday night driving around town with gloves, hats and sleeping bags while counting homeless men and women and encouraging them to seek shelter.
Hundreds of volunteers participated in the count. Though this year's count is not ready yet, the most recent report by the National Alliance to End Homelessness revealed that the number of homeless in Michigan had declined 6 percent.
But not every homeless person Brackins encountered was ready to accept her offer of asylum.
"Some, they just don't want to come inside — they want their freedom," Brackins told the Detroit Free Press.
(H/T: WWJ-TV)