Nevada's prominent Culinary Union accused Democratic presidential candidate Bernie Sanders' campaign aides of posing as union workers in hopes of gaining access to their members, a charge the campaign swiftly denied.
Union representatives said Thursday that multiple members have accused several of Sanders' campaign staffers of "attempting and gaining access to employee dining rooms at Las Vegas Strip properties," according to CNN.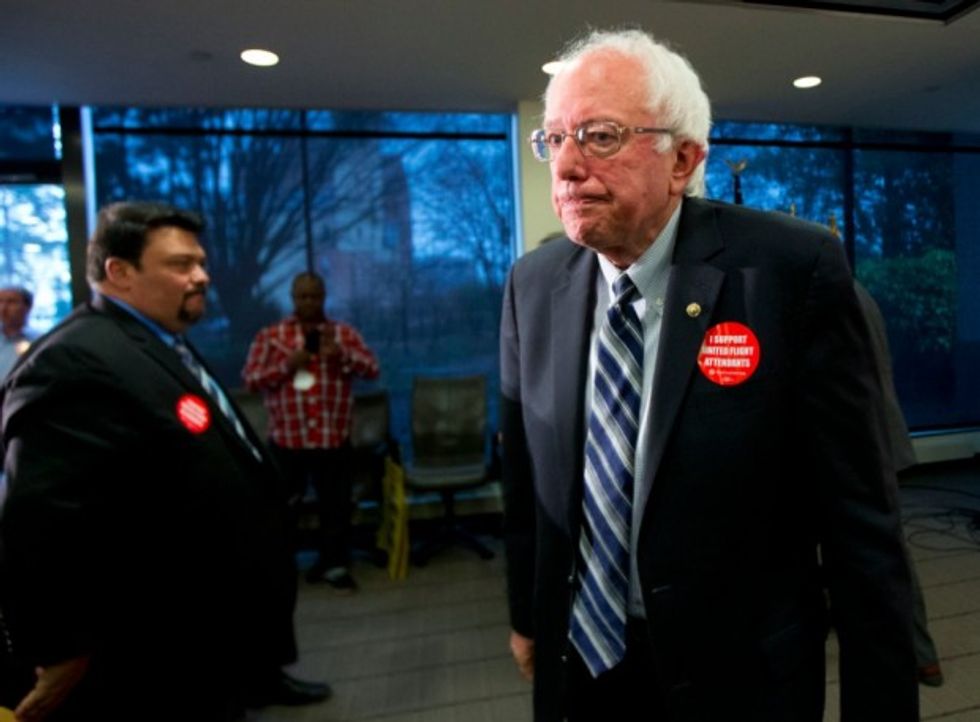 Democratic presidential candidate Sen. Bernie Sanders (Vt.) leaves a news conference where he was endorsed by members of the Communication Workers of America Dec. 17 at the CWA's headquarters in Washington, D.C. (AP Photo/Manuel Balce Ceneta)
"We are disappointed and offended," the union's secretary-treasurer Geoconda Arguello-Kline said. "It's completely inappropriate for any campaign to attempt to mislead Culinary Union members, especially at their place of work."
But Sanders' campaign manager Jeff Weaver rebutted that claim, adding that there seems to be some confusion over the matter. According to him, none of the campaign's staffers "ever misrepresented who they were."
"Obviously there was some confusion," Weaver said. "We would not want anyone making a misrepresentation of who they are. To the extent that happened, I am unhappy about that."
In addition, the campaign manager said that, if staffers were, in fact, posing as union members, "that kind of conduct would not be condoned."
However, Weaver did acknowledge that staffers were wearing Culinary Union buttons when they reached out to members, claiming that the move was done "in solidarity with people but they were also wearing Bernie paraphernalia."
Ringing in at 57,000 members, the Culinary Union is the most powerful and influential in Nevada, which means it is among the most coveted endorsements leading up to the state's February caucus. All three Democratic presidential candidates have held events with the group.
So far, the union has not made any endorsements.
"The Culinary Union button that hundreds of thousands of union members have proudly worn to work every day represents 80 years of struggle and fighting for justice," Kline told CNN. "We strongly condemn anyone falsifying their affiliation with the Culinary Union in order to gain access to properties, and we will cooperate with casinos and hotels so that this matter is fully resolved."
The Culinary Union has long been a staple of the Nevada caucus process for Democrats. Then-Sen. Barack Obama won the group's endorsement in 2008, amid accusations that his chief rival Hillary Clinton's campaign staffers were attempting to infiltrate various casinos and resorts in Las Vegas.
—
Follow the author of this story on Twitter: