A woman who was recently attacked at a mall in Dallas, Texas, has now bought a gun to thwart off any future attackers.
As Brittany Arterberry and her husband were leaving the Northpark mall Wednesday afternoon, she was attacked by three assailants as her husband was securing their 3-year-old in their car.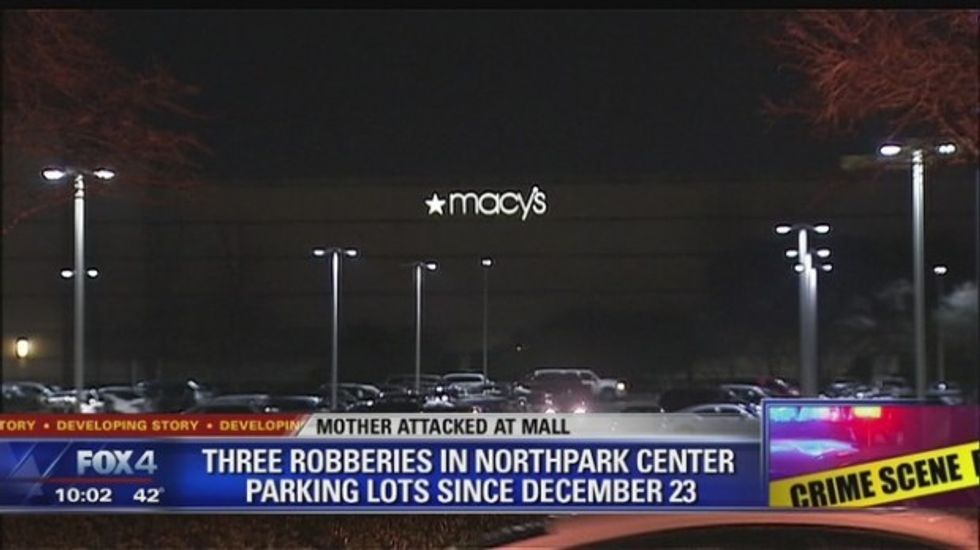 Image source: KDFW-TV
Arterberry said that the attackers demanded that she give them her purse, pepper-sprayed her and then attempted to kidnap her. They managed to get Arterberry halfway into their car, before her husband stepped in. He was able to grab her legs and pull her from the car.
"By the end of the altercation, my hair was ripped out in pieces on the ground. I was able to finally choke out 'help,' and my husband was able to get out of the car and tried to get the attackers off of me but was only able to take one to the ground," Arterberry told KDFW-TV.
She says that all three suspects, two African-American males and one African-American female, were able to flee the scene in an older model Buick. Fortunately, they were able to only steal her husband's cellphone. The couple said that they are also very thankful that their young child was not hurt or kidnapped in the incident.
But to make sure she is able to better defender herself and her family if she is ever attacked again, Arterberry said she went out and bought a Taurus 9mm handgun the next day.
"I got the gun today because I don't want to be a victim again," she told KXAS-TV. "I don't want to have to feel unsafe if i take my daughter to the grocery store or go to the mall to get a new pair of boots."
KDFW reports that the Arterberry robbery was the third robbery at that mall since Dec. 23.
(H/T: KDFW-TV)
—
Follow the author of this story on Twitter and Facebook:
[facebook //www.facebook.com/plugins/like.php?href=