During a town hall meeting in Iowa Friday, Republican presidential contender Ben Carson was asked what role his faith would play in his administration. What made the moment unique might not have been the question itself, but the voter who asked it — an atheist.
"I'm an atheist voter; I'm not planted here," the questioner declared. "I am born and raised in Iowa. I have a question about how your faith will play a role in your presidency."
"OK," the retired neurosurgeon cautiously replied.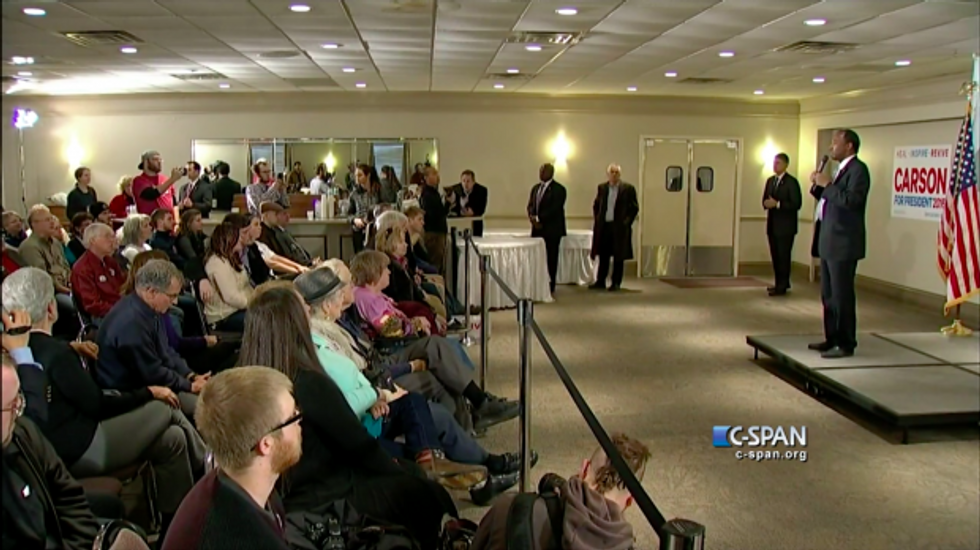 Republican presidential candidate Ben Carson fields a question from an atheist Iowa voter about his faith Friday. (Image via Twitter @cspan)
The atheist voter then went on to tell Carson that he's seen "some candidates" proclaim that biblical law trumps constitutional law and asked, "Do you agree with that?"
In addition, the questioner invoked GOP presidential hopeful Ted Cruz's claim that he is a Christian first and an American second, asking if that holds true for Carson as well.
"Well, first of all, everybody, including atheists, live according to their faith — it's just what they decide to put their faith in," Carson told the voter. "Everybody's actions are ruled by their faith and by their beliefs."
Carson said he has "strong faith," adding that he lives "by godly principles," which he says will "dictate" how he treats people if elected president.
Then, without mentioning Cruz's name, Carson offered a slightly different perspective from his rival candidate's statement, saying that "there is no conflict" between the Constitution and biblical principles.
"Our Constitution, which is the supreme law of our land, was designed by men of faith, and it has a Judeo-Christian foundation. Therefore, there is no conflict there, so it is not a problem," Carson said, later adding that Cruz can "speak for himself."
But that answer didn't wholly satisfy the voter. "My question was can you give me a situation where God's law trumps any law within our country," he told Carson.
"If we create laws that are contrary to the Judeo-Christian values that we have, then I think we should fight against those kinds of laws," Carson said. "I personally believe that we still have an obligation to obey the laws whether we agree with them or not. Otherwise, we would be a lawless nation."
"But that doesn't mean we shouldn't fight against anything we see as unjust," Carson added. "And we have the mechanism built into our to allow those protests to take place."
WATCH: An atheist voter asks @RealBenCarson how faith will a play role in his presidency. #IAcaucushttps://t.co/Yz3I6zo6M9

— CSPAN (@cspan) January 29, 2016
—
Follow the author of this story on Twitter: